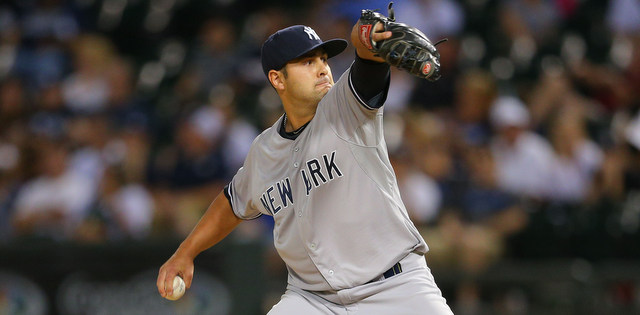 Following yesterday's game, the Yankees sent Nick Goody back down to Triple-A Scranton, the team announced. He had been called up prior to the game to give the bullpen a fresh arm. Goody threw 20 pitches in a scoreless ninth inning yesterday, which is apparently all the Yankees needed from him.
Goody, 24, has ridden the bullpen shuttle this season and has allowed two runs in 3.1 big league innings. He has a 1.70 ERA (2.16 FIP) with a 33.1% strikeout rate and a 8.8% walk rate in 58.1 minor league innings split between Double-A Trenton and Triple-A Scranton this year.
The Yankees won't be able to bring Goody back when rosters expand on September 1st because of the ten-day rule — they won't be able to call up Nick Rumbelow on September 1st either after sending him down yesterday — so he'll have to wait a little longer to return to the show. Just a few days though.
A corresponding roster move was not announced yesterday. My guess is the Yankees will activate Bryan Mitchell (face) off the 7-day concussion DL. He threw a 30-pitch simulated game Tuesday and everything went well. Caleb Cotham's ten days will be up Friday, so he's another call-up option. Or maybe they'll bring Chris Capuano back to troll us all.
I suppose the Yankees could call up a position player with both Mark Teixeira (shin) and Jacoby Ellsbury (hip) banged up, but that would surprise me. I have a hard time believing they would go with a six-man bullpen, even temporarily until rosters expand. Everything they've done the last few years suggests they play with a short bench before a short bullpen. We'll see.