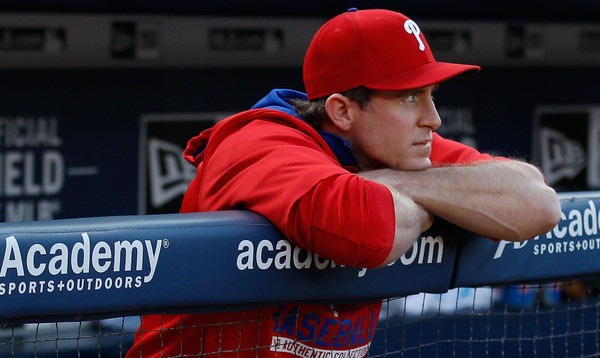 According to Andy Martino, the Yankees are seen as a candidate to pursue Phillies second baseman Chase Utley in a waiver trade this month. The Cubs and Dodgers are also in that group, though I have no idea why the Dodgers would be looking for a second baseman when they have Howie Kendrick at the position.
Utley, 36, just returned from the DL after missing six weeks with a right ankle injury. He's having a miserable season, going into last night's game with a .179/.256/.274 (42 wRC+) batting line and four homers in 66 games. Utley has good strikeout (13.0%) and walk (8.3%) rates, but otherwise his defense, base-running, and hard contact numbers are all in steep decline.
The ankle injury means Utley's $15M option will not vest for next season, so he's a pure rental, and I'm certain his intense and ultra-hard-nosed style of play still generates respect around the league. Utley's a big time gamer. That said, it looks like he's toast, and I'm not sure why the Phillies would move him anyway. Utley's a very popular player. His marquee value might be worth more than whatever they get in return.
The Yankees are currently employing a Stephen Drew/Brendan Ryan platoon at second base — literally Stephen Drew and Brendan Ryan — though I'm not sure this version of Utley is an upgrade. Maybe the magic of the pinstripes would rejuvenate him a la Ichiro Suzuki in 2012. Who knows. If the Yankees do make a change at second base, they're probably best off going with Rob Refsnyder.