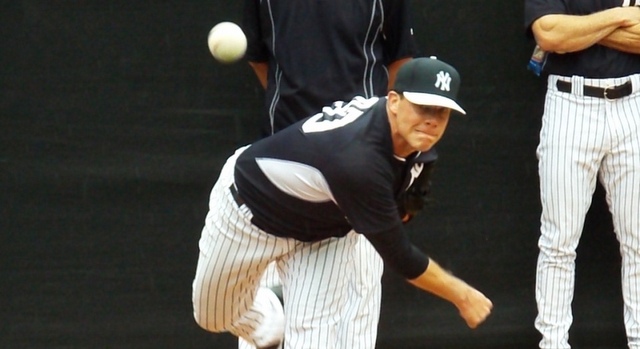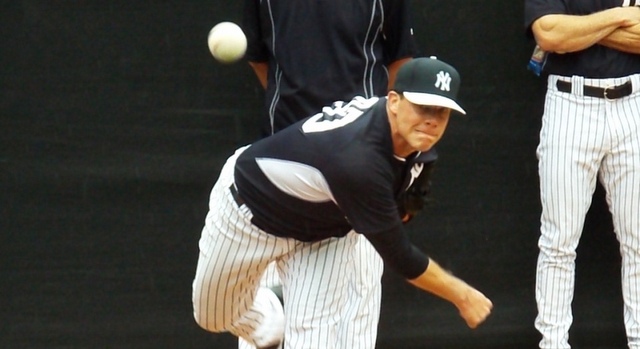 11:45am ET: To clear the three 40-man roster spots, the Yankees transferred Domingo German to the 60-day DL and designated both Tyler Austin and Cole Figueroa for assignment, the team announced. German, who is out following Tommy John surgery, was technically called up to MLB for the first time and placed on the DL. He'll get big league pay for a month. Good for him. Austin has had a poor year (92 wRC+) and the Yankees have a ton of upper level outfield depth. That made him expendable.
9:30am ET: Following last night's loss, the Yankees announced their first wave of September call-ups, and the list runs eight players deep. They wasted no time beefing up the roster. The eight players: catcher Austin Romine, infielder Rob Refsnyder, outfielder Rico Noel, utility men Dustin Ackley and Jose Pirela, righties Andrew Bailey and Caleb Cotham, and lefty James Pazos. They'll all be active tonight.
Technically, Ackley is being activated off the 15-day DL. He's missed the last month or so with a back problem and had been rehabbing with Triple-A Scranton the last few days. Everyone else was simply called up. Refsnyder, Pirela, and Cotham were all up earlier this year while both Bailey and Romine have been up in previous years. Noel and Pazos are big leaguers for the first time.
Bailey, 31, has not pitched in MLB since July 2013 due to a biceps injury and shoulder capsule surgery. The Yankees signed him prior to last season knowing he was unlikely to pitch, rehabbed him, brought him back this year, and will now hopefully be rewarded for their patience. Bailey had a 1.80 ERA (2.87 FIP) with good strikeout (29.8%) and walk (7.8 BB%) numbers in 35 minor league innings this year.
It'll be interesting to see how Joe Girardi uses Bailey this month. He's not the typical September call-up fodder — this a former All-Star, remember. His minor league performance was good and I'm sure the team's reports on his stuff were good too, otherwise he wouldn't have gotten called up. Will Bailey step right in and assume a late-inning role or be eased back into things? We'll see. He'll remain under team control as an arbitration-eligible player in 2016, by the way.
Pazos, 24, was the team's 13th round pick in the 2012 draft. He would have been Rule 5 Draft eligible after the season, so the Yankees are getting a head start on things by adding him to the 40-man roster. Pazos had a 1.27 ERA (2.39 FIP) with a good strikeout rate (28.8%) and a perhaps too high walk rate (8.8%) in 42.2 minor league innings this year.
The southpaw is a hard-thrower — PitchFX data from the 2013 Arizona Fall League says Pazos averaged 94.3 mph and topped out at 96.4 mph — with a good slider, so he's an actual prospect. A bullpen prospect, but a prospect nonetheless. Pazos has a little funk in his delivery too. Here's some video:
With Andrew Miller, Justin Wilson, and Chasen Shreve ahead of Pazos on the left-handed reliever depth chart, I expect Pazos to work in super low-leverage spots this months. This is just to get his feet wet at the big league level so he can prepare to ride the bullpen shuttle next season. Phil Coke turned a 2008 September call-up into a 2009 MLB roster spot. Pazos will try to do the same.
The 26-year-old Noel will be the team's pinch-running specialist down the stretch. Maybe he'll play some late-inning defense too, but nothing more. He is the 2015 version of 2009 Freddy Guzman. Pirela, Cotham, Romine, Ackley, and Refsnyder are all spare parts. Romine will be the barely used third catcher and Cotham will soak up garbage time innings. I suppose Pirela and/or Refsnyder could take second base platoon at-bats away from Brendan Ryan.
The eight call-ups require the Yankees to clear three 40-man roster spots. Refsnyder, Ackley, Pirela, and Cotham are all already on the 40-man, plus the team has one open spot after designating Chris Capuano for assignment the other day. The Capuano spot will go to one of Noel, Bailey, Romine, or Pazos. The Yankees need to clear 40-man spots for the other three. Those moves will be announced later today.
The fact Slade Heathcott, Chris Martin, and Cole Figueroa were not called up from Triple-A Scranton suggests they may be on the chopping block. Tyler Austin was not called up from Double-A Trenton, though that wasn't surprising. Jacob Lindgren (elbow) and Domingo German (elbow) could be called up and placed on the 60-day DL, which would clear 40-man spots but also allow them to accrue service time.
Either way, the Yankees suddenly have a nine-man bench — well, eight-man bench with Mark Teixeira sidelined — and a ten-man bullpen. It'll become a 12-man bullpen in a few days when Nick Goody and Nick Rumbelow are recalled. (They were sent down last week and can not be brought back for ten days.) The Yankees wasted no time making their call-ups. The regulars are still going to play everyday because the team is in a division race, but the extra bodies have arrived.