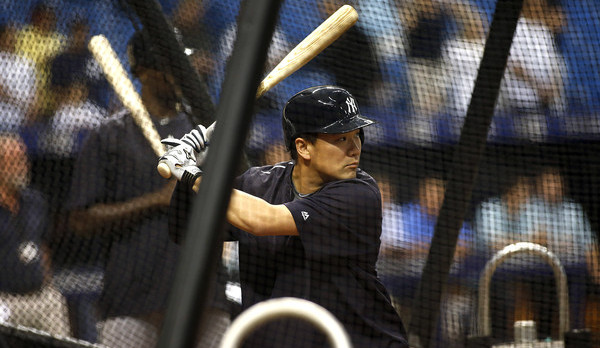 Following last night's games, the Yankees are three games back of the Blue Jays in the AL East and 2.5 games up on the Astros for the first wildcard spot. They're four games up on the Twins for a wildcard spot in general. The Yankees have only 18 games to play, so their postseason odds sit at a healthy 96.7% according to FanGraphs, but they haven't clinched anything and they certainly aren't out of the division race. Not with three more games to play against Toronto.
For much of the season the Yankees prioritized extra rest for their starters and it was understandable. Every single one of them had some kind of injury or workload concern aside from Nathan Eovaldi. Adam Warren was starting for the first time in three years and both Michael Pineda (shoulder) and CC Sabathia (knee) had lingering health concerns. So did Masahiro Tanaka, who missed just about the entire second half last year with a partially torn elbow ligament.
The Yankees were so diligent with Tanaka this year that just one of his first 15 starts came on normal rest. He had at least one extra day for the other 14. Tanaka has made 22 starts this year overall and only four have come on normal rest. No pitcher in baseball has more starts with extra rest in 2015. The combination of off-days and spot sixth starters have allowed the Yankees to give their ace extra rest way more often than not this year, which ostensibly has allowed his elbow to hold up and remain in one piece.
But now, with the season over in less than three weeks, the priority has shifted. Keeping Tanaka rested and healthy was the focus earlier in the season. Now? Now the focus has to be on winning and getting to the postseason, either as the division winner or as a wildcard team. And to do that the Yankees will need Tanaka on the mound as much as possible. He's their only reliable starter at this point.
The stats say Tanaka is actually more effective on normal rest: he has a 2.88 ERA and 5.85 K/BB ratio in 12 big league starts on normal rest and a 3.30 ERA and 5.21 K/BB ratio in 23 starts with an extra day of rest. I don't think the Yankees were concerned so much about Tanaka's effectiveness on regular rest though. I think the concern was his health, first and foremost. That should change late in the season for the sake of getting to the postseason.
Tanaka started Sunday afternoon, and keeping him on a normal five-day schedule sets him up to start these days down the stretch:
Friday, Sept. 18th at Mets
Wednesday, Sept. 23rd at Blue Jays
Monday, Sept. 28th vs. Red Sox
Saturday, Oct. 3rd at Orioles
The AL wildcard game is scheduled for Tuesday, October 6th, which means Tanaka would not be lined up to pitch that day if he remains on a five-day schedule through the end of the regular season. That's something that can be re-evaluated in the future as the Yankees get a clearer picture of their postseason situation, however.
The more immediate priority is that Blue Jays series next week. The Yankees have to start Tanaka in that series if they want to have any chance to win the division. He's their best hope for a win. There are only two ways to start Tanaka in that series too. They could simply push his next start back a few days and have him skip the Mets series all together, or they could start him on normal rest against both the Mets and Blue Jays. That lines him up for the final game of the series in Toronto.
Given their place in the standings, pushing Tanaka's next start back and having him start against the Blue Jays but not the Mets seems ridiculous. The Yankees need to pitch Tanaka more to get to the postseason. Not less. The "normal rest against the Mets and Blue Jays" plan makes too much sense. I'm sure the team doesn't love the idea of Tanaka making three straight starts on normal rest — he started Sunday's game on regular rest — but what are they supposed to do? Winning is the priority now.
That series in Toronto could easily decide the AL East. The Yankees could be buried in the standings or atop the division after those three games. Once the team gets through those three games, they can reassess their rotation plan, and decide whether they need to continue pushing Tanaka on regular rest to get to October, or take their foot off the gas and line him up for the wildcard game. The race should be clearer a week from now. For now, things are too tight to worry about getting Tanaka extra rest. Making these next two starts against the Mets and Blue Jays on regular rest seems like a no-brainer.