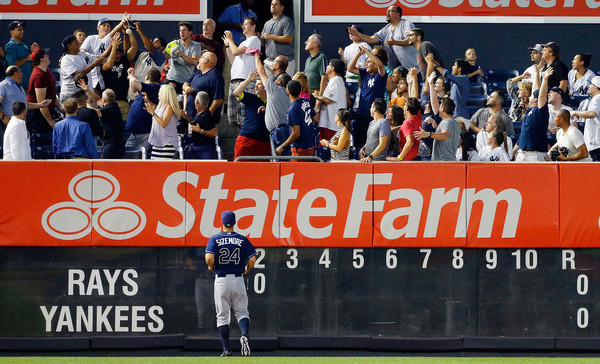 The Yankees have won six times in their last seven games and have gained one whole game in the standings. Stupid juggernaut Blue Jays. Nothing the Yankees can do about that though. They just have to win their games and everything will take care of itself.
Nasty Nate Eovaldi is on the mound this afternoon looking to rebound for a bumpy start against the lowly Braves last time out. He has a 3.32 ERA (2.84 FIP) with fewer hits allowed (73) than innings pitched (78.2) in 13 starts since the disaster in Miami. Pretty awesome. Keep it going, Nate. Here is Tampa Bay's lineup and here is New York's lineup:
CF Brett Gardner
LF Chris Young
DH Alex Rodriguez
RF Carlos Beltran
3B Chase Headley
1B Greg Bird
C John Ryan Murphy
SS Didi Gregorius
2B Brendan Ryan
RHP Nathan Eovaldi
Great weather in New York today. Nice and sunny, no clouds, temperatures in the upper-70s/low-80s. Pretty great. This afternoon's game will begin 1:05pm ET and you can watch on FOX Sports 1. No YES, WPIX, or FOX. Just FOX Sports 1. Enjoy the game.
Injury Updates: Jacoby Ellsbury (stomach) is still a bit dehydrated and remains day-to-day with flu-like symptoms. He may be available to pinch-hit today … CC Sabathia (knee) feels fine after yesterday's simulated game and the plan remains for him to come off the DL to start Wednesday.