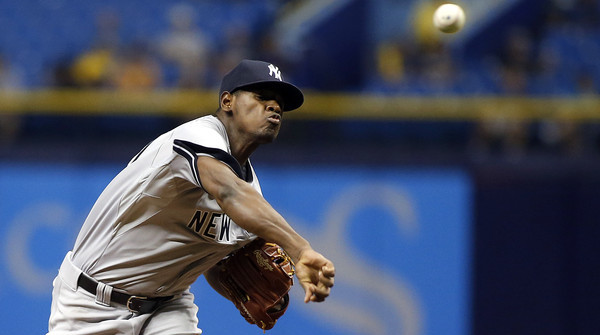 Since being called up after the trade deadline, Luis Severino has pitched about as well as the Yankees could have hoped. The 21-year-old never threw even 90 innings at one minor league level and has a 3.12 ERA (4.18 FIP) in eight starts and 43.1 innings. He's been pretty good and the Yankees have needed him to be good. Michael Pineda (forearm), Masahiro Tanaka (hamstring), CC Sabathia (knee), and Nathan Eovaldi (elbow) have all gotten hurt in recent weeks. Severino has helped picked up the slack.
That said, Severino's worst two starts as a big leaguer have come against tonight's opponent, the Blue Jays. He allowed three runs in six innings in Toronto on August 16th — yes, Carlos Beltran made a crucial error, but Severino also put some pitches on a tee to great hitters — and then got creamed for six runs in 2.1 innings on September 11th. So that's nine runs in 8.1 innings against the Blue Jays and seven runs (six earned) in 35 innings against everyone else. Severino faces Toronto for the third time tonight. Hopefully this time he comes out on top. Here is the Blue Jays' lineup and here is the Yankees' lineup:
CF Jacoby Ellsbury
LF Brett Gardner
DH Alex Rodriguez
C Brian McCann
RF Carlos Beltran
1B Greg Bird
3B Chase Headley
2B Dustin Ackley
SS Didi Gregorius
RHP Luis Severino
Another nice day in Toronto. Sunny and cool with no rain in forecast or clouds in the sky. Good night for a game. Tonight's game will begin a bit after 7pm ET and you can watch on YES locally and ESPN nationally. Enjoy the game.