The following is a guest post from longtime reader Adam Moss, who goes by Roadgeek Adam in the comments. He's previously written guest posts about Tim McClelland, the No. 26, Frankie Crosetti, and Casey Stengel.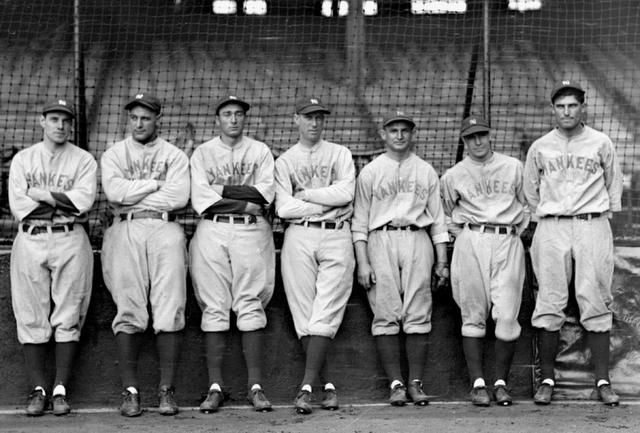 The game of baseball has historically been full of flashy players and players who definitely spoke their mind. We're seeing the latter in the Matt Harvey/180-inning limit controversy and his opinions to the press, which in this day and age are much more open to interpretation. We also have flashy players who like to talk the talk and some who walk the walk. The Yankees have a hot shortstop in the form of Didi Gregorius, who is very flashy when it comes to his glove. However, his personality is much more controlled than the one I want to talk about today. From 1925 to 1929, the Yankees had a flashy shortstop in the name of Leo Durocher. Yes, the famous New York Giants and Brooklyn Dodgers manager Durocher.
Not much is talked about Durocher's time as a New York Yankee, which was only 3 seasons in 5 years (more like 2 because he only played 2 games in the Yankees horrid 1925 season). The Yankees acquired the young shortstop in August 1925 from the Hartford Senators and manager Paddy O'Connor (a catcher for the Yankees in 1918!) for $12,000 ($161,870 by today's standards). At that time, Durocher was a 19-year-old who had played in 151 games with 118 hits, 13 doubles, 4 triples, 1 home run and a .220 average with .265 slugging. Durocher made his Major League debut on October 2, 1925 against the Philadelphia Athletics, pinch-hitting for the pitcher Garland Braxton and flying out to the right fielder Walt French. Durocher came in the next game as a pinch-runner for Ben Paschal in the bottom of the 9th at Yankee Stadium and scored the game-tying run. A ground out by Mark Koenig scored the winning run as Earle Combs came home and the Yankees won that game 9-8.
Following that short performance in 1925, the flashy Durocher would not appear in a Major League game until April 11, 1928, when he would make his debut at 2nd base as the starter in a lineup that including Combs, Koenig, Babe Ruth, Lou Gehrig, Bob Meusel, Joe Dugan, Pat Collins and Herb Pennock. Durocher spent the 1926 season with the Atlanta Crackers of the American Association and 1927 with the St. Paul Saints. In the game against the Philadelphia Athletics, Durocher finally got his first big league hit that day, his first as a Yankee. Interesting factoid: Bill Dineen and Dick Nallin, the home plate and first base umpires, were the umpires in the series in 1925 in which Durocher made his debut. The 22-year old Durocher participated in 102 games in 1928, totaling 296 at bats and only 80 hits with 8 doubles and 6 triples. He managed only 22 walks and 52 strikeouts on a team that ended up with 9 Hall-of-Famers: Durocher, Miller Huggins, Ruth, Gehrig, Bill Dickey, Combs, Tony Lazzeri, Pennock and Waite Hoyt.
"Cocky Player Forced Self on Yankees"
This headline was written by Frank Getty of United Press International on April 1, 1929 about the new Yankee shortstop. The Yankees had decided to buy the contracts of Jimmie Reese and Lyn Lary from the Oakland Oaks of the Pacific Coast League in exchange for $125,000. Reese immediately was unable to impress, but Lary was given chances by Miller Huggins to make sure he could be a good shortstop. The decision led them to move Koenig to third base from his normal position at shortstop. Durocher had been serving as a utility infielder for the Yankees, and his behavior on the field, called "riding" opposing players, impressed Huggins significantly. Durocher was a hustler down the line and always worked hard. Despite how much Higgins wanted Lary to become the shortstop during Spring Training in St. Petersburg, Florida, Lary eventually showed that he was not the shortstop of the 1929 season for the Yankees, showing poor defense and hitting a miserable .180 in Spring Training. Durocher, who spent most of the 1928 season filling in for Lazzeri at second base won the job as the starting shortstop despite needing a lot to learn and expected by Huggins to hit at .280 to help their "Murderer's Row".
Durocher was selected to be the starting shortstop for the 1929 Yankees, but Huggins admitted he may not play every day and be a bench player in the summer, with the number 7 debuting on his back with the introduction of uniform numbers based on the position of the lineup. Durocher wasted no time proving Miller Huggins had made the right decision, finishing the month of April with a .323/.417/.323 batting line.
"Just For Laughs"
This headline is something you'd rarely see in this day and age and I am surprised Col. Ruppert even allowed it: an article written by Leo Durocher himself on April 15, 1929. He talked about a scenario of events that occurred in 1928 with the Detroit Tigers, who he called a "scrappy bunch team themselves." Durocher took it upon himself to have fun with the Tigers by using Bob Fothergill as hit bait. Fothergill, as Durocher hinted as "twice as heavily as Babe Ruth at the time," was supposed to bat. Instead, Durocher went to the umpire Bill McGowan (who was put in the Hall of Fame posthumously in 1992), and told him Fothergill was batting out of order. George Moriarty, the manager of the Tigers leapt out of the dugout screaming mad at McGowan about Durocher's protest. He shouted at McGowan "It's Fothergill's turn, that man's crazy." The umpire, McGowan, turned to Durocher and agreed with Moriarty, while Durocher responded: "Why, yes, it's Fothergill's turn all right. But when I looked there a minute ago I could have sworn I saw two men up at the plate." Durocher admitted in the last sentence of the piece that "Fothergill wanted to brain me with his bat but couldn't catch me."
As much as that piece in the newspapers was just for laughs, so was Durocher's statistics after April 1929. Durocher fell off a cliff from his hot April and had a terrible late spring, never managing higher than a .306 batting average and spending a lot of May and June hovering near the Mendoza line. As the summer entered in 1929, Durocher finally started to hit again, reaching a peak of .281 in the July 10 game against the Chicago White Sox. By now, Lyn Lary had made his MLB debut and was mashing above .300, so Durocher was starting to lose his luster. One article mentioning that Durocher was a "great fielder, but inclined to be erratic." Despite the statement by Huggins that Durocher was supposed to hit. 280 in the season, he finished the season on October 6, 1929 with a .246 average and having been pulled from his 7th spot in the order and his position as shortstop. Despite all the promise, Durocher basically finished worse than his 1928 season, appearing in 106 games, but changing his style to walk more and whiff less.
One story of an ejection by Durocher occurred on July 14, 1929, when Durocher, called the "Yankees' sassy little shortstop," basically decided to give an umpire a piece of his mind. Durocher was ejected for "wagging his tongue too much" aka talking too much crap to the umpires and was promptly ejected in a style you'd never see make the news today: "to give the mouth organ a rest under the showers." He was replaced by Mark Koenig at shortstop.
"Go Kiss Yourself"
It appears that the Yankees front office had enough of Durocher at the end of the 1929 season, and the sassy shortstop finally said one thing too much. On February 6, 1930, the Yankees announced that they traded Durocher to the Reds for cash and a player to be named later. That same day the Reds traded Adolfo Luque to the Brooklyn Dodgers for pitcher Douglas McWeeny, who was supposedly a good thrower but a poor commander. Word eventually got out that the wisecracking shortstop had asked General Manager Ed Barrow for a raise and an advance from $7,000 salary to $10,000. When Barrow denied both requests from Durocher, Durocher remarked that Barrow could "go kiss yourself." The next day Durocher stated that he found out he was traded to the Reds. For those who know Durocher well, "Go kiss yourself" became a big piece of baseball English produced by Durocher over his time in baseball.
The media response to the Durocher trade was pretty lackluster, but there was an interesting story produced by the North American Newspaper Alliance on February 16, 1930. George Morarity, the ex-manager of the Tigers and MLB umpire (yes he held both titles!) wrote a story about the kid as "Leo Durocher Champion As Wisecracker." Moriarty basically ripped Durocher, stating that his abilities to wisecrack were unmatched and that Durocher was called the "The Great American Out" because he could be retired with such ease. Moriarty credited his ability to be a good utility infielder but basically despised his antics.
Conclusion
Durocher remained a player until 1945, but became a player/manager in 1939 for the Brooklyn Dodgers. Durocher would eventually become a household name in baseball for teams not named the Yankees, working with their great competitors, the Dodgers and the Giants for many years before ending his career in 1976 in Japan. The great Durocher died on October 7, 1991 at the age of 86 in Palm Springs, California and is buried at Forest Lawn's Revelation Section (Plot 3211) in Los Angeles. Three years later, Durocher was selected by the Veteran's Committee to be inducted into the Hall of Fame in Cooperstown, with some general belief that they did not want him to be alive before being inducted.
As for his Yankee career, it is a story of "What Ifs?" Durocher had excellent defensive talent and was able to play in the infield as needed. He had speed and hustled every opportunity he had. Miller Huggins, the manager, loved Durocher. However, the young Durocher was not tame like his teammates and finally, it bit him in the end with smart-assing Ed Barrow. For all his faults, he was the original No. 7 and being in the Hall of Fame, he is still a Yankee in history.