Ten questions in the mailbag his week. Email any mailbag questions to RABmailbag (at) gmail (dot) com throughout the week. The "For The Mailbag" form is kaput.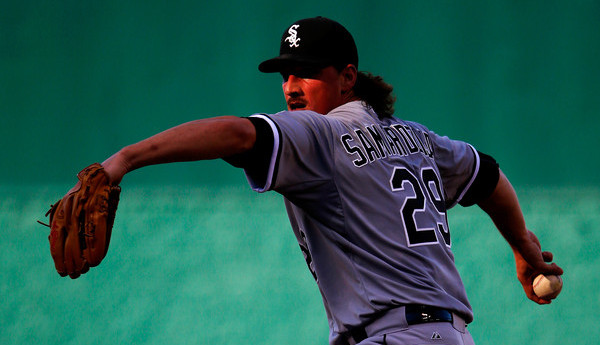 Daniel asks: Do you think Jeff Samardzija can be had on a 1-year pillow contract? He's made over $30m in his career so he might be interested in holding out for a big deal after 2016 instead of taking a medium-sized deal after this season. Think 1/$15m could work?
I think it's possible. He's having a really down year (4.87 ERA and 4.13 FIP) but was excellent just last season (2.99 ERA and 3.20 FIP), so it's not like you have to look far back to see the last time he was really good. Samardzija is only 30, and while he's established himself as a workhorse (sixth in innings since 2013), his arm is ostensibly fresher than most 30-year-olds' because he spent a few years as a reliever and split time between baseball and football as an amateur.
At the same time, this might be Samardzija's last best chance at a big payday. If he has just an okay year in 2016, the contract offers might not be so great after the season for a guy closing in on 32 who is more hype than production. How much is he willing to bet on himself? That's the real question. The Yankees do have several ties to Samardzija — Larry Rothschild was his first big league pitching coach and special assistant Jim Hendry was the Cubs GM when they drafted Samardzija — so I do think he'll be on their radar this winter, especially if he's willing to take a one-year pillow contract. That would fit the roster/future payroll nicely and free up Ivan Nova for a trade.
James asks: What would the Yankees have gotten had they traded Robinson Cano in the final year of his contract? Considering the Yankees (should have) known he was going to get a massive contract should they have traded him?
I could have sworn I remember reading somewhere that the front office wanted to explore trading Cano back in 2013 because they knew they were unlikely to re-sign him, but ownership nixed the idea. Can't find it now though. Maybe it was a dream. Anyway, Cano was a super-elite player back then and even one year of him would have netted a handsome prospect package. David Price was just traded for a top 20 overall prospect (Daniel Norris), a big league ready starter (Matt Boyd), and a Single-A lottery ticket (Jairo Labourt). A similar package for Cano would have been appropriate. From what team? Who knows. The trade landscape was very different back then. Not trading Cano looks like a mistake in hindsight. I think the bigger mistake was not doing enough that season to get him help to make a run in Mariano Rivera's final season.
John asks: What happens to the players on the Gulf Coast League teams after their season ends? Do they all just go home, or do some or all of them hang around Tampa waiting to see if they're needed at the other minor league squads until those seasons are done?
Many are sent home after the season but some are assigned to other affiliates — Donny Sands joined Low-A Charleston, for example, and some pitchers joined other teams — for the final week of the regular season and postseason. Others are kept around Tampa to stay sharp leading up to Instructional League, which starts fairly soon. In a week or so. Once the minor league season ends for all affiliates, guys either go home or are assigned to Instructs.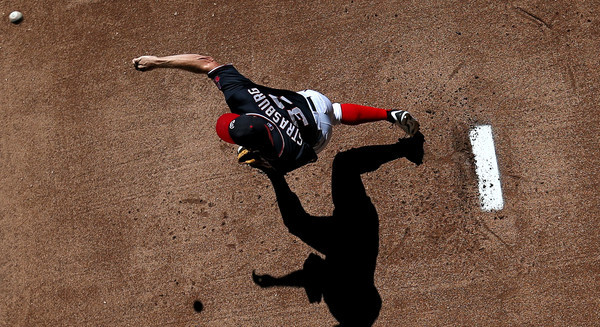 Kevin asks: Who would say no to a trade along the lines of Brett Gardner, Ivan Nova and Gary Sanchez for Steven Strasburg and Danny Espinosa trade this offseason?
The Nationals would. They won't sell low on Strasburg like that. Gardner is awesome, and he would definitely help the Nationals, but a 32-year-old is not going to be the centerpiece of a deal for Strasburg. Nova will be a free agent after next season and Sanchez is just a prospect. Strasburg is a borderline ace when healthy. (I know people like to say he hasn't lived up to the hype, but he had a 3.02 ERA and 2.84 FIP in 649.1 career innings coming into 2015. What more do you want?) Espinosa's bat has bounced back now that he stopped trying to play through injuries — he played through a broken wrist and a torn rotator cuff in recent years — so he's a quality two-way middle infielder under control through 2017. Three years of Gardner, one year of a back-end starter, and a Triple-A prospect isn't enough to get one year of a potential ace and two years of a quality middle infielder.
Chris asks: Domingo German. Looking at the 40-man roster on the Yankees site, it looks like he's only on the 15-day DL. It would seem to be the simplest way to open a spot on the 40-man roster. Am I missing something? Is putting him on the 60-day something that costs them something in terms of his clock?
German was on the High-A Tampa DL all season after having Tommy John surgery during Spring Training. He was in big league camp because he's on the 40-man roster — the Marlins added him last offseason because he was Rule 5 Draft eligible — but the team was able to send him down despite the injury because he's yet to make his MLB debut. They did the same with Manny Banuelos following his Tommy John surgery a few years ago. Anyway, German would have accrued service time had the Yankees placed him on the big league 60-day DL to clear a 40-man roster spot. They would have lost an entire year of team control. (They called German up to 60-day DL him and clear a 40-man spot earlier this week, but one month of service time isn't a huge deal.) The Yankees had to either burn a year of control or burn a minor league option with German this season, and they went with the option. I don't blame them.
Nico asks: Is it theoretically possible that a team could put a player who they know to have non-public injury problems on waivers, then just let the claiming team have him? I'm assuming it's against the rules somehow, but how so? Are waiver claims subject to a physical?
Injured players inevitably end up on waivers — not on purpose, of course — and if the claiming team finds the player is hurt, the league will void the claim and send him back to his former team. The injury is going to show up eventually and they can determine if it was suffered before or after the claim. This happened a few years ago with Brian Schlitter. The Yankees claimed Schlitter from the Cubs in January 2011, the Phillies claimed him from the Yankees in February 2011, then the Phillies found an injury in Spring Training, so the league cancelled all the claims and Schlitter went back to the Cubs. Anthony Varvaro's waiver claim was rescinded earlier this year due to injury, as another example. Intentionally placing an injured player on waivers in an effort to foist him onto another team isn't cool, man. It's straight up unethical.
Nik asks: Austin Romine is 26 now. We've been hearing his name forever. How long before the Yanks cut bait on him? It seems he's always "in the mix" but yet the Yankees keep drafting or trading for someone who ends up ahead of Romine on the pecking order.
They essentially did cut bait with Romine earlier this year when they outrighted him off the 40-man roster. He cleared waivers and was able to spend the year in Triple-A Scranton, which was nice from a depth perspective, but he has been passed on the catching depth chart by John Ryan Murphy and Sanchez. The only reason Romine received a September call-up is Sanchez's hamstring injury. His development stalled out a few years ago — injuries played a part in that — and it didn't work out. So it goes. Romine figures to be among the first 40-man roster casualties this winter — the Yankees could try to trade him first, but his trade value is nil — and this time he'll be able to elect free agency should he clear waivers, which I'm sure he'll do in hopes of joining an organization able to give him a greater opportunity.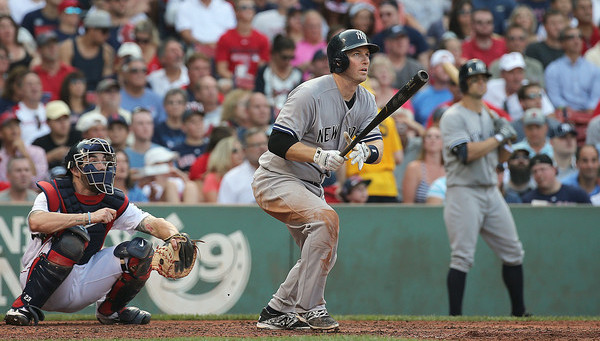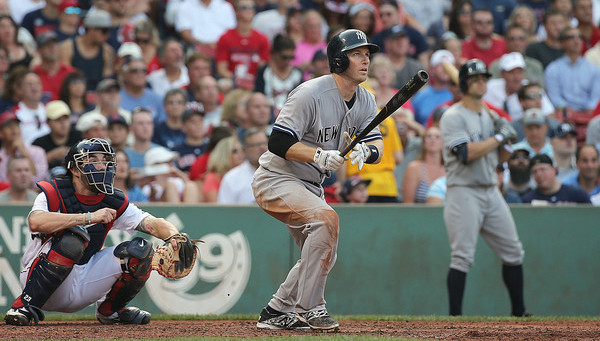 Gene asks: I can't believe I'm saying this,  but would it make sense to bring Stephen Drew back next year if he'd take a similar deal? He's over .250 since the break, good and versatile in the field, and by all accounts well liked.
Drew has hit .251/.323/.483 (120 wRC+) with 12 home runs and good strikeout (14.8%) and walk (9.2%) rates since June 1st, which covers 229 plate appearances. He's insanely hot right now, he won't keep this up, but it's not just a one or two week hot streak either. Drew's been quite good at the plate for a while now, and his defense was never bad either. Let's see how he finishes the season before worrying about re-signing him, but yes, it could make sense to bring him back, especially if he'd take another one-year contract. If Drew and Scott Boras try to parlay his late-season success into a two or three-year deal, then walk away. Drew was really bad for a long time there. Can't forget that. This is an offseason issue though. For now let's just hope he maintains his recent production and gives the Yankees something to think about this winter.
Dave asks: The Yankees have done an excellent job scouting & developing Didi Gregorius. They've given him the time to adjust and get comfortable. Beyond Brian Cashman, who in the organization should be given credit for his success?
It's impossible to know the full answer to this. Jon Heyman reported back in April that special assistant Gene Michael "loved" Gregorius, so I'm sure he was part of the decision making. Eric Chavez, who played with Didi in Arizona and now works in New York's scouting department, has said he was consulted as well. I'm guessing the Yankees used Chavez to get a feel for Gregorius' makeup and clubhouse skills, traits they value highly. I have to think the analytics department, run by assistant GM Michael Fishman, played a role in the trade as well. It's never just one person. Lots of people forget the "manager" part of "general manager." The GM is only as good as the people working for him. As for Didi's on-field development … gosh, it could be a million people. The coaching staff certainly, also his teammates. We've heard Alex Rodriguez and Carlos Beltran both took an active role in helping Gregorius early in the season. Acquiring and developing a young player is never a one-man job. Lots of people deserve credit when it goes right.
Greg asks: When Joe Girardi makes the annual starting line up card consisting of (almost) all September call ups, who will be on it?
I always enjoy seeing "no effs given" lineups in September, either after a team is out of the race or has already clinched the division title or something. You know what I mean, the lineups with no regulars and a bunch of call-ups. The Yankees only called up four position players on September 1st — not counting Dustin Ackley, who was activated off the DL — so they couldn't field an entire lineup of call-ups, just most of one. These would be my lineups in various roster states. (No, I didn't spent too much time thinking about this. Why do you ask?)
| | Current Roster | Heathcott called up | Sanchez healthy | Slade + Sanchez |
| --- | --- | --- | --- | --- |
| 1. | LF Dustin Ackley | LF Dustin Ackley | LF Dustin Ackley | LF Dustin Ackley |
| 2. | 3B Jose Pirela | 3B Jose Pirela | 3B Jose Pirela | 3B Jose Pirela |
| 3. | RF Chris Young | C John Ryan Murphy | RF Chris Young | 1B Greg Bird |
| 4. | 1B Greg Bird | 1B Greg Bird | 1B Greg Bird | DH Gary Sanchez |
| 5. | C John Ryan Murphy | 2B Rob Refsnyder | DH Gary Sanchez | 2B Rob Refsnyder |
| 6. | 2B Rob Refsnyder | CF Slade Heathcott | 2B Rob Refsnyder | CF Slade Heathcott |
| 7. | DH Austin Romine | DH Austin Romine | C Austin Romine | C Austin Romine |
| 8. | SS Brendan Ryan | SS Brendan Ryan | SS Brendan Ryan | SS Brendan Ryan |
| 9. | CF Rico Noel | RF Rico Noel | CF Rico Noel | RF Rico Noel |
They're lineups, so there's no right answer as long as you don't do something like bat the best hitter ninth. With any luck the Yankees will get everyone healthy this month, clinch early, and trot out one of those call-up lineups in Game 161 or 162. Those games are always fun in a Spring Training kinda way.