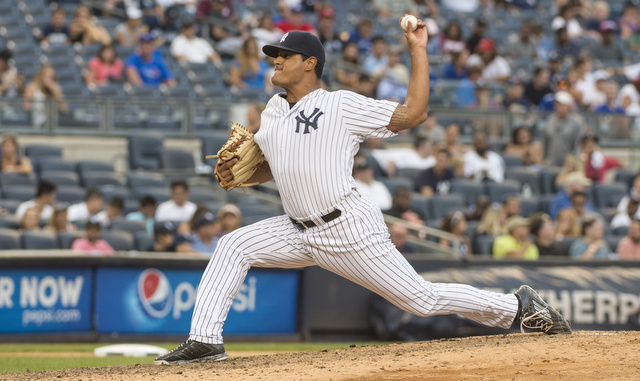 As you know, the Yankees have used their last bullpen spot or two as a revolving door this season, shuttling young relievers in and out as fresh arms were needed. Fifteen different relievers were called up from Triple-A Scranton as part of the shuttle this season, eight of whom were called up and sent down multiple times. Ten of those relievers made their Major League debuts.
On the bright side, that's a lot of young players getting an opportunity this season. Getting to the big leagues is one heck of an accomplishment. On the other hand, none of those relievers stuck around long enough to make any sort of impression. Branden Pinder leads the group with 26.1 big league innings this year, though that is spread across five separate call-ups. He threw eleven innings in August and no more than 6.1 innings in any other month.
It's too late in the season now for anyone to get an extended look, but it's not too late for one or some of these young relievers to make an impact. Despite being 13 pitchers deep, the bullpen is short right now, at least in terms of relievers Joe Girardi actually trusts. Andrew Miller, Dellin Betances, and Justin Wilson are still around, but Adam Warren is in the rotation and Chasen Shreve has hit a wall. The Circle of Trust™ is three men deep right now.
Like it or not, Girardi is going to have use some of these young relievers to get important outs in these final 18 games of the season. He tried to do that last night. Things didn't go too well: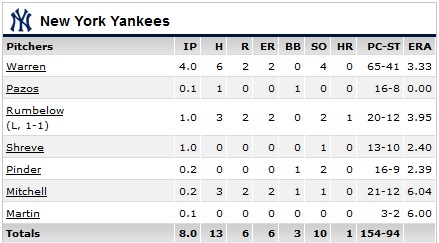 That's a lot of sketchy relief pitchering. On Monday we saw Girardi use Caleb Cotham in the eighth inning of a one-run game with an insurance run standing on third. James Pazos and Cotham tag-teamed the ninth inning against the top of the Blue Jays lineup Sunday. Nick Rumbelow and Bryan Mitchell have both gotten the call in an important-ish situations at various points.
The Yankees do have some veterans in the bullpen, namely Andrew Bailey and Chris Capuano (and I guess Chris Martin), though neither is really suited for higher leverage work. They have experience, sure, but Bailey's still coming back from major shoulder surgery and Capuano's nothing more than a long man. The young kids and their power arms are better options right now, in theory. Experience is great, but present talent wins out.
With the starters failing to go longer than six innings on the regular, Girardi and the Yankees will be forced the bridge the gap with these young guys. They can't use Wilson and Betances for multiple innings each day, not even this late in the season. Someone, be it Pazos or Pinder or Rumbelow or Bailey, is going to have to step up and get some big outs at some point these last 18 games. The Yankees don't have any other options.