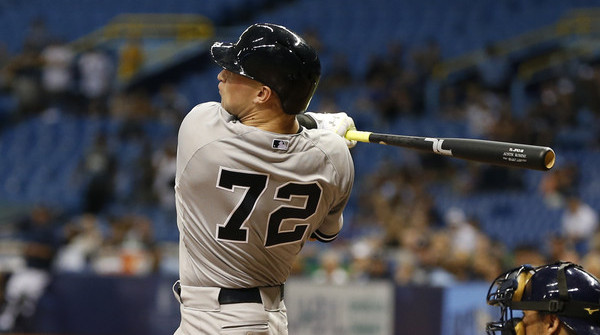 This past offseason, the Yankees non-tendered outfielder Slade Heathcott only to bring him back on a minor league contract. Declining to tender Heathcott a contract was the only way to get him off the 40-man roster without exposing him to waivers. They were able to drop him from the 40-man roster, keep him off waivers, and bring him back to the organization.
That move is risky, of course. Non-tendering a player makes him a free agent, so any team could have swooped in to sign Heathcott. That's a risk the Yankees were apparently willing to take. Joel Sherman reports six teams contacted Slade's agent within minutes of the non-tender. A total of 15 teams showed interest in a matter of days. Half the league wanted him.
Despite all that interest, Heathcott returned to the Yankees because the two sides had a handshake agreement in place before the non-tender. Sherman has the details:
Heathcott's representatives let the organization know they would sign back under three conditions: 1. Heathcott would get $110,000 for the minor league season rather than the $72,500 for which he would have been in line; 2. Heathcott would get a July 1 out, to leave the organization if he had not been put back on the 40-man roster; 3. He would be allowed to use his own doctors and trainers in the offseason rather than those of the Yankees to try to reverse his history of injuries.
The Yankees added Heathcott to the 40-man roster and called him up in May, following Jacoby Ellsbury's knee injury, so that July 1st opt-out date never came into play. Good for Slade for leveraging his impending free agency into a nice raise and the ability to use his own doctors. I wonder if Vicente Campos, who also went the non-tender/re-sign route, got a similar deal.
Heathcott, 24, spent most of the season with Triple-A Scranton and on the big league DL with a quad injury. He hit .267/.315/.343 (90 wRC+) in 64 Triple-A games around the injury and has gone 7-for-18 (.389) in the big leagues, including two home runs. Knee and shoulder injuries limited Heathcott to only 177 games from 2012-14. He was New York's first round pick (29th overall) back in 2009.
The Yankees have at least one more minor league option year on Heathcott, meaning they can send him up and down as many times as they want in 2016. Mason Williams, Ben Gamel, and Jake Cave are fellow left-handed hitting outfielders slated for Triple-A, so it'll be interesting to see what the Yankees do with their depth. Using one or two of those guys to plug a different roster hole via trade would make sense.