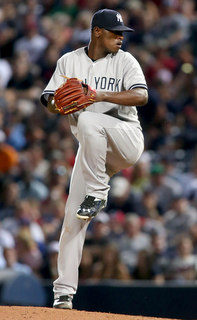 Almost immediately after the trade deadline passed, Brian Cashman announced the Yankees were calling up top pitching prospect Luis Severino to bolster their rotation. He's been better than I think anyone could have reasonably expected too: 2.04 ERA (3.96 FIP) in six starts and 35.1 innings. That's pretty awesome, especially by "21-year-old kid thrust into a postseason race" standards.
Severino's performance has been remarkable for a 21-year-old, but being 21 comes with some caveats, specifically workload limitations. The days of Brien Taylor throwing 161.1 innings one year out of high school are long gone. Teams do not let pitchers as young as Severino throw a lot of lot of innings. That's just the way it is nowadays. And yet, when Severino was called up, Cashman said he had no restrictions.
"There's nothing that's going to hold him back now," said the GM to Ryan Hatch after announcing Severino was joining the rotation. "We prepared for this, and hopefully we have a chance to have him max out, because that will mean he's pitching deep into games."
So far this season Severino has thrown 134.2 innings between the minors and the big leagues. That surprised me. I thought the number would be much higher, closer to 150 or even 160. It's not though, and that's because the Yankees did an excellent job rationing Severino's innings earlier this year. As Cashman said, they prepared for this, meaning a late-season call-up.
Severino started the season with Double-A Trenton — easy to forget that now, huh? — and was bumped up to Triple-A Scranton in late-May. In his eight Double-A starts, he threw more than five innings just once, and that was a six-inning outing in which he threw 97 pitches. Severino averaged 4.75 innings and 75.5 pitches per start with the Thunder earlier this year. That's it.
After being promoted to Triple-A, Severino threw ten starts before being summoned to MLB, and in those ten starts he averaged 6.11 innings and 97.1 pitches. They turned him loose just a bit — Severino completed six full innings four times in those ten Triple-A starts — because it was time to stretch him out. The Yankees had to let Severino build his pitch count and attempt to go through a lineup three times. That's part of development.
All told, Severino made 19 minor league starts before being called up this year. He averaged 5.23 innings and 82.9 pitches in those 19 starts. Severino topped 100 pitches once (103 on June 16th) and 95+ pitches four times. I remember wondering why the Yankees were being so conservative with Severino in April and May by cutting his starts off after five innings so regularly, and now we know why. They were preparing him for a call-up.
Severino set a career high with 113 innings this season, which appeared to put him in line to throw 150 or so innings this season. That was speculation, not a hard number. Severino came up with 99.1 innings on his arm, and with the end of the regular season a little less than four weeks away, he's at 134.2 innings. He's going to wind up finishing the season at 155-160 innings or so, close enough to that 150-inning mark I and a few others speculated was his limit.
Now, innings are not the best way to measure workload. We all know that by now. A hundred pitches in five innings is not the same as 75 pitches in five innings. Innings is just a umbrella term at this point. The Yankees have a lot of experience managing workloads — the Joba Rules, while not carried out out in the best possible way, were well-intentioned — and I'm certain they're not just counting innings. The Yankees are too analytical to stop there. They're going deeper than that.
The Mets just had a messy, public spat with Matt Harvey and agent Scott Boras over Harvey's workload. The Pirates are skipping Gerrit Cole's start later this week. The Cardinals skipped Michael Wacha's start last week. All these contenders are trying to control the workload of their young horses, and yet the Yankees are in position to turn Severino loose because of what they did earlier this season. They did it backwards — they limited his work early in the season and he's ready to go in September.
Obviously the Yankees had the advantage of starting Severino in the minors. It's much easy to cap a young pitcher's starts at five innings down there. Harvey and Cole and Wacha have been in the big leagues since Opening Day. You can't control someone's workload as easily at this level. The Yankees were in a fortunate position with Severino and took advantage. Next season they'll have to figure out how to control his innings at the MLB level, which is tough. There's no right way to do it.
For now, the Yankees have Severino in their rotation with no restrictions, and that's good because they really need him. The rotation has been thinned out by injury. Does he truly have no restrictions this year? Of course not. They wouldn't let him throw 200+ innings or something like that. The Yankees don't have to worry about that though. They smartly manipulated Severino's innings while he was in the minors and that has put him in position to help down the stretch.
"That's why we played with the innings the way we did this season. We all sat down numerous times this winter and then again in Spring Training and mapped out this scenario," added Cashman. "If he performed up to his capabilities, we felt he would pitch for us from August on at some point. And here we are."