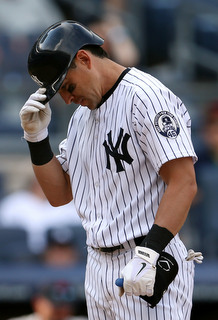 During the four-game series against the Blue Jays this weekend, it was hard not to notice the utter lack of impact from Jacoby Ellsbury. The Yankees leadoff hitter went 1-for-19 (.053) with a walk in the four games — Ellsbury went 0-for-4 last night and is currently mired in an 0-for-21 slump — and generated nothing from atop the lineup. It's a minor miracle the Yankees have scored 26 runs in the last five games with Ellsbury hitting like that.
At this point Ellsbury's slump is not just a little bump in the road. He did perform well during the ten-game homestand before this last one that just ended (.351 in nine games starts) and did beat up on some bad Braves pitching in Atlanta, but otherwise his bat has never really come around since returning from the DL. Ellsbury is hitting .210/.251/.328 (55 wRC+) in 258 plate appearances since returning in early-July, dragging his overall season numbers down to .254/.315/.345 (83 wRC+).
This is getting to the point where it's more than a slump. A slump is a bad week or two. Maybe a bad month on occasion. Those happen to everyone. Ellsbury is over 250 plate appearances since returning from his knee injury now, and his offensive production has been replacement level. When he started slow immediately after coming off the DL, okay, it was understandable. But now, more than two months later? Now it's time to be legitimately concerned.
"He's just not squaring the ball up," said Joe Girardi to Ryan Hatch when asked about Ellsbury's slump Sunday, which doesn't tell us much. We know he's not squaring the ball up, we see it during the games and the batted ball data backs it up. Ellsbury's soft contact rate has continually climbed since he returned in July and he's hitting both more ground balls and more pop-ups.

Weakly hit ground balls and pop-ups are BABIP killers. Those are the types of balls in play that rarely go for hits, which explains Ellsbury's .235 average on balls in play since coming off the DL. He had a .379 BABIP before getting hurt and has a career .319 BABIP. Ellsbury is nowhere close to that now, and unless he starts hitting the ball with more authority, there's no reason to expect a rebound.
The real question is why. Why isn't he squaring the ball up? Ellsbury was a leadoff monster before getting hurt, remember. He was hitting .332/.408/.368 (123 wRC+) when he landed on the DL in mid-May. I've been one of the harshest critics of Ellsbury's contract, I think it's a disaster in the making, but I also don't think he's suddenly a true talent 83 wRC+ hitter either. He's not as good as he was before the injury and he's not as bad as he has been after. The truth is somewhere in the middle based on his history.
The injury could be certainly be a factor here. Actually, the injuries could be a factor. Plural. Ellsbury went on the DL with a right knee problem, and he also missed a few days with a right hip issue about three weeks ago. He slid for a ball in the outfield and hurt himself somehow. His hip swelled up and Girardi sat him for a few days. Leg injuries are no good for any player. Hitting starts from the ground up. Without a solid base underneath you, you won't be able to drive the ball.
Here are two screen grabs showing the same thing at different points of the season. The screen grab on the left is from early-May, one of the final home games before Ellsbury's knee injury. The screen grab on the right is from Saturday night. They both show the moment Ellsbury's front foot touches down as part of his leg kick.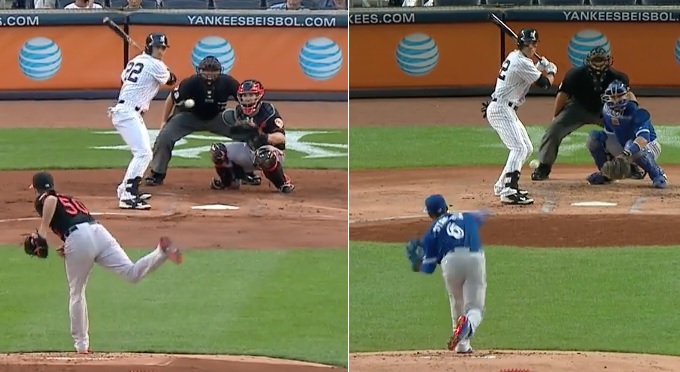 The pitch on the left has traveled a lot deeper by time Ellsbury's foot touches down. The pitch on the right is barely out of the pitcher's hand. Could it be the knee and hip injuries have resulted in a timing problem? Ellsbury is getting his front foot down too early now, so his weight transfer and stuff is all out of whack, leading to softer contact. (He's been rolling over on everything and hitting grounders to the right side of late.) That sounds … plausible? I dunno. We're playing amateur hitting coach here.
For what it's worth, Girardi dismissed the idea Ellsbury is playing hurt, telling Brendan Kuty that Ellsbury "feels pretty good. He's been just a little bit off." Every player is banged up at this point of the season and it may be Ellsbury is more banged up than most given his knee and hip issues. It's entirely possible he's playing hurt and the team just isn't letting on. I mean, it's hard to think Ellsbury is playing this poorly and is 100% healthy. That would be scary. At last playing hurt would explain things.
Even if he's not hurting right now, it could be the knee and/or hip issues have messed up Ellsbury's mechanics. That stuff happens without the player even realizing it sometimes. They subconsciously try to protect the injured area. Thing is, we don't even know if this is the problem. We're searching for answers. I'm sure Ellsbury and hitting coaches Jeff Pentland and Alan Cockrell are as well. "He's doing everything he can to get back on track," added Girardi.
Should the Yankees move Ellsbury down in the order? After over 250 plate appearances of this, I say yeah, but that's not going to happen. "If every time a guy was going through a tough spot and you start moving him around and moving him down, you'd be juggling the lineup every day," said Girardi. The Yankees won't drop Ellsbury in the lineup in year two of his seven-year contract. This is a team that bumped Adam Warren from the rotation in favor of CC Sabathia (and Ivan Nova), after all.
The Ellsbury we're seeing right now is not the real Ellsbury. He's a much better player than what he's shown the last few days and also since coming off the DL. At this point the Yankees have to focus as much on staying in a wildcard spot as they do winning the division, and it'll be hard to do either of those things these last three weeks with Ellsbury hitting so poorly. His season numbers are what they are. There's not enough time to pretty them up. The best he can do is get on track and help the Yankees from here on out.
"He's extremely important to our lineup," added Girardi. "A lot of times, when guys go through tough periods, the game has a way of equaling its way out and it would be great if it did it over the next 20 games."