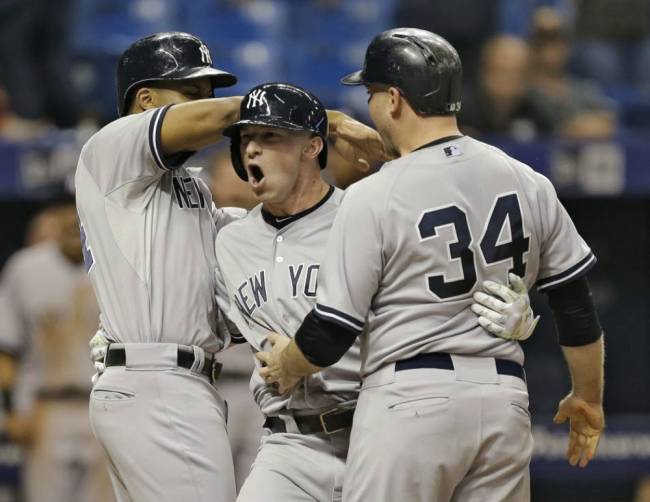 Summer of Slade
No-hit through seven innings by a pitcher with a 6.20 ERA in his previous four starts and down to their last out in the ninth inning, the Yankees somehow rallied for a stunning win over the Rays on Monday night.
This most improbable comeback happened only because a guy with more than 3,000 hits did something he'd never before done in his 21 major-league seasons (more on that later), and a rookie who hadn't gotten a major-league at-bat since May 27 sent the first pitch he saw into the seats for the game-winning homer.
Erasmo Ramirez completely shut down the Yankees bats, taking a no-hitter into the eighth inning before a leadoff single by Carlos Beltran ruined his chance at history. He left after giving up that one hit in 7 2/3 innings, the longest outing with one or fewer hits allowed in a game against the Yankees by a Rays pitcher.
A-Rod then saved the Yankees from a potential season-crushing loss with his two-out game-tying double in the top of the ninth inning. It was his 3,060th career hit — but the very first one that tied a game with two outs in the ninth inning. #ClutchRod
Two batters later, No. 72 delivered a first-pitch fastball into the left field seats to give the Yankees a 4-1 lead and the Most Important Win of The Season. How rare (and clutch) was that blast?
Slade Heathcott is the first Yankee with an two-out, tie-breaking home run in the ninth inning of a September game during a pennant race since … Graig Nettles on Sept. 23, 1977 against the Blue Jays. The Yankees had a slim 1.5-game division lead heading into that contest with less than two weeks left on the schedule. Let's hope this 2015 season has a happy ending just like the 1977 version.
No relief
The Yankees came crashing back down to earth in Tuesday's 6-3 loss, as their rally fell just short in the ninth inning despite bringing the tying run to the plate.
They held a one-run advantage heading into the bottom of the sixth inning, and things were looking good, but the bullpen imploded and the Rays held on for the win. Before this game, the Yankees were 52-7 (.881) when taking a lead into the sixth inning. That's actually pretty darn good, considering the league average win percentage in those situations is .829.
Greg Bird would have been the hero if not for the bullpen deciding to give up runs. His two-run homer in the fourth inning turned a 2-1 deficit into a 3-2 lead. That was his sixth homer of the season — and five of those six gave the Yankees the lead.
Sevvy's back
The Yankees won the rubber game on Wednesday night thanks to another solid performance from Luis Severino and just enough offense to produce a 3-1 victory. They ended up going 12-6 against the Rays in 2015, their best season record vs. Tampa Bay since 2006.
Severino bounced back from the worst outing of his short major-league career by holding the Rays to just one run in 5 2/3 innings. He now has five starts allowing one earned run or fewer within his first eight major-league games. The last Yankee to begin a career like that was Tiny Bonham, who debuted in August 1940 and went 9-3 with a 1.90 ERA in 12 starts down the stretch. (He threw 10 complete games, including three shutouts, and somehow even got a down-ballot MVP vote.)
Jacoby Ellsbury snapped his massive hitting slump with a first-inning single off Chris Archer. Before that hit, he was in an 0-for-25 rut that included five straight games without a hit. Ellsbury is the only Yankee center fielder in the last 100 seasons with five consecutive games going 0-for-4 or worse at the plate.
Only a handful of Yankees had ever put together a streak like that, regardless of position, and the last two were Ichiro in 2013 and Derek Jeter in 2004 — two guys that combined for more than 6,000 major-league hits.
The fact that Ellsbury was able to end that streak against Archer wasn't surprising. He is now 16-for-24 (.667) in his career against the Rays' ace, easily his best batting average vs. any pitcher he's faced at least 20 times, and the highest average against Archer by any batter that has faced him more than 10 times.