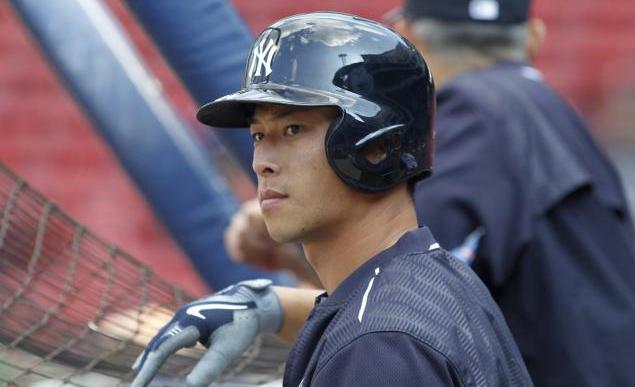 Last week the Yankees called up seven players from Triple-A Scranton when rosters expanded, not including Dustin Ackley, who was activated off the DL. Five of those seven players have since appeared in a game with the Yankees. One of the two who didn't is Austin Romine, the third catcher who was only called up because Gary Sanchez's hamstring acted up at the wrong time.
The other is second baseman Rob Refsnyder, the team's top prospect at the position. The Yankees called him up very briefly earlier this season — Refsnyder played four games in July with the All-Star break mixed in — but otherwise stuck with the Stephen Drew/Brendan Ryan platoon at second. Drew has picked it up of late, but boy, he was pretty unproductive for much of the summer. Ryan had his moments too, but he's back to being an offensive black hole.
So, when Refsnyder was called up last week, it seemed he would at least take some platoon at-bats away from Ryan. That hasn't happened. Drew started against Henry Owens last week, Ryan started against Matt Moore over the weekend, and Jose Pirela started against Wei-Yin Chen yesterday. All lefties yet no Refsnyder. In two pinch-hitting opportunities against lefty relievers over the last week, Joe Girardi turned to Pirela.
Refsnyder's usage — or lack thereof — has been surprising this season, at least from the perspective of those who expected him to get a shot at the second base job had Drew struggled for much of the summer, which he did. (He had a sub-.250 OBP as late as June 20th. Yeesh.) Drew didn't hit last year, and didn't hit early this year, so it made sense the Yankees would turn to their Triple-A second base prospect, right? Well, no. That didn't happen.
At this point, it's becoming obvious there is something more to Refsnyder's lack of big league work than "we want him to improve his defense." A few weeks ago Mike Francesa said some of the team's veteran players didn't appreciate Refsnyder's attitude and/or arrogance during his July cameo — that report has not been confirmed, though I highly doubt anyone on the roster would throw a teammate under the bus — and his post-send down comments didn't exactly put out the fire either.
"I wasn't expecting this, but I had a great experience," said Refsnyder to Dan Martin after being sent back down in July. A rookie with four games in the show probably shouldn't be saying he didn't expect to get sent down. I know it sounds silly, but literally every other player in the clubhouse has been in the "just got called up and now I'm trying to stick around" situation, and hearing a kid with that little MLB time say he didn't expect to be sent down could rub some the wrong way. I get it.
Of course, the team's decision to not give Refsnyder an extended look could be performance based. When they called him up in July, he was hitting .290/.387/.413 (137 wRC+) at Triple-A. He then hit .238/.307/.392 (100 wRC+) after being sent down. The end result was a .271/.359/.402 (123 wRC+) batting line in 522 Triple-A plate appearances this year, and I hate to break it to you, but that's not good for a bat first prospect. I mean, it's good, but that's not forcing the issue. Pirela hit .329/.402/.406 (139 wRC+) after his last demotion, for comparison.
Do the Yankees not trust their young players? Please. That's a lazy and outdated complaint. Greg Bird is playing everyday right now and Luis Severino is in the rotation. When Jacoby Ellsbury got hurt, Slade Heathcott came up. When Heathcott got hurt, Mason Williams came up. Just about every young Triple-A and Double-A reliever was called up at some point this summer. The Yankees have done nothing but turn to their young players this season, for better or worse.
And yet they haven't given Refsnyder an extended opportunity. They aren't even giving him platoon at-bats this month. Doesn't that say a lot about his standing in the organization? At least from the "can he help us win during this postseason race?" point of view? I think it does. The Yankees are very good at self-evaluating — who's the last young player they traded that they really regret? — and they have way more information that us. It would be kinda silly to call them dumb for not playing Refsnyder in a playoff race. They're smarter than us.
None of this means Refsnyder is not in the team's future plans, however. We shouldn't assume that. He doesn't fit into their plans right now. Next season? Who knows. There's an entire offseason looming. Refsnyder could be given the second base job out of Spring Training next year, he could be trade bait, or he could be asked to continue working on his defense in Triple-A. There's something keeping the Yankees from turning to Refsnyder right now, in September 2015. That thing may not exist next year.
For now, it seems Refsnyder will be nothing more than a spectator and the equivalent of a position player mop-up man. Drew has been hitting of late and his defense has always been there. Pirela had a better season than Refsnyder in Triple-A, is more versatile, and has a tiny bit more MLB experience. That's why he's ahead of Refsnyder on the second base depth chart. That's understandable, right? Refsnyder's not some kind of elite prospect. He's a flawed prospect who happens to fill a position of need. If the Yankees thought he could help, he'd be getting a chance right now. But there are better options on the roster. The Yankees have made that clear.