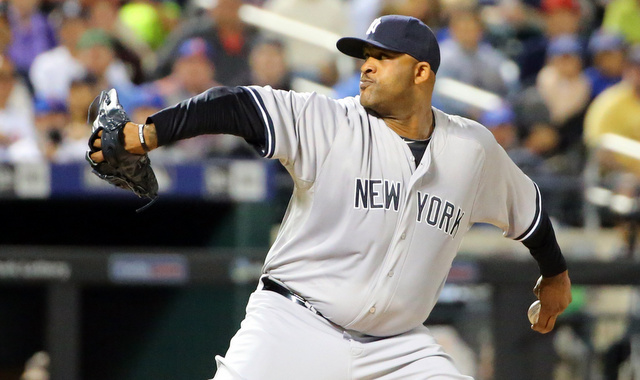 This game didn't start well – CC Sabathia labored through the entire first inning while Matt Harvey mowed down Yankee hitters. There's a reason why you don't stop watching after the first few innings though – the Yankee offense took advantage of non-Harvey Mets pitchers later in the game to make this win look very, very easy. The guys from Bronx took two out of three in the enemy territory to win the Subway Series before they head up north for a crucial series versus the Blue Jays.
It's a Sunday night. I had a long day of watching sports (attending the Redskins game, watching more NFL and MLB games and this) so let's do this 11-2 win bullet point style.
– CC is good again?: The Mets took a quick 1-0 lead in the first only after first two hitters – both Ruben Tejada and David Wright hit a double each (on 0-2 counts, go figure). By then all of us were wondering if we were in for a long night of CC struggling and bullpen laboring. Well, CC did have to work a lot to get out of the first inning without any more damage – he loaded the bases with two outs with a pair of walks but induced a Michael Cuddyer pop out to escape.
For the rest of the night, Sabathia was brilliant. He only allowed three more hits in five innings while striking out five more. Thanks to the offense imploding post-Harvey, CC earned his first win since July 8, which, in my opinion, is a long time ago (a lot of things happened to me in that time period). After being a thorn on the side for the Yankee rotation until early August, Sabathia is making a strong case to be a playoff starter now, who would've thought?
– The top of sixth: So you probably know about this Matt Harvey pitch count deal. Well, Harvey was just dealing tonight, allowing only one hit in five scoreless innings. Starting in the sixth, though, Terry Collins took Harvey out and put in Hansel Robles as the first reliever. Jacoby Ellsbury reached second to lead off on an infield single and Daniel Murphy's throwing error. Brett Gardner followed it up with a fielder's choice grounder that Wright botched. That was not a pretty sight for Mets fans and it got worse for them. Carlos Beltran, whom they booed mercilessly all this weekend, hit a go-ahead double to put the Yanks on top, 2-1. Three batters later, with two outs and two on, Dustin Ackley homered to right to make it 5-1. Dustin Ackley! The man has been on fire as a Yankee (1.057 OPS in 22 AB prior to tonight's game). I doubt he keeps that up but it would be nice if a change of scenery/being coached by new people in new org somehow tapped that former second overall pick potential. Only time will tell but it's awesome to see Brian Cashman's sole deadline acquisition pay off pretty neatly.
– More runs!: Yankees scored another in seventh thanks to a bases-loaded walk to Chase Headley by Eric O'Flaherty. In the top of eighth, facing Carlos Torres and Tim Stauffer, they tacked on five more. Ellsbury drove in Rico Noel (pinch-running for A-Rod) to make it 7-1. Torres struck Gardner out but walked Beltran before getting yanked for Stauffer. Brian McCann followed it up with an RBI single for a 8-1 lead and Greg Bird hit a dinger to left-center to make it 11-1. Holy cow, did anyone imagine this kind of outburst when the lineup was being shut down by Harvey? Chris Capuano would allow a run in the next frame to shorten the lead to 11-2 but that was pretty much it.
Here's tonight's box score, updated standings, video highlights and WPA.

Source: FanGraphs
---
So that series win was a plus to any Yankee fan's night, right? Well, they are about to face the Blue Jays for the next four days – we'll see how we feel after that series.