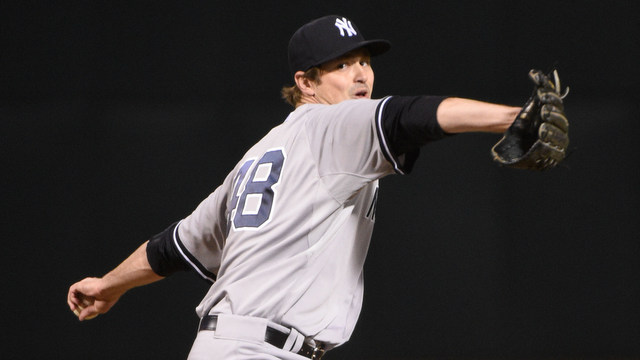 After nearly two decades of stability in the ninth inning thanks to Mariano Rivera, the Yankees had their fourth different closer in the last four years this past season. Hard to believe, isn't it? Back in 2012 it was Rafael Soriano, who filled in for the injured Rivera. In 2013 it was Rivera again. Last year it was David Robertson, and this year it was free agent signing Andrew Miller.
All sorts of circumstances — well, injuries and free agency, that's about it — led to this four closers in four years stretch, but Miller figures to give the Yankees some ninth inning stability going forward. He signed a four-year contract last offseason and still has three more years to go. That's obviously not a bad thing though. Miller was pretty awesome during his first season in pinstripes.
The Pursuit
Last year Robertson replaced Rivera at closer after Mo retired, and for Robertson, the timing couldn't have worked out any better. He became a free agent last offseason after proving he could not only handle the ninth inning, but handle it in a major market while replacing a legend. Robertson's free agent stock shot up tremendously last year.
The Yankees had two elite relievers in their bullpen every year from 2011-14, and surely that was something they wanted to recreate again in 2015. Robertson was homegrown and had just done a fine job replacing Rivera, so re-signing him was an easy call, right? Well, no. The Yankees had something else in mind.
On December 5th, the Yankees agreed to a four-year contract worth $36M with Miller, who himself was an elite reliever with the Red Sox and Orioles in 2014. He was a setup man though, not a closer, and closers make more money. For what it's worth, Evan Drellich reported Miller turned down a larger offer from the Astros (four years, $40M) because he didn't feel it was a good fit.
Once the Yankees signed Miller, the idea of a super bullpen with Miller, Robertson, and Dellin Betances was running through everyone's mind. Robertson closing with Miller and Betances setting up? Boy, that would have been something else. That the Yankees continued to show interest in re-signing Robertson only added fuel to the fire. The team never had any intentions of re-signing Robertson, however. At least not after signing Miller.
The plan was to let Robertson walk, replace him with the cheaper Miller, and pick up a draft pick. (The Yankees made Robertson a qualifying offer.) And that's exactly what happened. Brian Cashman admitted the Yankees only continued to show interest in Robertson as way to help his market and boost his value. It was something of a thank you for the years of service. Miller was their guy now. Robertson later signed a four-year, $46M contract with the White Sox.
The Spring
At the time of the signing, it was not at all clear the Yankees would use Miller as their closer. Joe Girardi spoke about using Miller and Betances as co-closers, matching up in the eighth and ninth rather than giving each pitcher a set inning, but that never really materialized. Betances struggled to throw strikes in Spring Training and that more or less took him out of the running for the closer's job. Miller had a good spring — he threw only eight innings, typical reliever stuff — and got the ninth inning job almost by default.
Closer, But Not The Closer
Miller had exactly one career save to his credit come Opening Day. He got that last year with the O's. His first save opportunity with the Yankees came in their second game of the season, and he retired all three Blue Jays he faced on eleven pitches. Miller struck out one. It was a nice and easy debut with his new club.
The next save opportunity came five days later, the next four days after that, and the next two days after that. Miller went a perfect 8-for-8 in save opportunities in April, allowing just three hits and four walks in 11.1 innings in the season's first month. He struck out 20.
And yet, Girardi was not ready to officially declare Miller his closer. He was the closer, he only pitched in save situations, but Girardi didn't want to give him the label for whatever reason. It wasn't until May 8th, after Miller saved his 13th game, that Girardi jokingly told reporters "he's been closing games for us. He's our closer. Is that better?"
The Yankees were quite good early in the season and Miller was slamming the door in the ninth inning time after time. He went a perfect 17-for-17 in save chances to start the year, allowing three runs on eight hits and ten walks in 25 innings. He struck out 40. The walk rate was a little high, but geez, Miller was dominant.
Save No. 17 was a bit of a grind though. Miller threw 35 pitches and recorded five outs to seal a win over the Mariners on June 3rd. He inherited a runner on first with one out, then hit a batter and issued a walk to load the bases with a two-run lead before escaping. Like I said, it was a grind.
Miller had thrown 21 pitches the day before, so Girardi understandably stayed away from his closer the next few days. As it turned out, there was something more than his workload behind the light usage. Miller's forearm was aching, so on June 10th, four days after throwing 21 and 35 high-stress pitches on back-to-back days, the Yankees placed their closer on the DL.
A Month on the Shelf
The injury was officially diagnosed as a flexor muscle strain, and tests showed everything in his elbow was structurally sound. It was a muscle issue only, one that would sideline Miller for about a month. He was shut down entirely for two weeks before beginning a throwing program. After one Triple-A rehab appearance, Miller was back with the Yankees in early-July. He missed a month. All things considered, the injury was minor. Any time you hear forearm, you think elbow, but that was not the case.
Rough Return
Miller came back in early-July and he actually struggled initially. He allowed a homer and two runs in his first appearance off the DL — he still got the save though — and allowed another two runs four days later. In his first 14 appearances following the injury, Miller allowed eight runs in 13.2 innings. He wasn't walking many (three), but his strikeout (16) and hit (13) totals were an indication Miller wasn't as sharp as he had been before the injury.
On August 11th in Cleveland, Miller blew his first save of the season. He started the year a perfect 24-for-24 in save attempts. Including that game, Miller had allowed ten of 25 batters to reach base in his previous four appearances. That is not good. His post-injury struggles lasted a little more than a full month. It's actually kinda impressive Miller didn't blow his first save until the very end of that period.
Return to Form
Miller's first appearance after his first blown save came in what was probably the best game of the season. The Yankees were in Toronto trying to fight off the surging Blue Jays, and Carlos Beltran gave them the lead with a pinch-hit three-run home run in the eighth inning. You remember that. I know you do.
Girardi went to Miller to protect a 4-3 lead in the ninth, and, of course, he made it interesting. He walked Chris Colabello, gave up a single to Kevin Pillar, then wild pitched the runners over the second and third with one out. The tying run was at third and the go-ahead run was at second. Miller rebounded to strike out the un-strikeout-able Ben Revere — Revere had baseball's seventh lowest strikeout rate this season at 10.1% — for the second out. That brought Troy Tulowitzki to the plate. A 12-pitch at-bat ensued. To the action footage:
Gosh, that was the at-bat of the season. In a few weeks when I forget the giant glob of baseball I watched this year, I'm pretty sure I'll still remember that at-bat. That was the first time since the 2012 postseason that baseball gave me that little knot in my stomach. That little knot confirmed that yes, the Yankees were back in contention, and they were playing meaningful games.
From that point on, Miller was absurdly dominant. He allowed four runs on eleven hits and six walks in his final 20.2 innings of the season while striking out 39. Miller also went two innings on a few occasions when the Yankees were really trying to hang on to a wildcard spot and home field advantage. And, of course, he tossed a scoreless ninth inning in the wildcard game itself.
Miller finished the season with a 2.04 ERA (2.16 FIP) in 61.2 innings, only two-thirds of an inning fewer than he threw in 2014 despite spending a month on the DL. His walk rate (8.1%) was a touch high but not outrageous while his strikeout rate (40.7%) was elite. Only Aroldis Chapman (41.7%) had a higher strikeout rate among the 137 qualified relievers in baseball this season.
The month on the DL proved to be a bump in the road, but overall Miller was everything the Yankees were hoping he'd be when they gave him that four-year contract. He didn't just pick up saves, he dominated both lefties (.270 wOBA) and righties (.206 wOBA) and didn't even allow the ball to be put in play much of the time. Aside from that little hiccup after coming off the DL, Miller was outstanding.
The Stuff
Arm injuries always make me nervous, but Miller's was relatively minor, and from the looks of things he stuff was fine after coming off the DL. His swing-and-miss rate never really suffered, though you can kinda see Miller's velocity took a step back around his DL stint (via Brooks Baseball):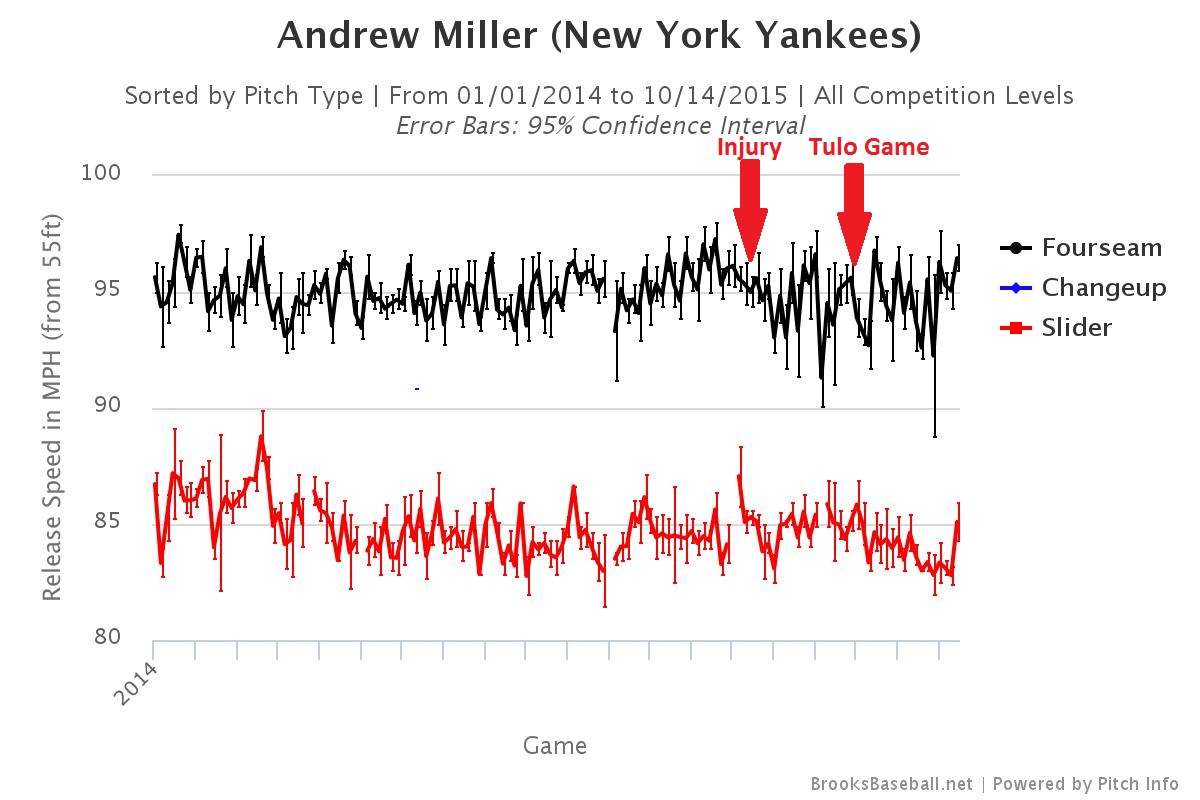 "That at-bat to Tulo, that's all I got. That was everything I got that inning," said Miller after the game with that classic Tulowitzki at-bat. You can see his velocity dipped a bit in his next few appearances, possibly because he was so spent.
Miller's velocity dipped right before he landed on the DL and stayed down a bit after he returned before climbing higher at the end of the season. I'm not sure what caused that. It could have been the injury itself, or perhaps he didn't built up enough arm strength while on his throwing program, or maybe he was holding back slightly before he was tentative after coming off the DL. Either way, the results were fine and Miller's velocity was back to normal down the stretch. His stuff was nasty. No doubt about it.
Looking Ahead to 2016
There's no mystery here. Miller will be back next season and I'm sure he'll close too, especially after Betances again struggled to throw strikes at the end of the season. Miller is a crucial part of the bullpen and a core player for the Yankees.