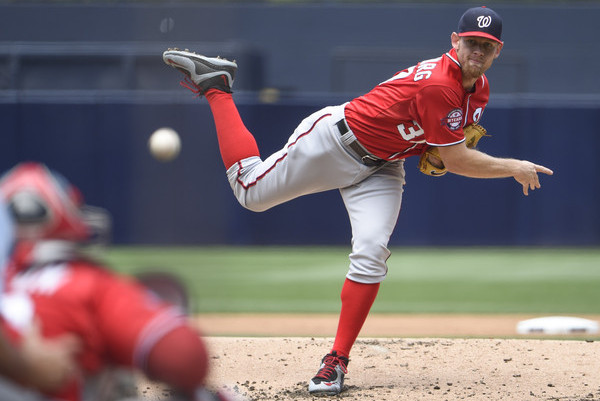 According to Nick Cafardo, there is a "lot of buzz" indicating the Nationals could make right-hander Stephen Strasburg available in a trade this offseason. Strasburg will become a free agent after next season, and he's a Scott Boras client, meaning he will inevitably look for the largest contract. The Nats could try to move him for a package of players now rather than lose for a draft pick next winter.
Strasburg, 27, had a 3.46 ERA (2.81 FIP) in 23 starts and 127.1 innings while battling nagging lat, oblique, and back issues this season. He was out of this world after coming back from his first DL stint: 1.76 ERA (2.16 FIP) in 13 starts and 82 innings. Strasburg has a 3.11 ERA (2.91 FIP) in 120 starts and 708.2 innings since coming back from Tommy John surgery in 2011.
The Nationals figure to lose both Jordan Zimmermann and Doug Fister to free agency this offseason, and while you always listen to offers for every player, it would be a little odd to trade Strasburg now. Washington is still clearly a win-now team — they're not going to rebuild with Bryce Harper three years from free agency and Max Scherzer one year into a seven-year deal — and Strasburg's a win-now piece.
Even though he is generally considered a disappointment because the prospect hype got out of control, Strasburg is a top tier starter when healthy, one of the 15-20 best in baseball. Last offseason similar-ish pitchers Rick Porcello and Jeff Samardzija were traded one year prior to free agency, though I'd rather have Strasburg than either of those two. Porcello was traded for Yoenis Cespedes and stuff, Samardzija for just stuff.
Strasburg's trade value is probably at an all-time low right now after his injury riddled season, which is part of the reason why I have a hard time thinking the Nationals will trade him. They've gone to great lengths to try to keep him healthy long-term — their intentions were good, their methods? eh, not so much — and cutting ties now would just be odd. It would make me wonder what they know that we don't.
Anyway, yes, I think the Yankees should make a push to acquire Strasburg if the Nationals do indeed make him available this offseason. Strasburg's stuff and command is so good (when healthy!) that I don't think moving from the NL to the AL will affect him at all. Plus it seems like a change of scenery could do him good. The Nats touted him as the savior and made him jump through all those hoops.
The Yankees have seven starters either under contract (CC Sabathia, Masahiro Tanaka) or team control (Luis Severino, Nathan Eovaldi, Michael Pineda, Ivan Nova, Adam Warren) next season, though I'm not sure I see the makings of a championship caliber rotation there. Even one year of Strasburg is very valuable and would be a big help to the team's chances of contention next season.