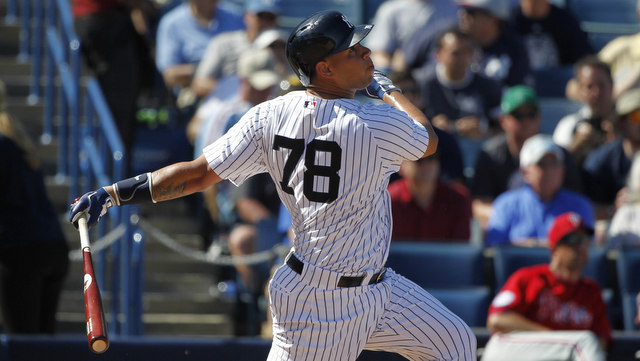 Before we get to the first fall/winter ball update of the season, here are a bunch of minor league notes and links to pass along:
Now let's get to the fall ball action, starting with the Arizona Fall League.
AzFL Surprise (6-5 loss to Peoria) Tuesday's season-opener
C Gary Sanchez: 2-4, 1 R, 1 HR, 3 RBI, 1 PB — hit the first home run of the AzFL season … the linked scouting report above says the passed ball was a cross-up, remember most of these pitchers and catchers haven't worked together before
1B Tyler Austin: 2-4, 1 2B — he's here in place of 3B Eric Jagielo, who is still recovering from his knee surgery … it's an infielder for infielder replacement, so Austin has to play first (or third I guess, but he hasn't done that in a while)
SS Tyler Wade: 2-4, 1 2B, 2 RBI — the AzFL will be a good test for him since he'll be facing a bunch of older pitchers
AzFL Surprise (5-4 win over Peoria in ten innings, walk-off style) Wednesday's game
DH Gary Sanchez: 3-4, 1 R, 1 HR, 1 RBI, 1 K
LF Dustin Fowler: 0-3, 1 K
LHP Tyler Webb: 2 IP, 4 H, 3 R, 3 ER, 0 BB, 3 K, 2/1 GB/FB — 23 of 35 pitches were strikes (66%) … first game action since late-June … he missed the end of the regular season due to a tendon issue in his hand
AzFL Surprise (3-0 win over Mesa) Thursday's game
C Gary Sanchez: 1-3, 1 RBI, 1 K — started and batted cleanup in each of their first three games, so it appears he's going to play a lot these next few weeks
1B Tyler Austin: 1-3, 1 R, 1 BB, 1 K
2B Tyler Wade: 0-2, 1 K
RHP Domingo Acevedo: 2 IP, 2 H, 0 R, 0 ER, 0 BB, 2 K, 4/0 GB/FB — 20 of 27 pitches were strikes (74%) … he hit 99 mph according to Josh Norris, who also posted video
AzFL Surprise (20-6 win over Mesa) Friday's game … no Yankees prospects played
The various Caribbean Winter Leagues have either just started their seasons or will do so relatively soon. Here are the assignments so far.
Dominican Summer League: RHP Andury Acevedo, UTIL Jose Rosario
Mexican Pacific League: RHP Gio Gallegos, RHP Luis Niebla, RHP Cesar Vargas
Roberto Clemente Professional Baseball League (Puerto Rico): No rosters yet
Venezuelan Winter League: C Francisco Arcia, IF Ali Castillo, RHP Luis Cedeno, OF Ben Gamel, C Juan Graterol, OF Ericson Leonora, RHP Jaron Long, RHP Mark Montgomery, OF Teodoro Martinez, RHP Diego Moreno, and IF Jose Pirela.
Keep in mind that just because a player is on a winter ball roster, it does not necessary mean he'll play. It just means that team holds the player's winter ball rights. Also, more players can still be — and inevitably will be — added to winter ball rosters in the coming days and weeks. Right now it sure looks like the VWL is the one to watch.