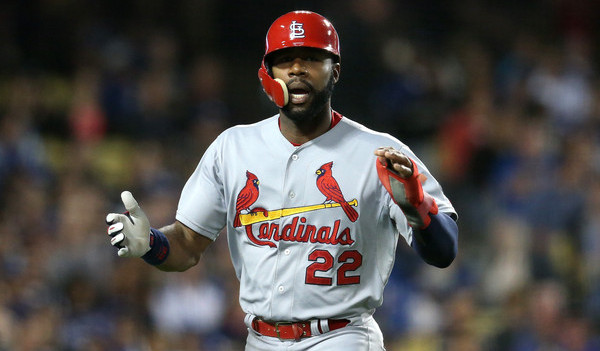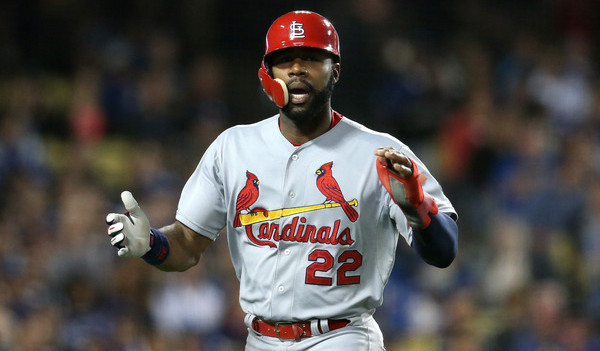 Last week Joe Girardi gave his annual end-of-season press conference, which was like all other end-of-season press conferences, except he emphasized the need to find a way to keep players fresh and productive throughout the season. That makes sense, right? The Yankees looked sluggish for much of the second half and it led to their swift elimination in the wildcard game.
Last year Girardi emphasized the need to get younger during his end-of-season press conference. "At times we ran out four guys, five guys over 35 years old. I don't think that will happen next year," he said. "Who is going to be the next great Yankee people latch onto? I'm anxious to see some kids in the minor leagues come up and have some tremendous years."
At the time it sounded like lip service, the kind of thing every manager says at every end-of-season press conference, but both Brian Cashman and Hal Steinbrenner followed with similar comments. Soon thereafter the Yankees showed they were serious by acquiring Didi Gregorius and Nathan Eovaldi. During the season they backed it up by making Luis Severino and Greg Bird regulars, not to mention all the other call-ups.
The plan to get younger worked, at least partly. The Yankees went from being outscored in 2013 and 2014 to having the fourth best run differential in the league (+66) in 2015. They returned to the postseason (albeit briefly) and they now have some young building blocks on the roster moving forward. It's been a while since we could say that. Gregorius, Eovaldi, Severino, Bird and others like John Ryan Murphy and Rob Refsnyder look like keepers.
The Yankees went with young players this past season and were rewarded immediately, so there's no reason to think they won't continue to lean young going forward. And if that is the case, I think the Yankees should augment their youth movement by going all-in on impending free agent Jason Heyward this offseason. It sounds contradictory to had out a huge free agent contract while trying to get younger, but Heyward is no ordinary free agent.
First and foremost, Heyward would be part of that youth movement. He just turned 26 in August, making him roughly the same age as Gregorius and Eovaldi. Players almost never hit free agency in their mid-20s. The last was who, Alex Rodriguez? And the next after Heyward will be … Bryce Harper in three years? Who knows what will happen between now and then.
Given his age, you can look at Heyward and expect to get the best years of his career. Maybe not every single one of them, but most of them. With most free agents you're paying top dollar for what the player used to be while getting something less than that. Just look at, well, pretty much every free agent the Yankees have signed over the last decade. With Heyward you're buying prime years. Not one or two, but potentially many, like five or six.
The Yankees tried to acquire Heyward from the Braves last offseason, so we know they like him. He's a left-handed hitter with power and patience as well as excellent defense. Who wouldn't like him? Heyward hit .293/.359/.439 (121 wRC+) this season, including .318/.397/.469 (140 wRC+) in the second half, and he did stuff like this in the postseason:
That's not just an opposite field home run. That's a no-doubt opposite field home run off super-ace Jake Arrieta on a pitch that was a few inches off the plate. ENHANCE: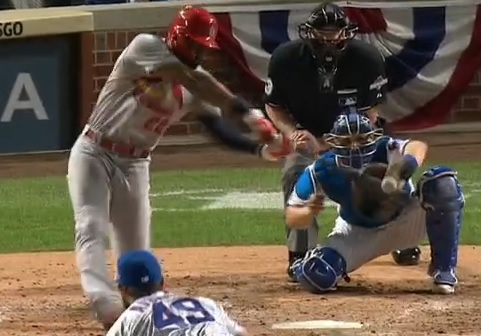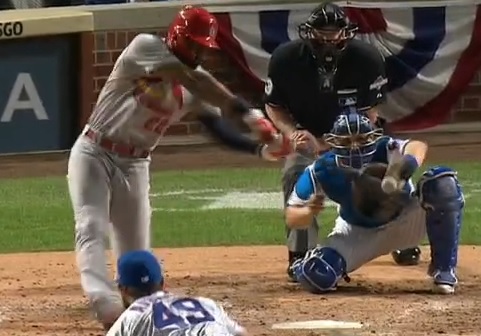 There are very few players in the big leagues able to not only go out and get that pitch, but reach out and drive it out of the park with authority. The only player on the Yankees who I think even has a chance of going deep on a pitch like that is Mark Teixeira. I don't think A-Rod or Brian McCann could do that at this point. Heyward did it like it wasn't no thing.
Given his age and ability and all that, I think it's easy to see why any team in the league would want Heyward for the next half-decade or so. He hits for power, his strikeouts continue to go down …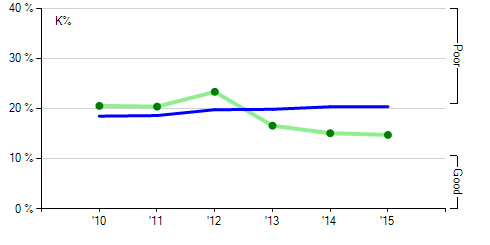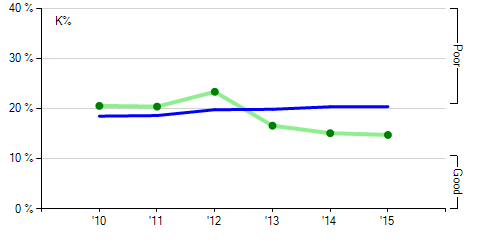 … he draws walks, he steals 20 bags a year, he plays elite defense, and by all accounts he's a great guy who is an asset in the clubhouse. Heyward's not a true franchise cornerstone like Harper or Mike Trout, but holy moly, he's got the skill set to be a two-way monster and is about to enter his peak years. That's the kind of guy worth a huge free agent contract.
Of course, fitting Heyward on the Yankees is easier said than done. For starters, he's going to end up getting $20M+ a year, possibly $25M+ a year, and I'm not sure the Yankees are ready to commit that much money to another player. They also have a full outfield already with no logical spot to play Heyward, Brett Gardner, Jacoby Ellsbury, and Carlos Beltran.
To me, as an outsider looking at the Yankees, those are hurdles more than roadblocks. You can make it work. The Yankees have the money, there's very little doubt about that, and next winter they're going to shed Teixeira's contract and Beltran's contract. Hal Steinbrenner would have to be over his payroll comfort zone for one season before things get back to normal in 2017.
As for the roster situation, the Yankees could always trade Gardner, or they could simply hold onto everyone and let things sort themselves out in Spring Training. Someone could get hurt in camp and clear a spot, or maybe Girardi decides the best thing to do is use Gardner, Ellsbury, and Beltran — the over-30 guys — in some kind of rotation to keep them rested. Having too many good players is not a problem, as far as I'm concerned.
The Yankees were smart for going young this past season. It's something they've needed to do for a while but didn't have the personnel to pull off. At age 26, Heyward can be part of this youth movement. The Yankees have the Teixeira and Beltran money coming off the books next year, but look at the 2016-17 free agent class. It's weak. There's certainly no one of Heyward's caliber scheduled to hit the market next year. Where's the Teixeira and Beltran money going?
The first year of the Yankees rebuild — and that's essentially what this year was, you know, the Yankees version of a rebuild — was pretty successful. Even with the financial and roster hurdles, Heyward is the right free agent at the right time for New York, a dynamic player in his mid-20s available for nothing but money (and a draft pick). He wouldn't be a hindrance to the youth movement. He'd be part of it.