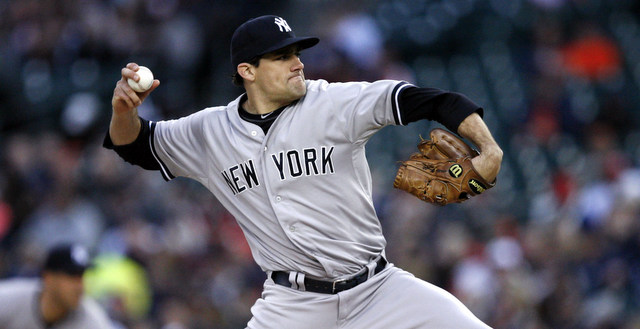 According to Joel Sherman, the Yankees were planning to add Nathan Eovaldi to their ALDS roster had they beaten the Astros in last night's wildcard game. That didn't happen, so Eovaldi will go home for the winter like everyone else. For shame.
Why is this important? Because it means Eovaldi is healthy. His season ended on September 5th due to elbow inflammation. He was shut down for two weeks before starting a throwing program, and he faced hitters in a simulated game on Monday to prepare for the ALDS.
There wasn't enough time left in the regular season to stretch Eovaldi back out into a starter, so the plan was to bring him back as a reliever. (I assume Adam Warren would have replaced CC Sabathia in the rotation.) That won't happen now, but at least we know his elbow is 100% heading into the offseason and eventually Spring Training.
Eovaldi, 25, had a 4.20 ERA (3.42 FIP) in 27 starts and 154.1 innings this season. It was very much a tale of two seasons for him, however. Eovaldi had a 5.12 ERA (4.09 FIP) in his first 13 starts and 70.1 innings and then had a 3.43 ERA (2.86 FIP) in his final 14 starts and 84 innings. He was really good for much of the summer.
The splitter was the key to Eovaldi's turn around. Pitching coach Larry Rothschild had him start the year with a traditional forkball grip just to get used to having his fingers so spread apart before switching to a splitter. The split was a major weapon for Eovaldi in those final 14 starts.
So the good news is Eovaldi's elbow is healthy. He had Tommy John surgery as a high school junior eight years ago but had no other elbow trouble since, so this was his first scare. Who knows what the offseason will bring, but Eovaldi again figures to be a prominent piece of the rotation next season.