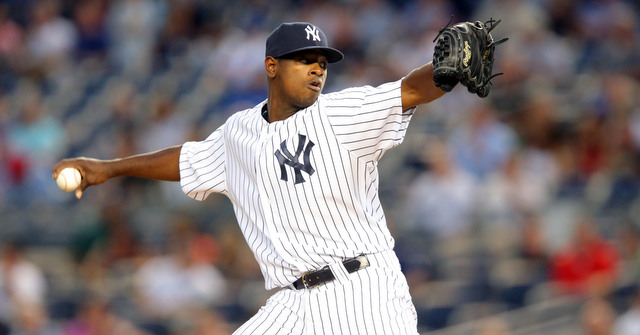 Early last offseason the Yankees spent a lot of time talking about the need to get younger and get more results from the farm system. They were right, they definitely needed more youth and help from within, but would they actually follow through? Or was it just lip service? We've heard the "we need to get younger" spiel before.
The Yankees walked the walk last winter after talking the talk. The got younger through trades, most notably acquiring Didi Gregorius and Nathan Eovaldi, and once the season started, they dipped into their farm system for help whenever a need arose. Slade Heathcott and Mason Williams were both called up when Jacoby Ellsbury got hurt, and more relievers got an opportunity than I care to count.
No call-up had a greater impact in 2015 than right-hander Luis Severino, who came into the season as New York's second best prospect. Coming into the season, I thought it was possible we'd see Severino this year, though likely as a reliever in the second half. The Yankees had other plans.
A Brief Look in Spring
The Yankees invited Severino to Spring Training and that was totally expected. They moved him very aggressively through the system last year and he finished the season with Double-A Trenton, so a Spring Training invite made sense. Severino, who turned 21 right as camp opened, made just two Grapefruit League appearances, allowing three runs (two earned) in 2.2 innings. He struck out five.
That was the first time many of us were able to see Severino pitch. It was only Spring Training, yeah, but getting a glimpse of rarely seen prospects is what makes all those meaningless games in March pretty fun in their own way.
Severino was sent to minor league camp on March 15th, as part of the first round of roster cuts. The Yankees didn't keep him around for a longer look in Spring Training. They sent him to minor league camp so he could focus on getting ready for the regular season. The team wanted Severino to be ready to help whenever he was needed during the regular season.
Preparation in the Minors
The minor leagues are about development, first and foremost. And even though he was a consensus top 100 prospect coming into the season, Severino did have some things to work on this year. He needed to improve the consistency of his slider and changeup more than anything. There's also the usual stuff every 21-year-old needs to work on: holding runners, fielding his position, repeating mechanics, that sorta stuff.
The Yankees also used Severino's time in the minors to prepare him to join their rotation in the second half. He was there to learn, sure, but the Yankees also wanted to make sure his workload would not be an issue down the stretch in case they needed him. After going through the messy Joba Rules and seeing the Stephen Strasburg shutdown a few years ago, the Yankees wanted to limit Severino's innings in an under-the-radar way.
Severino returned to Double-A Trenton to start 2015 and the Yankees didn't let him throw more than five innings in a start, regardless of his effectiveness. He allowed one hit, struck out eight, and threw 53 pitches in five scoreless innings in his first start, but that was it, Severino was out of the game after five innings. Severino made eight starts with the Thunder and only once did he throw more than five innings: he completed six innings on 97 pitches on May 5th.
The reins were loosened a bit after Severino was promoted to Triple-A Scranton. He made eleven starts with the RailRiders, averaged 5.2 innings per start, and three times completed seven full innings. Severino only averaged 88.3 pitches per start, however. He was throwing more innings but not necessarily more pitches.
In his 19 minor league starts this summer, Severino had a 2.45 ERA (2.45 FIP!) in 99.1 innings across the two levels. The Yankees deemed him ready for the big leagues.
Welcome to the Show
The Yankees called Severino up after failing to land a starter at the trade deadline. They kicked the tires on various pitchers but never did get close to anything. Severino was their solution. They said they were going to emphasize youth this year and this was by far the biggest sign they were committed to that plan. Remember, the Yankees were in first place and trying to hold off the Blue Jays when Severino was called up. Winning was the priority.
Severino made his MLB debut on August 5th against the Red Sox at Yankee Stadium. They didn't exactly ease him into it, huh? Severino allowed two runs (one earned) on two hits and no walks in five innings. He struck out seven. It was a rather impressive debut for the kid.
When it was announced Severino was going to be called up, Brian Cashman made two things clear. One, it was not an audition. Severino was joining the rotation and he was going to start every fifth day, good or bad. Two, Severino had no workload restrictions. I don't believe that was 100% true — were they going to let him throw 230 innings? probably not — but the team had put him in position to pitch without an innings number hanging over his head.
The workload was not a concern and neither was Severino's performance. He allowed two runs in six innings against the Indians in his second career start. His third start was easily the worst of his first six career starts, and it wasn't even all that bad: three runs in six innings against the powerhouse Blue Jays in Toronto. Carlos Beltran lost a ball in the sun that opened the floodgates, as you may recall (video).
Though his first six starts, Severino pitched to a 2.04 ERA (3.95 FIP) in 35.1 innings. He had a strong strikeout rate (23.5%) but walked a few too many (9.7%) and served up dingers (1.02 HR/9). That's pretty common for a young pitcher. They walk people because they nibble, and they tend to be a little too cocky with their fastball and think they can get simply throw the ball by hitters at times, hence the homers.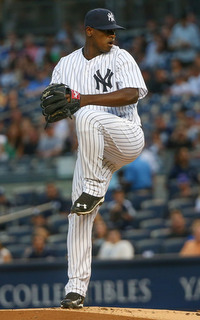 As good as Severino was, the Yankees only went 3-3 in his first six starts because they never scored any damn runs for him. Twenty runs total in those six starts and only eleven when Severino was actually on the mound. In his seventh start, Severino finally had a clunker. The Blue Jays punished him for six runs on six hits and three walks in only 2.1 innings. It was ugly.
Severino shook off the bad start and dominated next time out, holding the Rays to one run in 5.2 innings. He struck out seven. That was good to see. Pitchers have disaster starts, it happens to everyone over the course of the season, but with a young kid like Severino, you want to see how he responds, and he responded very positively.
The Yankees slipped out of first place and limped to the finish line this past season, though it was not Severino's fault. He pitched to 2.19 ERA (3.99 FIP) in his final four starts and 24 innings. Severino was available out of the bullpen for the wildcard game and if the Yankees had advanced to the ALDS, he likely would have started Game One.
In his first taste of the big leagues, Severino finished with a 2.89 ERA (4.37 FIP) in eleven starts and 62.1 innings. He had a good strikeout rate (22.0%), but again, a few too many walks (8.6%) and homers (1.30 HR/9). That's not uncommon for rookie pitchers. Severino got a ton of ground balls (50.9%) and didn't have a huge platoon split, holding righties to a .213/.267/.435 (.303 wOBA) batting line and lefties to .244/.331/.374 (.314 wOBA).
I'm not sure you could have asked for more from Severino. The Yankees moved him up the minor league ladder very aggressively — he ended the 2013 season with four starts with Low-A Charleston after making six appearances with the Rookie Gulf Coast League Yankees, so yeah — and Severino answered the bell every time. He pitched well in pinstripes, handled a little adversity, and seemed very poised. Severino was damn impressive. We've waited a long time to see a Yankees develop someone like this.
Room for Improvement
Coming into the season, the scouting report on Severino said he had a big fastball and promising secondary stuff. The fastball sat mid-90s and touched 100 on occasion in the past, though we never did see him hit triple digits with the Yankees. (PitchFX says his fastest pitch as a big leaguer was 98.94 mph.) Both Severino's slider and changeup were impressive yet inconsistent. That's too be expected.
Now that he has spent some time in the big leagues, we have PitchFX data for Severino, so let's look at how his stuff grades out. (MLB averages for starting pitchers in parentheses.)
| | % Thrown | Avg. Velocity | Whiff% | GB% |
| --- | --- | --- | --- | --- |
| Fastball | 51.4% (56.6%) | 95.8 (91.9) | 8.2% (6.9%) | 45.3% (37.9%) |
| Slider | 34.1% (12.5%) | 89.6 (84.5) | 8.9% (15.2%) | 58.1% (43.9%) |
| Changeup | 14.6% (11.6%) | 88.6 (83.3) | 19.3% (14.9%) | 63.2% (47.8%) |
Captain Obvious: Severino throws everything way harder than the average big league starter. We're talking an average of 5 mph or so harder. That 12.5% MLB average slider usage is a little misleading because not every pitcher throws a slider, so that skews the numbers. Still, throwing 34.1% sliders like Severino did is on the high end. You won't see many starters throw more sliders than that.
Also, Severino's slider got way fewer swings and misses than the average slider. He got ground balls with the pitch, but the whiffs were few and far between. There's clearly some room for improvement there, and it could be something as simple as pitch selection. Throwing a slider in some unconventional counts — pitching backwards, as they say — could lead to more swings and misses.
The PitchFX data more or less matches the scouting reports coming into the season. Severino has a big fastball and inconsistent secondary stuff, especially the slider. He's only 21 though. This is par for the course. Severino still has some learning to do and the learning will take place the MLB level. The stuff he showed this summer was plenty good enough to succeed.
Looking Ahead to 2016
The Yankees have seven starters either under contract (Masahiro Tanaka, CC Sabathia) or team control (Severino, Eovaldi, Michael Pineda, Adam Warren, Ivan Nova) for next season, which means there will some number crunching this offseason and/or in Spring Training. Severino should be a lock for the rotation though. In fact, Joe Girardi pretty much confirmed it when he said the team is planning to "have Severino for a full year (in 2016)" during his end-of-season press conference.
Severino might not throw 200+ innings next year — he threw 161.2 total innings this year, up from 113 last year — but he will be counted on for high quality innings every fifth day in 2016. The Yankees have been trying to develop an young, impact starter like this for a long time. It appears they've finally succeeded with Severino.