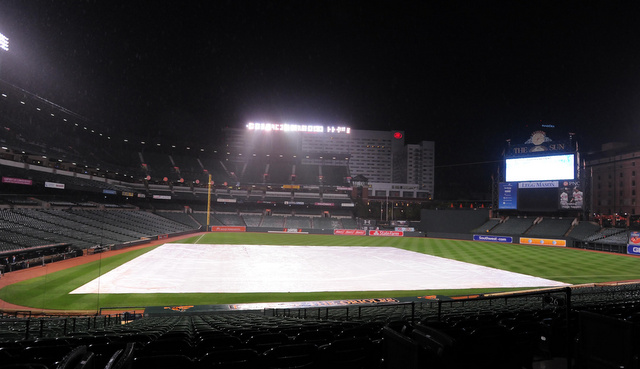 As expected, tonight's series opener in Baltimore has been postponed due to rain. It has been pouring all day and will continue all night. The Yankees and Orioles will play a split-admission doubleheader Saturday. The first game starts at 12:05pm ET, the second at 7:05pm ET.
With the game postponed, you can instead focus on the remaining AL wildcard contenders. The Yankees have already clinched a postseason spot, and they can clinch homefield advantage in Tuesday's wildcard game with either a win over the O's or an Astros loss at any point this weekend. The Astros are in Arizona, so go Diamondbacks.
Last night's loss eliminated the Angels from the AL West race, so it's wildcard or bust for them. They're in Texas to play the Rangers. The Twins are at home against the Royals. MLB.tv is apparently free all weekend, so you can watch all these games online. Here's the updated wildcard standings:

As for the Yankees, Ivan will start the first game of the doubleheader and Luis Severino will start the second, though the game two plan may change depending whether the Yankees clinch home field advantage. Michael Pineda is tentatively scheduled to start Sunday. Justin Wilson, Dellin Betances, and Andrew Miller could each throw one tune-up inning during the doubleheader regardless of score, then get two days off heading into the wildcard game.
Following Thursday's clincher, Joe Girardi indicated that while securing home field advantage in the wildcard game is important, the team will prioritize putting itself in the best possible position for the wildcard game. That means resting the regulars. Everyone will get the night off tonight and I can't imagine the regulars will get much more than two or three at-bats tomorrow.
The doubleheader figures to feature a lot of call-ups, both on the mound and in the lineup. It'll have a Spring Training vibe, no doubt. Guys like Rico Noel and Gary Sanchez might finally get an at-bat. That'll be fun. Hopefully the Astros lose and the Yankees clinch home field advantage without playing tonight. That would make this weekend's series totally meaningless.