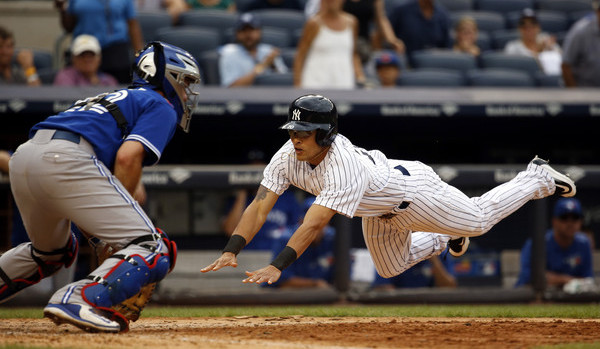 We have our first roster move of the offseason. This afternoon the Yankees announced outfielder Rico Noel has been outrighted to Triple-A Scranton, so he remains in the organization, but as a non-40-man roster player. I think Noel will be a minor league free agent after the season, however.
Noel, 26, was called up in September to serve as the designated pinch-runner. He pinch-ran 12 times, stole five bases, and scored five runs. Noel also went 1-for-2 at the plate, beating out an infield single for his first and so far only big league hit. The Yankees signed Noel in the middle of the season after he asked the Padres for his release.
I'd like to see the Yankees keep Noel next year so he can pinch-run again in September — gosh, is this kid fast or what? — but if he can become a minor league free agent, then he should go out and look for a better opportunity. The Yankees have a ton of upper level outfield depth in the minors.
There are now 39 players on the 40-man roster, though the Yankees still have six players on the 60-day DL. They'll have to be activated after the World Series. There's no DL in the offseason.