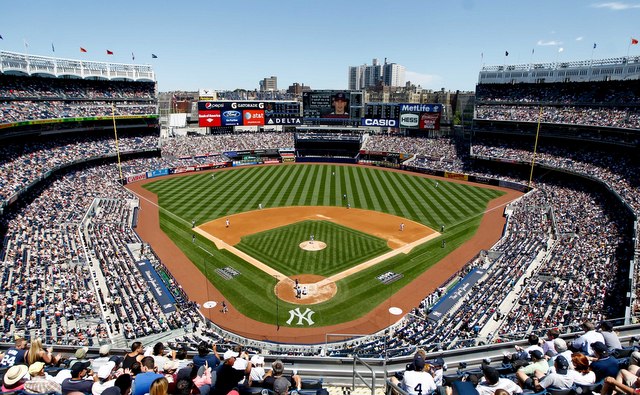 Over the last 15 years, baseball has experienced incredible growth as an industry, with MLB revenue climbing from $3.4 billion in 2000 to north of $8 billion in 2015. They might even be over $9 billion at this point. Attendance is as good as it's ever been, television contracts are enormous (at least for teams that don't own their own network), and MLBAM is a media juggernaut.
Baseball is extremely healthy right now and, as a result, teams are spending more than ever on players. According to the USA Today salary database, the average MLB payroll has gone from $52.8M in 2000 to $65.8M in 2005 to $83.7M in 2010 to $114.8M in 2015. The average payrolls have more than doubled over the last 15 years. That's incredible! The Yankees specifically have gone from a $92.8M payroll in 2000 to a $213.4M payroll in 2015.
That only tells part of the story, however. New York's payroll increased $23.1M on average each year from 2000-05. They went from that $92.8M payroll in 2000 to a $208.3M payroll in 2005. That's insane. The team's payroll has held fairly steady over the last ten years though. It was $208.3M in 2005 and $213.4M in 2015 according to USA Today's numbers, which I'm certain are not 100% accurate, but are good enough for our purposes. Here's a graph: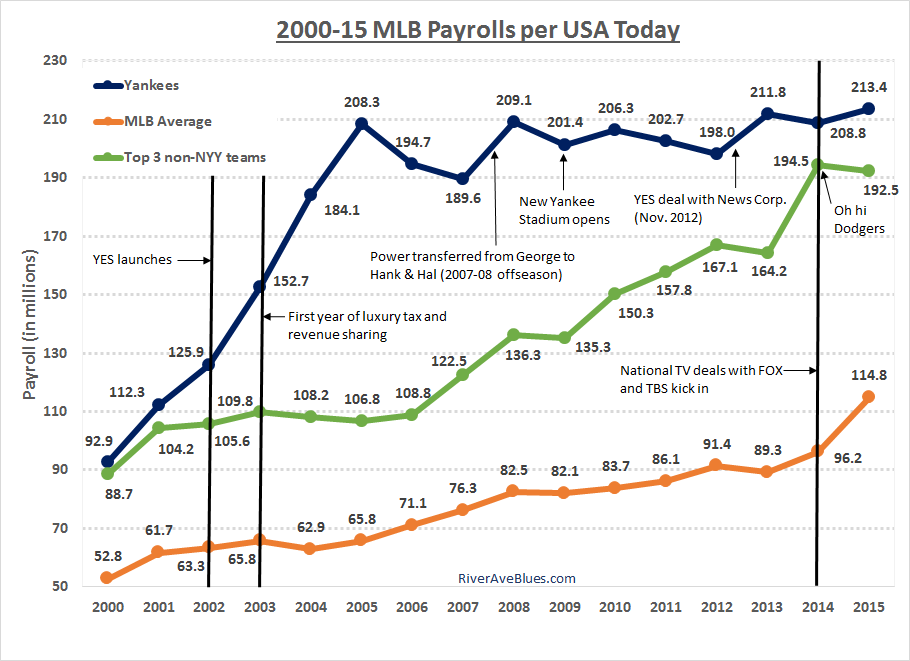 The Yankees have added some significant revenue streams over the last ten years. First and foremost, the new Yankee Stadium opened in 2009. That's kind of a big deal. Then, in November 2012, a significant percentage of the YES Network was sold to News Corp. for hundreds of millions of dollars over a span of several years. And finally, MLB recently signed new national television contracts with FOX and TBS, more than doubling each team's take. All of that additional revenue has not led to a payroll increase.
Of course, the Yankees have some significant expenses as well, including revenue sharing and the luxury tax. (They're also paying off the new ballpark.) They've paid something along the lines of $20M annually in luxury tax for a few years now, and who knows how much they're playing in revenue sharing. A Forbes article says the Yankees paid $95M (!) in revenue sharing in 2013. That's ridiculous. Then again, the same article says the team led MLB with $461M in revenue that year. (That's after revenue sharing and bond payments on the ballpark.) Forbes had the team's revenue at $277M in 2005.
Revenue is up and expenses are up, but payroll has held steady for a decade now. To be fair, the Yankees have spent a lot of money on things not directly related to the roster the last few years. The team beefed up their pro scouting and statistical analysis departments, the Himes complex in Tampa was upgraded with major renovations a few years ago, and of course there was the unprecedented international spending spree a few years ago. Who knows what else has gone on behind the scenes?
But still, something isn't adding up here. Annual revenue increased nearly $200M from 2005-13 according to Forbes — their numbers are estimations, it should be noted — yet payroll has not changed. Has all the extra revenue gone to increased expenses and behind-the-scenes stuff? I suppose it's possible, but man, that's really hard to believe. Especially when Hal Steinbrenner has been wearing out that "you don't need a $200M payroll to win the World Series" line. He's made it very clear he doesn't want to spend more money.
The Yankees are in the game's largest market and they are the biggest brand in the sport — if not all sports — and that comes with its advantages, specifically money. Lots and lots of money. Look at that graph above. From 2003 to 2011 or so the Yankees blew the rest of the league out of the water with their payroll. That isn't the case anymore. The rest of the league is catching up, so the Yankees are not taking advantage of their market. They've done the rest of the league a favor and leveled the playing field, and it's showing in the standings. The Yankees haven't finishing closer than six games back of the AL East winner since 2012.
That is the intention of the luxury tax and revenue sharing system, of course. After all, the luxury tax is officially called the Competitive Balance Tax. It's meant to level the playing field and as far as the Yankees are concerned, it appears to be working beautifully. Hal doesn't want to pay the tax. He's made that abundantly clear. And I get that. The luxury tax is dead money. The Yankees have been writing an eight-figure check for a few years now for … nothing. The money does nothing. It goes into MLB's Central Fund and that's it. It's an investment with no return.
It's one thing to pass on some free agents because of the luxury tax. Over the last few offseasons the Yankees have only spent whatever has come off the books, little if anything more. But now the Yankees have apparently reached the point where Brett Gardner and Andrew Miller — two of their very best players — are reportedly being made available. There are baseball reasons to trade them, but it's also financially motivated too. The Yankees didn't shed much money this year, so they can't afford any significant free agents, meaning the best way to add talent is by trading some of their best players.
That is screwed up, man. The thought of trading players as good as Gardner and Miller because spending money on free agents is not permitted is screwed up. It's one thing when you can't sign a free agent because payroll won't increase, but once you start trading away good players to make things work financially, then it's really a problem. Shouldn't this concern the MLBPA? The Yankees haven't increased payroll in ten years. I feel like the union should consider that a problem.
The Steinbrenners own the Yankees and they're free to do whatever they want with the team, the same way I own this stupid blog and am free to do whatever I want with it. And fans are free to disagree with the team's direction. When payroll stands still for a decade even though a new ballpark opened (!) and the News Corp. deal happened and the league itself keeps setting revenue records, it's not hard to understand why fans might be unhappy. Now there's talk about trading good players because signing expensive free agents is not an option? Holy mackerel.
The Yankees don't have to go out and sign the biggest free agents. You needn't look beyond their roster to see why that can be a really bad strategy. There's a point of diminishing returns too, where every dollar you spend brings fewer and fewer wins to the roster. I thought the Yankees were beyond that point a few years ago, but with payroll holding steady and the team winnings 84-87 games the last three years, they're not there any more. There are some obvious ways the Yankees could spent money this winter and add a lot of wins to the roster.
For a few years in the mid-to-late-2000s it was difficult to see how a static payroll was hurting the Yankees. The rest of the league was still so far behind it didn't matter. Now though, in 2015 heading into 2016, it couldn't be any more obvious the league is getting more competitive and the Yankees are no longer in a class of their own. They were kings of the sport and now they're much closer to everyone else.
The Steinbrenners don't have to up payroll. It's their team and they can do what they want. But they also can't ignore how failing to keep up with league-wide inflation — a modest goal, I'd say — is hurting their chances to field one of those "championship caliber teams" Hal is always talking about. The longer the Yankees' payroll remains stagnant, the better it is for the rest of MLB.