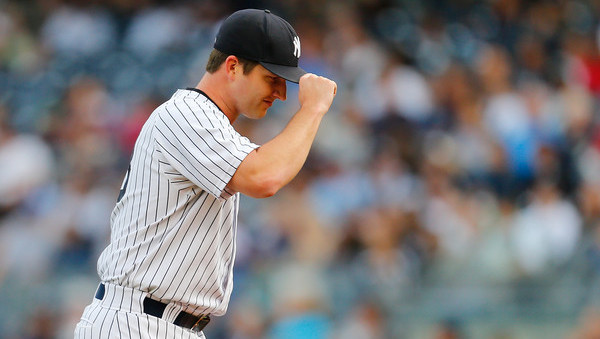 As expected, Brian Cashman confirmed Adam Warren will come to camp next season as a starting pitcher, reports Erik Boland. "(He is) going to come in as a starter. That would be the plan," said the GM. There is no reason not to bring Warren or Bryan Mitchell or whoever to Spring Training stretched out as a starter next year. No-brainer.
Warren, 28, has come to Spring Training as a starter for a few years now, so this is nothing new. The difference now is Warren actually received an opportunity to start this past season — he was in the Opening Day rotation thanks to Chris Capuano's quad injury — and showed he can do it.
In 17 starts this summer, Warren had a 3.66 ERA (3.92 FIP) in 96 innings. That includes his rough April, when he struggled to complete five innings and walked almost as many batters as he struck out. Warren really settled in after that first month and went on a nice run for a few weeks before moving back into the bullpen.
"I want to be a starter," said Warren to Jack Curry recently. "I really wasn't sure going into last season whether I wanted to be a starter or a reliever, and obviously I got the opportunity to start and I really fell in love with it. Fell in love with getting to see hitters three or four times and thinking through at-bats and what pitches you want to throw."
At the moment, I'd say the 2016 rotation will include Masahiro Tanaka, Nathan Eovaldi, Michael Pineda, Luis Severino, and CC Sabathia in whatever order. That's assuming everyone is healthy and there's no big offseason trade, stuff like that. Warren and Ivan Nova are the depth starters.
When it comes to the sixth starter, Warren might be at a disadvantage because he's shown he can excel in a short relief role. Nova hasn't pitched in relief a whole lot in his career and has never worked as a true one-inning guy. That might put him ahead of Warren on the rotation depth chart. We'll see.
"I feel like (starting) suits my game better. I really enjoy doing that," added Warren. "Getting the opportunity to at least compete as a starter is really something I'm really working hard for this offseason and really focusing on to come in to Spring Training to really impress."