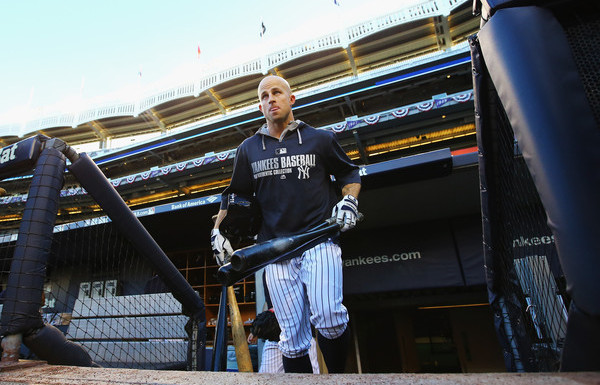 Once again, there has been a lot of talking about a possible a Brett Gardner trade this offseason. It's been going on for a few years now, mostly because he is one of the few players on the roster with actual trade value. He's the only veteran Yankee making real money with any sort of trade value. People like to talk trades and Gardner's tradeable.
We've already heard the Yankees have discussed Gardner with the Mariners, though it sounds like those talks were preliminary more than anything. (Seattle's recent Leonys Martin pickup may end those talks.) There's been speculation other clubs like the Angels, Cubs, Nationals, Tigers, and even the Mets could be suitors for Gardner. Lots of contending clubs — and that's Gardner's market, teams trying to contend, there's no reason for rebuilding clubs to get him — have a need in the outfield.
Even with his second half slump, Gardner was one of the Yankees' best players this past season, hitting .259/.343/.399 (105 wRC+) with 16 home runs and 20 steals in 151 games. Only 15 players in baseball had 15+ homers and 15+ steals in 2015. Gardner was one of 'em. I have a tough time seeing how the Yankees could trade Gardner and actually improve, but that doesn't mean it isn't worth exploring.
As with any player, the Yankees are smart to listen to offers to Gardner. You never know when a team may be desperate and willing to overpay. (Overpay in your eyes, anyway.) Although I'm not necessarily hoping the Yankees trade Gardner, there are reasons it could be a good idea. Here are four in no particular order.
Avoid Decline Years
Gardner turned 32 in late-August and plays a hard-nosed style, so much so the Yankees are reportedly worried he wears himself out over the long season each year, leading to his second half slumps. His offensive production has actually held fairly steady since becoming a full-time player in 2010 …

Source: FanGraphs — Brett Gardner
… though normal age-related decline figures to set in fairly soon, if it hasn't already. Also, Gardner's defense is not as strong as it once was. Both the eye test and stats confirm that. Gardner is still a really good defender, he's hardly a liability out there, but he's closer to league average than elite at this point.
And, of course, there's the decline in stolen bases, which is pretty normal. Gardner swiped 47 and 49 bases in 2010 and 2011, respectively, missed most of 2012 due to an elbow injury, and has hovered around 20 steals a year from 2013-15. Stolen bases tend to peak very early in a player's career, so it's no surprise he isn't stealing as many bases as he once did.
Gardner right now is still a really good player. He's solidly above-average overall and is arguably the best all-around player on the Yankees. He's no worse than their what, third best all-around player? That's right now though. What about next year and the year after that and the year after that, all of which are guaranteed under his contract?
Gardner will decline at some point because all players decline at some point. The Yankees have almost certainly gotten the best years of his career and now they may be in position to avoid his decline phase — decline is not always gradual, remember — through a trade.
Shed Salary
I absolutely hate the idea of the Yankees shedding salary in order to make other moves, especially since payroll has not increased significantly over the last decade even though the new Yankee Stadium opened six years ago, but that's the world we live in. Gardner is owed $38M over the next three seasons, including the $2M buyout of his $12.5M club option for 2016.
That's not a huge contract — 18 outfielders have contracts with a higher average annual value, and a few more will join the list this winter — but it's not nothing either. Shedding the $13M or so they owe Gardner each of the next three years means more money for … whatever. Pitching, second base, more outfielders, whatever. There are lots of ways to spend $13M annually and the Yankees certainly have no shortage of needs. Moving Gardner saves real dollars that can be put to use elsewhere.
Clear A Spot For Hicks & Co.
Late last week the Yankees acquired Aaron Hicks, a switch-hitter with center field defensive chops who Brian Cashman called "an everyday player." Except he won't be an everyday player, at least not with the roster as it currently stands. Gardner is locked into left field while Jacoby Ellsbury and Carlos Beltran are set to again play center and right, respectively.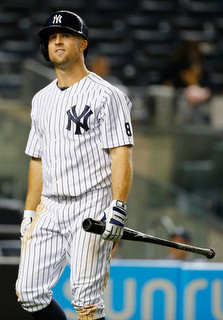 Trading Gardner clears up left field for Hicks — I'd be favor of playing Hicks in center and Ellsbury in left, but that ain't happening — and allows him to play everyday. Also, the Yankees have some outfield talent in Triple-A they could also explore. We saw Slade Heathcott and Mason Williams last year, and there's also Aaron Judge and Ben Gamel (and Jake Cave) in Triple-A.
The long-term potential of those other outfielders is up for debate — Hicks appears to be on the verge of a breakout, but who knows about the other guys — but the Yankees are never going to know what they have until they give them a chance. Trading Gardner clears left field and allows the Yankees to use Hicks, Heathcott, Judge, whoever. It creates more roster flexibility, basically. And it also allows them to potentially add some more balance to the lineup with a righty hitter.
Talent Infusion
There are an awful lot of good outfielders on the market this offseason. I mean some of the best in the game. So why would a team give up players to trade for Gardner when they could simply pay money for a free agent? Because look at some of these projected prices (via FanGraphs Crowdsourcing):
Jason Heyward, age 26: Eight years and $184M.
Yoenis Cespedes, age 30: Six years and $132M.
Justin Upon, age 28: Six years and $120M.
Alex Gordon, age 31: Five years and $90M.
Dexter Fowler, age 29: Four years and $56M.
Suddenly three years and $38M for Gardner doesn't seem so bad, does it? Point is, those guys are going to make major bucks, and not every team can afford them. Among the second tier outfield targets are Denard Span, Austin Jackson, Gerardo Parra, and Nori Aoki. Span and Aoki were hurt this year, Jackson wasn't very good, and Parra's track record as a hitter isn't nearly as good as Gardner's.
Mid-market teams that can't sink $18M+ annually into an outfielder and don't want to give up a draft pick are left to either sign a second tier free agent or trade for someone like Gardner, who has a strong track record and has succeeded in the tough AL East battles, which teams value. Plus the Yankees could also pay down part of his contract to make him even more affordable.
That's the long way of saying Gardner figures to have plenty suitors this offseason and could bring back a nice package of players. Nothing that'll alter the direction of the franchise, but it wouldn't be a straight salary dump either. One year of Fowler netted Luis Valbuena and Dan Straily. Two years of Seth Smith landed a high-end reliever (Brandon Mauer). A year and a half of Parra returned two solid prospects (last year's trade). Heck, one year of Shin-Soo Choo fetched Didi Gregorius a few years back.
The Yankees are in the middle of this rebuilding on the fly thing and chances are they won't seek prospects in return for Gardner. Prospects may be part of the package, sure, but I'm guessing they'll want at least one player they can plug directly into their MLB roster. That's the way they've been operating over the last year. MLB player for MLB player trades. Gardner could bring back two or even three young players who better fit the Yankees long-term.
* * *
I don't love the idea of trading Gardner but the Yankees are not wrong to explore it. Far from it. It's Cashman's job to explore every possible way to improve the team, and sometimes that can be accomplished by trading one of the better players on the roster. Trading Gardner could help the Yankees avoid his decline years, shed some salary, and create more roster flexibility by clearing a spot for young players and adding more talent to the organization. It's definitely something to consider.