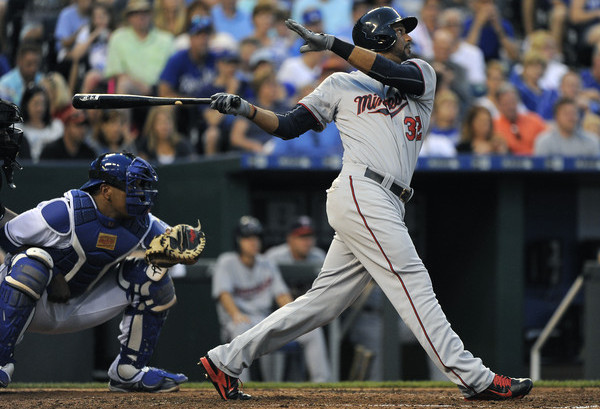 Late last week the Yankees made their first significant move of the offseason, trading backup catcher John Ryan Murphy to the Twins for outfielder Aaron Hicks. The team has some depth at catcher — Gary Sanchez's breakout summer sure helped matters — and needed an outfielder, particularly someone who can hit lefties and play strong defense.
Hick does both of those things. He has long been considered a standout gloveman in center field — Hicks is the best outfield defender in the organization right now — and this past season he hit .307/.375/.495 (139 wRC+) against southpaws. That's pretty great. At the very least, Hicks is a fine replacement for Chris Young, who is reportedly seeking a starting job this offseason.
The Yankees don't view Hicks merely as Young's replacement, however. They believe he has the potential to be more than that in the future. Brian Cashman called him an "everyday player" at the GM Meetings last week, and while there is no obvious starting spot for Hicks on next year's team at the moment, there figures to be a way to get him 350+ at-bats. After all, Young batted 356 times in 2015.
The Twins jerked Hicks around the last few years, calling him up and sending him down multiple times. He started this past season in Triple-A, came up for four weeks in May and June, went back to Triple-A for three weeks, then came back up for good in early-July. Part of that was Hicks' fault — he would have stuck around longer had he performed better — but Minnesota didn't show much patience.
Hicks hit .259/.333/.432 (109 wRC+) with ten homers and a 16.8% strikeout rate in 291 plate appearances after that final call-up this summer. He was a career .209/.293/.311 (70 wRC+) hitter with a 24.6% strikeout rate in 637 big league plate appearances prior to that. The Yankees are hoping the strong finish is a sign of real improvement and not just a three-month hot streak.
There are reasons to believe Hicks is on the verge of a breakout, if he didn't already break out with the Twins last year. First and foremost, he became more aggressive at the plate. Usually that's a bad thing, but Hicks was passive earlier in his career, and that's bad. Here are his plate discipline stats:

(Hicks had over 200 plate appearances each year from 2013-15 and swing rates tend to stabilize very quickly, so while it isn't a huge sample, the data works.)
Hicks started swinging at more pitches in the strike zone last year (Z-Swing%) without swinging at substantially more pitches out of the zone (O-Swing%). His contact rates have held relatively steady too, which is good. He's being more selective in the sense that he's swinging at more strikes without swinging at more balls.
All throughout the minors Hicks drew a ton of walks (career 14.4 BB%) but he was letting too many hittable pitches go by at the MLB level. The MLB average Swing% and Z-Swing% are 46.9% and 64.4%, respectively. Hicks was well below that from 2013-14 and is now closer to average. Working the count and drawing walks is good! But the goal first and foremost is to get a hit, and taking so many pitches in the zone is no way to hit.
"Preparation is key to be successful to the big leagues. If you don't know who the starting pitcher is, it's tough to prepare for that. I think that made me a stronger player, a better player," said Hicks to Ken Davidoff when asked about his strong second half. "I feel confident that I'm hitting big league pitching and I'm developing into a good Major League hitter."
Hicks is a switch-hitter who stopped hitting left-handed for a while in 2014 because of a lack of success. He made the decision himself before being talked back into it — "Rod Carew called me and told me what the heck am I doing, giving up switch hitting? It's a blessing and I should go back to work harder at it and be able to learn from my mistakes," said Hicks to Ronald Blum — though maintaining two swings can be tough. Maintaining one swing is tough.
Last year Hicks made some mechanical changes at the plate, specifically adding a leg kick. This was him at the plate in 2014. He had the same slight step while batting right-handed as well: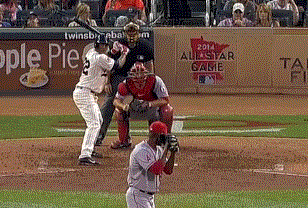 The center field camera in Target Field is just the best.
Anyway, Hicks has almost no leg kick there. It was a little step forward and nothing more. Again, he did the same from the right side of the plate. Here's video if you don't believe me. I'm not making another GIF.
Now look at Hicks in 2015. He has a much more exaggerated leg kick: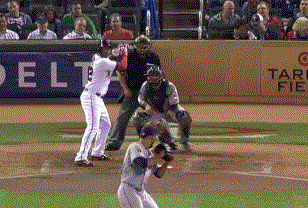 Hicks had the same leg kick while hitting from the right side too. Here's video. He told friend of RAB Brandon Warne the leg kick came about when he and some teammates were messing around during batting practice, mimicking the swings and leg kicks of other players around the league.
"I started to like it," he said to Warne. "From then on it was kind of a point where I was just like, you know what, I'm going to try this. We were just having fun in offseason hitting, and it just kind of led to me being comfortable with it and taking solid swings."
Hicks told Warne he came to Spring Training this past season with the leg kick and kept "tinkering all through the spring" until he got it just right. "Torii (Hunter) helped tinker it for me as far as what I needed to do to be able to get my foot down in time," he added.
Leg kicks do different things for different hitters, but for the most part it is a timing and/or weight transfer thing. There aren't a whole lot of hitters these days who hit with a tiny step forward like the one Hicks was using prior to this season. That doesn't mean it can't be done, just that it's not for everyone. Hicks found something more comfortable.
"I feel like with the leg kick I've been more aggressive. Swinging early in counts and being able to make contact early, and not missing pitches," said Hicks to Warne. "I think for me it's more important to have my hands ready all the time to be able to fire them whenever I need to. A leg kick is going to generate my timing mechanism so I need to have my hands ready."
So hey, how about that, the leg kick and the increased Z-Swing% might be related. At least Hicks believes they are, and that's all that matters. Neat. It's also worth noting that even though Hicks was swinging at more strikes this year, he still maintained a healthy 8.7% walk rate. It was 9.6% after being called up the final time.
Once upon a time Hicks was a first round pick (14th overall in 2008) and one of the top prospects in baseball (No. 19 in 2010), so this isn't some middling talent the Yankees are trying to refine. Hicks has tremendous natural ability. Baseball America (subs. req'd) once said he has the potential to "become a five-tool center fielder with 20-25 home run power who bats in the middle of a lineup."
It has taken Hicks some time to find his way at the MLB level and that's not terribly uncommon. He's still trying to figure out what works best for him, which led to the leg kick and a more aggressive approach — let's call it "controlled aggression" since he's not hacking at pitches off the plate — this year. Sometimes it takes time. Baseball is hard.
The Yankees are betting on Hicks — who turned only 26 last month, by the way — and his talent, hoping the improvement he made this summer is real. The change in approach and leg kick give us some tangible reasons to believe Hicks is on the verge of breaking out, at least as a legitimate everyday player, if not more.
"It feels good that the team that just traded for me has confidence in me," said Hicks to reporters on a conference call after the trade last week. "Whatever they want me to do, just do it, and to know my role and help this team win."