This past season was a tale of two seasons for Brett Gardner. He was tremendous in the first half, hitting .302/.377/.484 (137 wRC+) with ten home runs and 15 stolen bases, which earned him a spot in the All-Star Game. Brett was the only AL player with at least ten homers and 15 steals at the break.
Then, in the second half, Gardner hit a weak .206/.300/.292 (66 wRC+) with only six home runs and five steals. That 66 wRC+ ranked 146th out of 156 qualified hitters in the second half. Gardner was one of the best outfielders in baseball before the All-Star break and one of the very worst afterwards. It was a real uneven season.
During a conference call with reporters yesterday, new hitting coach Alan Cockrell said Gardner played through a wrist injury this past season, which may have hurt his performance. Cockrell served as assistant hitting coach last year and was promoted to the main job earlier this week.
"I know that that bothered him off and on the entire year," said Cockrell. "I know he was getting some cortisone and some things like that to try to help him, and they did in spurts, but you can only get three (cortisone shots) in a year … (Gardner) downplayed it and I probably shouldn't up-play it when he downplayed it, but facts are facts. If you don't have your hands, it's tough to hit."
Gardner was hit by a pitch six times this season, including twice in the right wrist. They both happened within a few days of each other too: Aaron Loup plunked him on April 8th, then Wei-Yin Chen got him a few days later on April 13th. None of the other four hit-by-pitches involved Gardner's wrist. (Yes, I went back through MLB.tv and checked.) Here are the two wrist shots: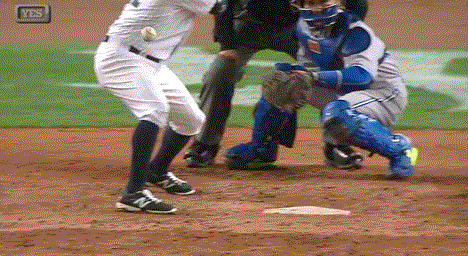 On April 13th Gardner took the Chen pitch to the wrist in the first inning and stayed in the game, but he squared around to bunt in his next two-bats because he wasn't comfortable swinging. Stephen Drew pinch-hit for Gardner in the seventh inning and hit that go-ahead grand slam, so that was cool.
Gardner went for x-rays after the game and they showed only a bone bruise, no fracture. An MRI confirmed the bone bruise diagnosis a few days later. Gardner sat out the next few games, returned to the lineup on April 18th, then mashed the rest of the first half before falling apart after the All-Star break.
We don't know when Gardner received the cortisone shots. It's possible they were bunched together in the first half, which kept him productive. Then once he exhausted his three shots, his game fell apart. Who knows. A lingering wrist injury would definitely explain the lack of production. You can't hit if your hands aren't strong.
Gardner has had some hit-by-pitch related right wrist injuries in the past. Clayton Kershaw hit him with a pitch back in 2010 …
… and Gardner played hurt the rest of the year. Again, his performance suffered. Gardner needed debridement surgery on the wrist after the season. He hasn't had any sort of surgery this year, as far as we know.
Gardner didn't say anything about his wrist in the second half or after the season. I totally forgot he got hit in the wrist until a few days ago, when I wrote the biggest hits post and researched Drew's grand slam. Cockrell brought it up because he was asked about Gardner's swoon, and hey, a wrist injury is a perfectly valid explanation.
In fact, I hope it was the wrist, because that would be an easy answer. If Gardner performed like that while being perfectly healthy … yeesh. The wrist at least potentially explains things. I have a very hard time believing Gardner went from an All-Star to a true talent sub-replacement level hitter overnight.