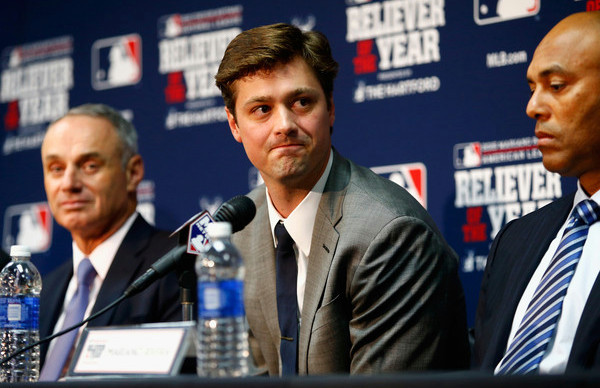 According to Ken Rosenthal, the Yankees are very active on the trade market early this offseason. At the very least, it appears they are gauging interest in all their players. "Sounds like the Yankees are shopping everyone," said one executive to Rosenthal, "with the exception of (Luis) Severino."
Jon Heyman hears Andrew Miller's name is being circulated, though it's unclear how serious the Yankees are about moving him. Heyman says the asking price would be a pretty high as well. A top of the rotation starter or a significant package of players. Miller doesn't have a no-trade clause and had forearm problems this year, remember.
"We're open to all ideas — as always," said Cashman to Heyman when asked about Miller's availability. "It doesn't mean I'd do anything but if the Dutch never asked the Indians for Manhattan you'd be living in New Jersey."
I can't help but imagine a scenario in which the Yankees trade Miller for a stud pitcher — Heyman speculates the potentially available Stephen Strasburg might be a match — then flip some prospects for Craig Kimbrel to take over as closer. That would be pretty damn sweet. Too good to be true, really.
On paper, this is one of the best free agent markets in years, though the Yankees seem likely to be more active on the trade market due to limited roster and financial maneuverability. They don't have a ton of open roster spots and they didn't shed any big contracts after the season. It'll take a payroll bump to add a significant free agent.
Last offseason the Yankees surprisingly traded Shane Greene and Martin Prado in separate trades. I mean, we all know pretty much anyone can be traded at any time, but I can't imagine many folks expected Greene and Prado would be moved. The Yankees needed rotation help and they need infield help, yet they still dealt away a starter and an infielder.
"I'm open to anything. I'm always open to anything. I'm not afraid," said Cashman to Rosenthal. "You have to be pretty aggressive and open to trade a good young pitcher under team control (Greene), a left-handed prospect (Manny Banuelos), or a guy like Prado who fits you like a glove."
Cashman acknowledged he doesn't "anticipate Severino, (Greg) Bird, and (Aaron) Judge being traded," but again, he wouldn't rule anything out. I wouldn't either. The Yankees tend to run a very tight ship too. Moves often come out of nowhere. "I'm open to having dialogue, no matter what. Dialogue is a good thing," added the GM.
The GM Meetings take place this week in Boca Raton, and while some deals may go down, historically this week has been more about laying groundwork and having preliminary talks. The idea of the three-team Curtis Granderson trade was first broached at the GM Meetings back in November 2010, but the deal itself wasn't completed until a few weeks later at the Winter Meetings, for example.
I looked at the Yankees' trade chips last week. An extra starter like Michael Pineda or Ivan Nova seems like a candidate to be traded, though who knows. The Yankees have pitching depth but they could use more quality pitching, if that makes sense. Also, second base and bench help figures to be on the agenda. We'll see.