We were spoiled by Adam Warren two years ago. Warren, who at that point had just one start's worth of MLB experience, stepped into the long man role in 2013 and gave the Yankees a 3.39 ERA (4.32 FIP) in 77 innings. By long man standards, that's as good as it gets. The long man is typically the last guy in the bullpen, there out of necessity rather than luxury.
The Yankees had two different long men at two different times this year. Well, they actually had more than two long relievers — Warren filled the role himself for a little while — but they had two main guys and neither was very good. That's usually how this long man thing goes. Esmil Rogers started the season as the long reliever before giving way to Chris Capuano. The Yankees ended up cutting both. Multiple times too.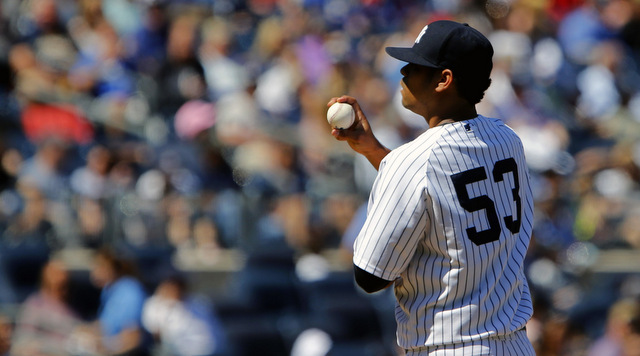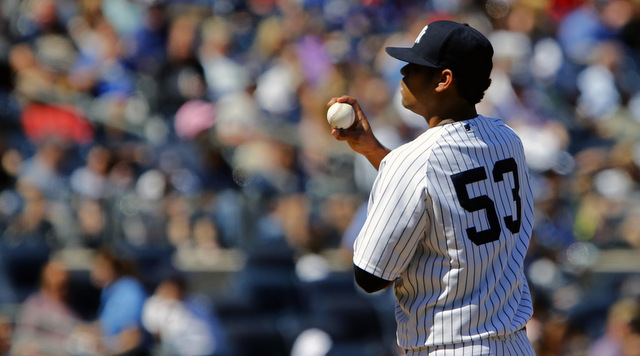 Call Me Esmil
Remember back in Spring Training when Rogers was considered a rotation candidate? Good times. He actually competed with Warren for the fifth starter's spot after Capuano hurt his quad covering first base. Rogers pitched decently in camp — he had a 2.35 ERA with 16 strikeouts and four walks in 15.1 innings — but was never a serious rotation candidate, so come Opening Day, he was in the bullpen.
The Yankees were still easing their starters into things in April, so Rogers saw a lot of work early in the season. He struck out the only batter he faced on Opening Day, then, three days later, he allowed one run in 2.1 innings against the Blue Jays. An Edwin Encarnacion solo homer was the only base-runner Rogers allowed. He threw 35 pitches that night.
The next night was that ugly 19-inning marathon loss to the Red Sox. The Yankees ran out of pitchers in the 15th inning, so even though Rogers threw those 35 pitches the night before, Joe Girardi had no choice but to turn to him again. Rogers ended up taking the loss after throwing 81 pitches (!) in 4.2 innings. He allowed three runs (two earned) on six hits and a walk while striking out four. Rogers took the loss but deserves respect for his effort those two days.
Girardi gave Rogers a week off after throwing 35 and 81 pitches on back-to-back days, and for a while he pitched really well. He allowed one run on four hits and three walks in nine innings across his next four outings, striking out ten. That includes 2.2 scoreless innings on April 28th, when the rest of the bullpen was taxed. Girardi used Rogers to get the ball from Chase Whitley to Chris Martin, who recorded the save.
Rogers threw 15.1 innings in April, the sixth most on the team behind the five starters. He was pretty effective too (2.35 ERA and 3.53 FIP), at least by long man standards. Then it all came crashing down in May. Rogers allowed 15 runs on 21 hits and ten walks in 15.2 innings in May, including seven runs in three innings against the Rangers on May 23rd. He then allowed nine runs in two innings in his first two appearances of May.
At one point Rogers allowed 17 runs (14 earned) on 16 hits and four walks in seven innings across five appearances. The Yankees were starting to get healthy in early-June, which means they needed roster spots, so Rogers was cut loose. He was designated for assignment on June 15th, accepted an assignment to Triple-A Scranton a few days later, and made two starts with the RailRiders before being brought back to the big leagues a few weeks later.
Rogers never did pitch in his second stint with the Yankees this summer. The team needed a just in case arm and he sat in the bullpen for three days before being dropped from the roster and sent back to Triple-A. Rogers made five more starts with Triple-A Scranton before working out a deal with the Hanwha Eagles in Korea. The Yankees released him in early August so he could head to Asia.
All told, Rogers pitched to a 6.27 ERA (4.68 FIP) in 33 innings across 18 appearances for the Yankees this year. He had a 3.38 ERA (2.67 FIP) in seven starts and 34.2 innings for Triple-A Scranton as well. The Hanwha Eagles? Rogers had a 3.09 ERA in ten starts and 75.2 innings after leaving for Korea. He struck out 60, walked 20, and threw three complete-game shutouts with Hanwha.
The Yankees always liked Rogers because he throws hard, has a decent slider, and has a resilient arm capable of handling big workloads. For a while this past season he was useful, but the wheels fell off and Rogers didn't finish the season in the organization. He's a free agent right now and Yakyu Baka recently passed along a report saying the Rakuten Golden Eagles in Japan — Masahiro Tanaka's former team — are interested in signing Esmil.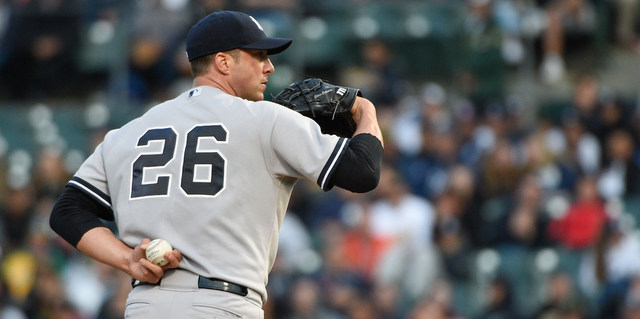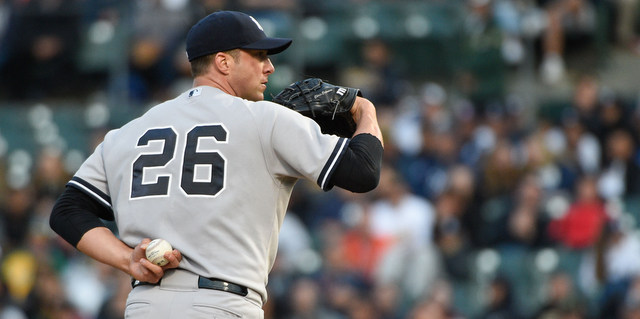 Capuano, Again and Again and Again and Again
It is truly amazing how Capuano kept resurfacing this season. The Yankees signed him for rotation depth, then he got hurt in camp, and once he returned he was so bad in three starts (eleven runs in 12.2 innings) the team moved him into the bullpen, where he effectively replaced Rogers as the long man.
Capuano didn't pitch any better in long relief — 7.24 ERA (4.89 FIP) in 27.1 innings across 18 appearances — and he did make one spot start against the Rangers, which was a disaster. He allowed five runs on three hits and five walks in two-thirds of an inning. Somehow that was only the team's second worst start of the year. (Capuano can thank Nathan Eovaldi's disaster in Miami for that.)
Fun fact: the Yankees won that game by 16 runs (
box score
).
When it was all said and done, Capuano finished the season with a 7.97 ERA (5.03 FIP) in 40.2 innings spread across four starts and those 18 relief appearances. He also made six starts with Triple-A Scranton. Obviously Capuano was awful, but his transactions log is remarkable. The Yankees designated Capuano for assignment four times (!) this summer, but ended up bring him back each time. Here's the list of moves:
May 17th: Activated off 15-day DL (quad injury in Spring Training)
July 29th: Designated for assignment (outrighted to Triple-A Scranton on July 31st)
August 12th: Called up
August 15th: Designated for assignment (outrighted on August 17th)
August 18th: Called up
August 22nd: Designated for assignment
August 24th: Yankees re-sign and add Capuano to 25-man roster after he elects free agency
August 26th: Designated for assignment (outrighted August 28th)
September 7th: Called up
So from July 29th through September 7th, a span of 41 days, Capuano was designated for assignment and re-added to the roster four times. He spent 23 days on the active roster during that stretch and appeared in only two games, throwing two innings on August 20th and another two innings on August 25th.
It's not a good thing when your season is more notable for the number of times you were designated for assignment rather than, you know, your pitching. Capuano, like Rogers, was not good this past season and he's now a free agent. He turned 37 in August and chances are he'll have to settle for a minor league contract this offseason, if he finds an offer at all. The end for complementary players is rarely pretty.