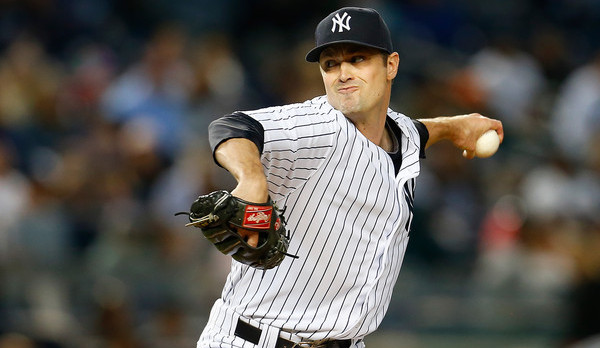 Earlier this week we heard the Yankees are "shopping everyone," including Andrew Miller, and now Ken Rosenthal reports the Diamondbacks are among the teams to inquire about the lefty closer. Talks are in the extremely preliminary phases — Rosenthal says the two sides haven't exchanged names yet.
The D'Backs are a weird operation. They've been .500 or worse the last four years and they've made moves that send the message they're both going for it (adding Jeremy Hellickson) and rebuilding (trading Miguel Montero, etc). Arizona reportedly tried hard to land Aroldis Chapman at the trade deadline this season, so I guess their interest in Miller is not surprising.
Rosenthal mentions the D'Backs have some young starters and infielders who could interest the Yankees, though that is his own speculation. That makes sense though, right? The Yankees could use young arms — like every team! — and there's an opening at second base, at least until Rob Refsnyder proves otherwise. Those positions figure to be the points of emphasis this winter.
Looking over Arizona's 40-man roster, I'm not sure which young starters fit aside from righty Chase Anderson (4.30 ERA and 4.14 FIP in 2015) and lefty Robbie Ray (3.52 ERA and 3.53 FIP). Righty Archie Bradley is the big name but he threw only 65 ineffective innings this past season due to a shoulder strain. The Yankees are all about buying low on talented guys, but a pitcher with shoulder trouble is a different animal than a guy underperforming.
The only two infielders who stand out are third baseman Jake Lamb and second baseman/third baseman Brandon Drury. Lamb is a personal favorite, I think that dude is going to mash long-term (92 wRC+ in 107 games in 2015), and Drury's an interesting guy with great minor league stats and a scouting report that doesn't quite match up. He's Refsnyderian, in a way.
Jon Heyman says the Yankees recently asked one team for three MLB ready young players in exchange for Miller — that seems like a perfectly reasonable opening ask to me, starting negotiating from there — which makes sense. They don't want prospects. They want players who can help right away. The D'Backs have some interesting young starters and infielders — what about Ray plus Lamb or Drury? is that in the ballpark for an elite closer signed to setup man dollars for the next three years? — and I could see at least the makings of a match there.
The Yankees have limited flexibility this offseason, both in terms of roster spots and payroll, and the common phrase so far has been "open to anything." We've heard Brian Cashman say that a few times already. We saw firsthand how dynamic the Miller-Dellin Betances tandem can be, though I definitely think there is some merit to moving Miller. He threw more sliders (54.1%) than fastballs (45.9%) in 2015 and missed a month with a forearm problem. That's a red flag.
Miller does not have a no-trade clause and literally every team in baseball is looking to add an elite reliever this winter, even the Royals. The D'Backs are one possible trade partner but far from the only one. With Darren O'Day representing the best reliever on the free agent market, the Yankees have pretty great leverage. They can ask a lot for Miller because there are few alternatives out there.