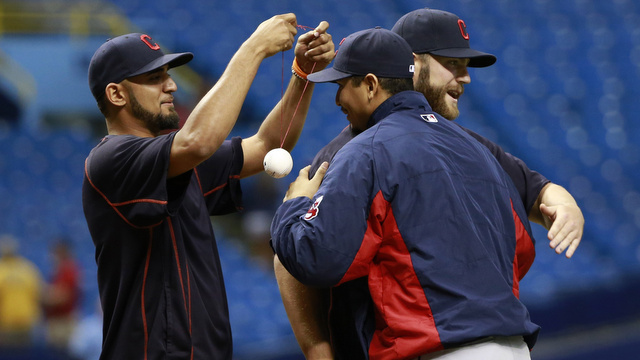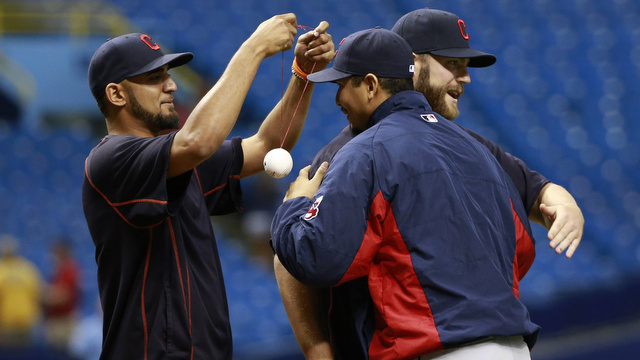 According to pretty much every report we've seen this offseason, the Yankees are looking for pitching in any trade. They're said to at least be listening to offers for Brett Gardner and Andrew Miller, if not shopping them. Payroll isn't going up next season and the Yankees didn't have much money come off the books, so trades are the only real avenue for significant improvement.
The current rotation is again full of question marks — Masahiro Tanaka just had elbow surgery, Nathan Eovaldi had an elbow injury at the end of the year, CC Sabathia's knee is an ongoing issue, etc. — and the future rotation is pretty wide open. Tanaka (opt-out), Eovaldi, Sabathia, Michael Pineda, and Ivan Nova can all become free agents within the next two years, leaving Luis Severino and Adam Warren for the 2018 rotation.
Obviously that is a long way away — the 2013 Yankees got 103 starts from Hiroki Kuroda, Andy Pettitte, Phil Hughes, and David Phelps, for example, so things change in a hurry — but that doesn't mean the Yankees are wrong to worry about it now. If they're going to deal Gardner and/or Miller, getting young controllable pitching in return makes all the sense in the world.
Over the last few years the Yankees have made it clear they have a "type," when it comes to pitching. They love hard-throwers with very low walk rates, and the taller they are, the better. They didn't just pick Pineda and Eovaldi out of a hat, you know. Both came to New York with huge fastballs and a low walk rate. Eovaldi (6-foot-2) isn't as big as Pineda (6-foot-7), but he also throws 100, so yeah.
So, using all of this information, we can dig up some potential pitching trade targets for the Yankees. This isn't to say the Yankees are (or should) pursuing these guys — or that they're even available — but they fit what has been established as their preferred type of pitcher. Obviously some of these guys are more attainable than others, though it is interesting several are on teams who appear to match up with the Yankees for a potential trade. To the alphabetically ordered list.
RHP Cody Anderson, Indians
2015 Average Fastball Velocity: 92.1 mph (96.9 mph max)
2015 Walk Rate: 6.6%
Height: 6-foot-4
Years of Control: Six (three pre-arbitration and three arbitration years)
The Indians have a ton of starting pitchers, so much so that they've discussed trading one to address their outfield needs.
They've spoken to the Yankees about an outfielder-for-starter trade
, for example. Anderson, 24, had a 3.05 ERA (4.27 FIP) in 15 starts and 91.1 innings around an oblique injury this past season. He has above-average velocity and a history of limiting walks, though his strikeout rate (12.1%) was way below-average this year. For what it's worth, his minor league strikeout rate (18.5%) wasn't great either.
RHP Carlos Carrasco, Indians
2015 Average Velocity: 94.5 mph (98.8 mph max)
2015 Walk Rate: 5.9%
Height: 6-foot-3
Years of Control: Three (owed $19M through 2018 plus club options for 2019 and 2020)
We've discussed Carrasco here before, albeit briefly. Assuming Corey Kluber is off limits, the 28-year-old Carrasco is the best available Indians starter. He moved from the bullpen back into the rotation late last season, and this year he pitched to 3.63 ERA (2.84 FIP) with an elite strikeout (29.6%) rate and an excellent ground ball (51.2%) rate in 30 starts and 183.2 innings. The high-ish ERA has more to do with Cleveland's poor team defense than anything Carrasco did. Carrasco is not super young (he turns 29 in March) but he's signed to a dirt cheap contract and has pitched at an ace level in 40 starts since returning to the rotation. If he is actually available, it'll cost a ton to get him.
LHP Patrick Corbin, Diamondbacks
2015 Average Velocity: 92.1 mph (96.2 mph max)
2015 Walk Rate: 4.8%
Height: 6-foot-2
Years of Control: Three (all arbitration years)
Tommy John surgery limited Corbin, a native New Yorker, to 16 starts and 85.1 innings in 2015. His performance (3.60 ERA and 3.35 FIP) was on par with his breakout 2013 season (3.41 ERA and 3.43 FIP) before the elbow caused him to miss 2014. His strikeout (21.9%) and grounder (46.9%) rates were right in line with 2013 as well (20.7% and 46.7%). Recent Tommy John surgery is always a red flag, though it's good to see the results and PitchFX data show Corbin was basically the same pitcher in 2015 as he was before elbow reconstruction. The D'Backs have some rotation depth and they have
checked in with the Yankees about Miller
, so maybe there is a Corbin for Miller plus stuff deal to be made. Remember though, Corbin is Arizona's ace, so they may consider him untouchable, especially with three years of control remaining.
RHP Jose Fernandez, Marlins
2015 Average Velocity: 95.9 mph (99.5 mph max)
2015 Walk Rate: 5.3%
Height: 6-foot-2
Years of Control: Three (all arbitration years)
Depending who you want to believe, either the Marlins are open to moving the 23-year-old Fernandez because he's a headache, or he's completely untouchable. Reports supporting both scenarios have popped up in recent days. Either way, Fernandez is as good as it gets, pitching to a 2.92 ERA (2.24 FIP) in eleven starts and 64.1 innings this year after returning from Tommy John surgery.
I wrote more about Fernandez in last week's mailbag
. The question isn't so much is Fernandez available, but do the Yankees even have what it takes to outbid other clubs if he is? I'm leaning towards no on that one.
RHP Kevin Gausman, Orioles
2015 Average Velocity: 95.9 mph (100.3 mph max)
2015 Walk Rate: 6.2%
Height: 6-foot-4
Years of Control: Five (one pre-arbitration and four arbitration years as a Super Two)
Various reports indicate Gausman was a popular target at the trade deadline — the Tigers wanted him for Yoenis Cespedes, the Padres wanted him for Justin Upton, and the Rockies wanted him for Carlos Gonzalez. Baltimore said no each time, obviously. The O's have a terrible track record of developing pitchers, and the 24-year-old Gausman followed his strong 2014 season (3.57 ERA and 3.41 FIP) with an okay at best 2015 (4.25 ERA and 4.10 FIP) while being moved back and forth between the bullpen and rotation. Gausman seems like an ideal change of scenery guy, but I have a really hard time seeing him as a realistic target. Orioles owner Peter Angelos hates the Yankees and wouldn't risk trading Gausman only to watch him develop into a stud in pinstripes. So yeah, Gausman fits the mold as a hard-throwing strike-thrower, but this ain't happening.
RHP Jonathan Gray, Rockies
2015 Average Velocity: 94.3 mph (98.2 mph max)
2015 Walk Rate: 7.6%
Height: 6-foot-4
Years of Control: Six (three pre-arbitration plus three arbitration years)
Gray, 24, came into the season as the No. 24 prospect in baseball according to
Baseball America
, then came up late in the season and got Coors Fielded (5.53 ERA and 3.63 FIP in 40.2 innings). He did miss bats (21.6%) but didn't get a ton of grounders (43.2%) in his limited action. The Yankees do have some history with Gray, selecting him in the tenth round of the 2011 draft,
but he turned down a ton of money to go to college
.
The Rockies haven't been able to develop pitching in forever, and while trading someone like Gray seems silly, GM Jeff Bridich recently told Patrick Saunders he is "open to anything, I mean it" to improve the team, including trading young pitching. Gardner and Miller don't appear to be matches for the Rockies — why would they want a 32-year-old outfielder or an expensive closer? — but maybe other pieces like Gary Sanchez and Jorge Mateo could entice Colorado.
LHP Andrew Heaney, Angels
2015 Average Velocity: 91.5 mph (94.9 mph max)
2015 Walk Rate: 6.4%
Height: 6-foot-2
Years of Control: Six (two pre-arbitration plus four arbitration years as a Super Two)
Heaney, 24, was traded twice last offseason — first for Dee Gordon then for Howie Kendrick a few hours later — and now the Angels have a new GM, and new GMs tend to trade away incumbent players because they aren't attached to them. That said, Heaney had a really good year (3.49 ERA and 3.73 FIP in 105.2 innings) and the Halos just traded their top two pitching prospects for Andrelton Simmons, so dealing another young starter seems unlikely. Then again, the Halos do desperately need a left fielder and leadoff hitter, and perhaps GM Billy Eppler is particularly fond of Gardner after all his years with the Yankees. My guess is he values the young lefty more, but you never know.
RHP Wily Peralta, Brewers
2015 Average Velocity: 94.1 mph (97.6 mph max)
2015 Walk Rate: 7.7%
Height: 6-foot-1
Years of Control: Three (all arbitration years)
The Brewers are in full blown tear it down and rebuild mode, and the 26-year-old Peralta is one of the few players left on the roster with actual trade value. Unfortunately, he battled shoulder tendinitis this summer and had a miserable year, pitching to a 4.72 ERA (4.84 FIP) in 20 starts and 108.2 innings. Also, Peralta's strikeout rate fell from 18.4% in 2014 to a well-below-average 12.6% in 2015, and gosh, that's scary. He has gradually lowered his walk rate over the years and he's always gotten grounders (51.6% in 2015), though the combination of a shoulder problem and a huge strikeout drop is a major red flag. Besides, the Brewers have no use for Gardner or Miller, so we're talking a prospect package.
RHP Danny Salazar, Indians
2015 Average Velocity: 94.9 mph (98.7 mph max)
2015 Walk Rate: 7.0%
Height: 6-foot-0
Years of Control: Five (two pre-arbitration and three arbitration years)
Yet another Indians starter. They've got a lot of them. Salazar, 25, presumably lies somewhere between Carrasco and Anderson in trade value, but closer to Carrasco. He's always had a history of limiting walks and this summer he had a great strikeout rate (25.8%) and an average-ish grounder rate (43.9%) in 185 innings, his first full season as a big leaguer (3.45 ERA and 3.62 FIP). Cleveland seems open to trading a starter for the right return, though it's unclear if the Yankees can offer that return, regardless of whether it includes Gardner.
RHP Taijuan Walker, Mariners
2015 Average Velocity: 94.1 mph (98.2 mph max)
2015 Walk Rate: 5.7%
Height: 6-foot-4
Years of Control: Five (two pre-arbitration and three arbitration years)
The Yankees and Mariners discussed Gardner a few weeks ago
, and last week
George King
reported the Yankees asked for Walker, which apparently ended talks. (Why do we always hear talks ended because the first ask was high? Aren't you supposed to, you know, negotiate?) The 23-year-old Walker had an okay year this season (4.56 ERA and 4.07 FIP in 169.2 innings) but was extremely homer prone (1.33 HR/9) despite playing his home games in Safeco Field. But still, he's a former top prospect with quality stuff, so the appeal is obvious. The Mariners refused to trade Walker for David Price a few years ago, though that was under ex-GM Jack Zduriencik. New GM Jerry Dipoto may be more open to moving Walker. Also, even though Seattle just acquired Leonys Martin, they still have a need for outfielders, so Gardner still makes some sense, though obviously Gardner-for-Walker ain't happening. It would have to be Gardner plus stuff for the young righty.
* * *
By no means is this list intended to be comprehensive. Plenty of starters either throw hard or limit walks, but surprisingly few do both, and even fewer might actually be available this offseason. (Something tells me others like Clayton Kershaw and Noah Syndergaard are staying put, you guys.) Guys like Robbie Ray and Jimmy Nelson throw hard but walk too many hitters. Others like Josh Tomlin and Chase Anderson limit walks but work with average velocity or less.
Through their various pickups the last few years the Yankees have made it clear they like hard-throwers with low walk rates. Even small additions like Chris Martin fit the bill. The Yankees are said to be looking for starters this offseason for obvious reasons, and unless they unexpectedly shift gears, they figure to again target high-velocity, low-walk pitchers. It's an exclusive club and those guys tend to cost quite a bit to acquire, but they aren't off-limits either.