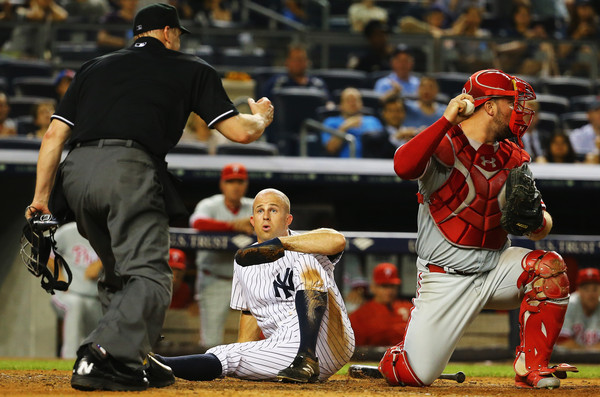 The Yankees have had trade talks with the Mariners about outfielder Brett Gardner, reports Joel Sherman. Talks are not all that advanced and no deal is imminent. New Mariners GM Jerry Dipoto has reportedly been after Gardner for a while, dating back to his time as interim GM of the Diamondbacks in 2010. Seattle is trying hard to land an athletic center fielder this offseason.
"At the end of the day, I am legitimately really open to any idea," said Brian Cashman to Bryan Hoch. "I've had a lot of bad ones, either thrown by me or on the receiving end from somebody else to me. But that's what we're here for, to throw a lot of (stuff) out there and see what sticks."
Sherman says — not specifically related to a potential Gardner trade, just in general — the Yankees are seeking high-end starting pitching they can control beyond 2017. (Masahiro Tanaka, CC Sabathia, Michael Pineda, and Nathan Eovaldi can all become free agents after 2017.) He notes New York ramped up their scouting of Mariners lefty James Paxton at the end of the regular season and in the Arizona Fall League.
Paxton, 27, had a 3.90 ERA (4.31 FIP) in 67 innings for the Mariners this past season while missing roughly three months with a strained tendon in his left middle finger. He was limited to 74 innings last season (3.04 ERA and 3.28 FIP) due to a severe lat strain. Between MLB and the minors, Paxton has thrown only 160.2 innings from 2014-15 due to injuries.
The Yankees owe Gardner $39.5M through 2018 while Paxton is under team control through 2019. In a world where Colby Rasmus is expected to land a three-year deal worth $42M, Gardner at three years and $39.5M is pretty damn reasonable. The Yankees would clear payroll — why are the Yankees worried about clearing payroll? — and add another injury prone starter to the pile with a deal like this, which may or may not be under discussion.
In a vacuum, I think Gardner for Paxton is close to the ballpark but not quite in it. The Mariners would have to sweeten the deal somewhat. Gardner is solidly above-average for his position and Paxton is little more than potential. And no, trading Gardner then signing a free agent like Jason Heyward does not mean the Yankees should settle for less in return for Gardner. His trade value doesn't change.
Anyway, I'm sure the Yankees have received plenty of calls about Gardner this offseason, and since he's pretty much the only veteran on the team with actual trade value, expect to continue seeing his name in trade rumors this winter. That they acquired another outfielder this afternoon in Aaron Hicks only adds fuel to the fire.