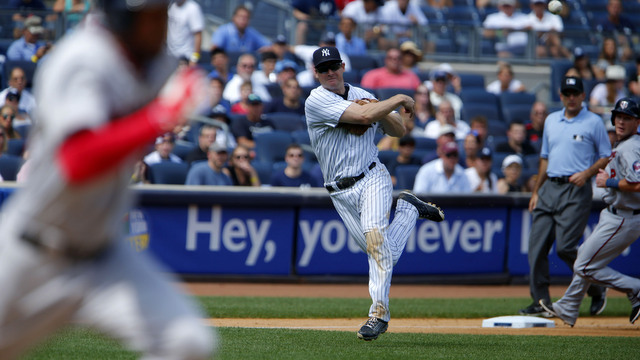 Last offseason the Yankees had exactly one infielder under contract. That was first baseman Mark Teixeira. They needed a new second baseman, a new shortstop, and a new third baseman. It was a clean slate, which is both good and scary. Having to rebuild three-fourths of an infield in one offseason is a lot of work.
The Yankees opted to re-sign Chase Headley to play third base. He provided strong two-way play after coming over at the trade deadline last summer — Headley hit .262/.371/.398 (122 wRC+) and played the hell out of the hot corner in 58 games — so they gave him a four-year deal worth $52M in mid-December. Headley reportedly turned down a $65M offer because he enjoyed his time in New York so much. His first full season in pinstripes didn't go as well as his first half-season.
A Monster in Spring
As a team, the Yankees scored 1,283 runs from 2013-14, the fourth fewest in the AL. And, coming into 2015, there were major questions about the offense. Teixeira was coming off a brutal second half, Carlos Beltran had offseason elbow surgery, Brian McCann had a disappointing first year in New York, Alex Rodriguez … gosh, who knew what to expect from A-Rod? Lots of questions.
Headley, who turned 31 in May, had a history of being an average or better hitter. No one expected him to repeat his monster 2012 season (31 homers and a 145 wRC+) but league average output built more on OBP than power was a reasonable expectation given his track record. Then Headley absolutely mashed in Spring Training, putting up a .305/.349/.543 line with five doubles and three homers in 21 games. At the time, it was easy to think he could step into the middle of the lineup should one of the other veterans falter.
A Streaky First Half
The first few weeks of the season were a bit weird for Headley. He went 15-for-59 (.254) in his first 15 games with five multi-hit games mixed in there. Headley also hit two homers in his first six games of the season, including this game-tying blast in the bottom of the ninth against the Red Sox on April 10th.
That was the 19-inning marathon loss, so the homer ultimately went for naught, but it was a pretty huge hit at the time. The Yankees struggled big time out of the gate — they lost four of their first five games, yuck — and Headley had a knack for big hits in the second half last year. He came through again that night.
The rest of Headley's first half was really streaky. He'd be great for two weeks (.327/.382/.510 from May 16th to 30th), slump for two weeks (.212/.241/.250 from June 2nd to 16th), his power would disappear (24 games and 109 plate appearances between homers from May 26th to June 22nd), then reappear in a hurry (two homers in his next five games). Most players are streaky but Headley was really streaky in the first half.
Headley went into the All-Star break hitting .255/.310/.373 (87 wRC+) with eight homers, which was definitely below expectations. His walk rate (6.8%) was down compared to his career average (10.0%). And yet, when Jacoby Ellsbury got hurt, Headley stepped into the No. 2 spot in the lineup and hit .291/.340/.376 in the interim. That's pretty good. It was an up and down first half and the Yankees were going to need more from their third baseman down the stretch.
Second Half Headley
Throughout his career, Headley has a history of being a better hitter after the All-Star break. He's a career 102 wRC+ hitter in the first half and 122 wRC+ in the second half, so there was some reason to expect improved performance after the All-Star break.
Sure enough, Headley came out of the gate strong after the break, hitting .327/.407/.473 (145 wRC+) in 42 games and 167 plate appearances from the All-Star break through the end of August. He still wasn't hitting for power (only two homers) but was doing pretty much everything else. Headley had his best game of the season on August 30th, going 3-for-3 with a double, a homer, and two walks in a blowout win over the Braves.
September was rough for Headley, as it was for many of his teammates. He hit .179/.252/.223 (23 wRC+) overall with a 28.5% strikeout rate, which is ghastly. Seemingly no one hit that final month, but geez, Headley was especially bad. He of course started the wildcard game — it was the first postseason game of Headley's career — and went 0-for-2 with a walk.
All told, Headley put up a .259/.324/.369 (91 wRC+) batting line with eleven home runs, a 7.9% walk rate, and a 21.0% strikeout rate in 156 games and 642 plate appearances this season. The average and OBP are fine, you can live with that from a guy who spent the majority of the season batting sixth and seventh, but where was the power? Solid so-called clutch stats — .258/.324/.435 (108 wRC+) in high-leverage spots and .285/.350/.482 (124 wRC+) with runners in scoring position — helped offset that a bit.
The Disappearing Power
Outside of that huge 2012 season, Headley's never really been a power hitter throughout his career. Obviously spacious Petco Park had something to do with that, but, even on the road, Headley only mustered a .158 ISO as an everyday player with San Diego from 2009 through the trade in 2014. That's more or less league average.
This year though, Headley hit only those eleven homers, his lowest total in four years, and had a career low .110 ISO. That's in hitter friendly Yankee Stadium, remember. Headley's a switch-hitter who was better against lefties (104 wRC+) than righties (86 wRC+), and there was no significant difference between his home (six homers and .110 ISO) and road (five homers and .111 ISO) power numbers.
We only have one year of exit velocity data right now, so that won't help us much. Quality of contact data from Baseball Info Solutions, which is recorded by human stringers and inherently includes some scorer bias, will have to serve as a substitute. Here's is Headley's batted ball data since becoming an everyday player:

The first thing that jumped out to me was the spike in infield pop-up rate. Headley's IFFB% from 2010-14 was well below the league average (~9.5%). Infield pop-ups are usually just misses, unless you're talking about an old school power dude with an uppercut swing, like Teixeira or Adam Dunn.
Furthermore, Headley's ground ball rate didn't spike this year. If he had suddenly started beating the ball into the ground, then it would explain where his power went. Ground balls don't go for extra base hits all that often. The spikes in soft contact and hard contact rates are indeed huge, and yet, the league averages this year were 18.6 Soft% and 28.6 Hard%. Headley's rates this season were out of line with his previous seasons but not the league averages.
Of course, Headley is a switch-hitter, and those numbers lump his left and right-handed swings together. Since he did damage against southpaws this summer, let's focus on his lefty production. Here are three left-handed spray charts. From left to right you have Headley's 2013, 2014, and 2015 seasons. I recommend clicking the image for a larger view.

Headley, like many left-handed hitters, tends to pull his ground balls to the right side of the infield, which is why he gets shifted. This past season he hit way more line drives (the yellow dots) to left field as a left-handed hitter than he did in 2013 or 2014. It's been a gradual progress — some liners to left in 2013, more in 2014, then even more in 2015.
That's a good thing! Line drives to all fields are pretty cool. The problem is the lack of line drives beyond the middle of the outfield. The 2013-14 spray charts show a bunch of yellow dots to the warning track/wall in left field. This season there was one. So all those liners to left were short line drives, which are not the kind of line drives that result in power.
The extra liners to left this year — again, this is as a left-handed batter only — could be a one year fluke. Weird stuff happens sometimes. It could also be the result of working with a new hitting coach and a change in approach. Headley could have intentionally being going to left to avoid all those frustrating shifts. It could also be that his bat has slowed and he can't turn on pitches like he once did. That could also explain the just missed pop-ups.
I don't think anyone is expecting Headley to hit 30+ homers. Maybe not even 20+. But eleven dingers for a guy who bats the majority of the time as a lefty in Yankee Stadium? I was expecting more. The sharp spike in pop-ups combined with all the additional balls to left field give me some hope it was mechanical — Headley was focused on going the other way, something he's not really used to doing. That's my hope, anyway.
The Disappearing Defense
Errors are a bad way to evaluate defense, but holy moly did Headley commit a lot of errors this summer. Twenty-three total, by far a new career high (previous career high: 13 back in 2010) and the fifth most in baseball behind Marcus Semien (35), Ian Desmond (27), Starlin Castro (24), and Brett Lawrie (24).
Twelve of those 23 errors were throwing errors and many of them came on routine plays, like this one:
I can't imagine how many errors Teixeira saved Headley with scoops at first base too. Headley still made some truly outstanding plays this year though, so it's not like he forgot how the field entirely. I mean, look:
The defensive tools are there. But the throwing miscues piled up this year, and when you watch him play — plus the fact most of the errors came on routine plays — it's hard not to think the problems are mental. Just look at the release on the throwing error in the video a little while ago: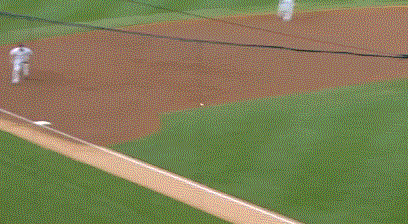 Headley's tentative. He takes his time, steps into the throw — I count three steps between fielding the ball and the throw — swings his arm back, then the throw sails away. Headley made a ton of throws like that this year and, to be fair, most were on-line. But many more were off-line compared to what you'd expect from a big league third baseman.
Here's Headley making a fairly routine play last year, for comparison: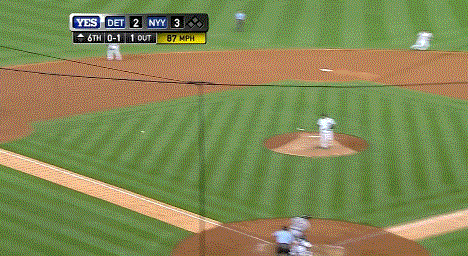 There's conviction behind that throw. Headley fields the hop and throws a dart to first base in one nice and fluid motion. That's how big leaguers are supposed to play third base. There was no thinking there. It was all reaction. That wasn't the case this year.
For what it's worth, the errors did not come as frequently later in the season. Headley committed a ridiculous 16 errors in his first 69 games at third base and only seven in his final 86 games. That's still a lot though! This is a guy who committed eight errors total in 127 games last year.
To me, it doesn't look like anything is physically wrong with Headley. He looks like a guy dealing with a mental block, or the yips if you prefer. This isn't a severe Knoblauchian oh my gosh he can't throw ever again case of the yips, but Headley struggled this year. He didn't look sure of himself, and getting over the yips can be really tough. Lots can go wrong during that long throw from third base.
"I did the extra work, but it wasn't one thing to look at. More than anything I had gotten to the point a little bit where I was getting caught in between," said Headley about his throwing problems this summer. "Hopefully it's behind me and hopefully it makes me mentally stronger.''
Looking Ahead to 2016
Headley has three years left on his contract and even though he doesn't have a no-trade clause, I have a hard time thinking the Yankees would trade him. Not because they wouldn't be able to find a taker, but because there are almost no viable replacements available. The best free agent third baseman is David Freese — or Daniel Murphy, I suppose we should count him — and the Yankees don't have anyone in the system ready to step in. Headley figures to be back next year and hopefully he gets over his throwing issues. Finding some power is a secondary concern to the throwing in my book.