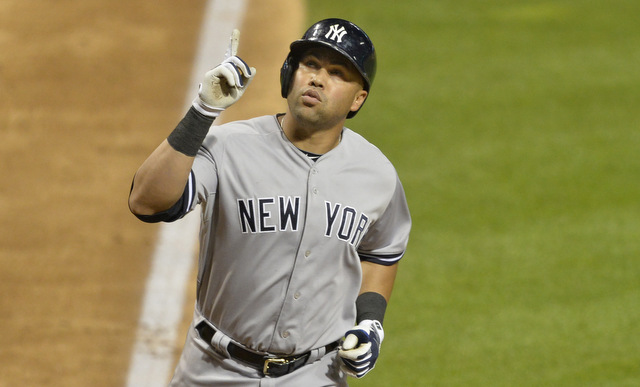 Fresh off their worst offensive season in two decades, the Yankees went on a massive free agent spending spree during the 2013-14 offseason. They lost Robinson Cano and Curtis Granderson but replaced them with Jacoby Ellsbury, Brian McCann, and Carlos Beltran.
McCann filled an obvious need behind the plate. Ellsbury brought speed and defense to a station-to-station club. Beltran? Beltran was brought in to be an experienced middle of the order thumper. Year one with Beltran didn't go well mostly due to injuries (shoulder, concussion, elbow). Year two was mostly positive despite a miserable start.
A Healthy Spring
Soon after the end of the 2014 season, Beltran underwent surgery to remove bone chips and shave a bone spur in his right (throwing) elbow. He played through the injury late last year and his performance suffered. The surgery came with a six-week rehab and a 12-week timetable for returning to baseball activity, which meant Beltran was ready to go in camp.
The elbow was a non-factor in Spring Training and the Yankees didn't hold Beltran back. He played in Grapefruit League games right away, and not as a DH either. He played the outfield. The elbow was healthy enough to throw. "The thing is pain free," said Beltran to reporters after his first spring game. "Now it's time to continue to get better and put together good at-bats during all of Spring Training."
All told, the 38-year-old Beltran hit .225/.289/.275 in 15 Grapefruit League games. He had seven singles and two doubles, four walks and nine strikeouts. It wasn't a great Spring Training statistically, and yeah, after elbow surgery it would have been reassuring to see Beltran rake, but the most important thing was his health. The elbow was sound and gave him zero problems.
A Bad Month, or the End of the Line?
Holy cow was Beltran bad early in the season. Players slump, I get that, and when players slump (or get hot) to start the season, it's easy to read too much into it. But my gosh, Beltran wasn't just not hitting, he looked awful in the process. He started the year in a 4-for-28 (.143) slump and Baseball Info Solutions data says he didn't record his first hard-hit ball until the fourth game of the season. Beltran had three hard hit balls in his first seven games of 2015. Three!
In 18 April games, Beltran hit .162/.216/.265 (22 wRC+) with no homers and a 28.4% strikeout rate. The month started with a 2-for-20 (.100) slump and ended with a 2-for-22 (.091) slump. Joe Girardi dropped Beltran from the third spot in the lineup to the sixth spot two weeks into the season, and with Chris Young coming out of the gate hot, there were calls to bench Beltran outright.
Between the elbow surgery and his age, there were plenty of possible explanations for the early-season struggles. The Yankees stuck with Beltran even though he gave them plenty of reasons to make a change. "The important thing is that you continue to send him out there," said Girardi at the end of the month, "and understand that he's going to turn it around and be a big part of our offense."
A New Month, A New Season
The end of Beltran's early season slump coincides perfectly with the end of April. He went 2-for-4 with a double on May 1st, then went 2-for-4 with a double in his next game. Another double followed the next day. On May 10th, in the team's 32nd game of the season, Beltran finally hit his first home run of 2015. The game-tying solo homer was part of a 2-for-2 with two walks day.
Beltran hit another solo homer the next day. The back-to-back games with homers were games three and four of what turned into 15-game hit streak, the longest by a Yankees player this past season. Beltran went 19-for-56 (.339) with four doubles and three homers in the 15 games. It was still a little too early to say Beltran was "back" — I'm not sure we'd ever even seen the good version of Beltran up to that point anyway — but at least he was showing signs of life.
The hot streak never really ended. Beltran put up a .299/.346/.494 (129 wRC+) batting line with 13 doubles and seven homers in 48 games from May 1st through the end of June. He wasn't drawing many walks (5.9%) but his strikeout rate was tiny (14.9%). At the time, the Yankees had a fearsome middle of the lineup. Alex Rodriguez was mashing, Mark Teixeira was hitting dingers, and Beltran had picked up his game. It was glorious.
A Bump in the Road
The Carlos Beltran is Back Baby tour hit a bump in the road in early-July. In Anaheim on June 30th, Beltran took a swing and hurt his left oblique. Girardi and the trainer checked on him and Beltran actually stayed in to finish the at-bat before being removed after the inning. Here's the injury:
The Yankees were at the end of a seven-game West Coast swing and the injury was reportedly minor, so they gave Beltran a few days to see how he felt. He did not play the next day, in the series finale against the Angels, and the Yankees had an off-day the day after that. Beltran was able to swing left-handed but not right-handed, so on July 3rd, he was placed him on the 15-day DL with an oblique strain.
"It just puts you in somewhat of a difficult position. If we were to test it and make it worse, if we were to just have him hit left-handed, everyone would possibly bring in a reliever when it was his turn and then you've got to make a switch," said Girardi. "We had concerns about him trying to throw, so we thought it was best to give him this time off — especially with the days off that we have and the All-Star break, we're trying to take advantage of them."
The timing worked out fairly well. Beltran officially spent 18 days on the DL but missed only 12 team games due to off-days and the All-Star break. He played in three tune-up rehab games with High-A Tampa during the break and rejoined the team early in the season half. Obliques can be tricky. They're very easy to aggravate. All things considered, the Yankees and Beltran were fortunate this was only a minor issue.
The Second Half Non-Slump
The Yankees came out of the All-Star break with a 3.5-game lead in the AL East and it swelled to seven games by the end of July. That lead quickly evaporated in the second half and the team had to settle for a wildcard spot, mostly because several important members of the lineup slumped. Brett Gardner, Ellsbury, A-Rod, and McCann were the main culprits, and Teixeira's injury didn't help either.
Beltran was the team's one veteran middle of the order guy who didn't slump in the second half. He was their best and most consistent hitter after the All-Star break, at times carrying the offense. The Yankees went 4-7 during an eleven-game span in mid-August but not because of Beltran: he went 12-for-34 (.343) with five homers in the eleven games. He was a one-man army.
In Toronto on August 14th, Beltran delivered the biggest hit of the season and the biggest by a Yankee in about three years. They were trying to keep pace with the Blue Jays in the AL East and Beltran delivered a huge pinch-hit three-run go-ahead home run in the eighth inning. To the action footage:
Thanks to that home run, the win turned a half-game division deficit into a half-game lead. Yeah, the Yankees lost the AL East anyway, but man, that was a huge win at the time. It was a statement win. The Blue Jays had won eleven straight and were steamrolling their way to the top of the division, but Beltran knocked them back to Earth and reminded everyone hey, the Yankees are pretty good too.
After returning from the oblique injury, Beltran hit .292/.364/.513 (138 wRC+) with 16 doubles and 12 homers in 67 games. He drew walks (10.8%), he didn't strike out (13.4%), and he picked up countless huge hits. (His 0.63 Clutch score ranked 21st out of 153 qualified hitters in the second half.) The offense sputtered big time down the stretch. There were too many unproductive bats in the lineup. Beltran was the constant. The one guy who didn't slump. He was their only reliable bat down the stretch.
Beltran finished the season with a .276/.337/.471 (119 wRC+) batting line, a team-leading 34 doubles, and 19 home runs. He had good walk (8.6%) and strikeout (16.0%) rates, he mashed righties (127 wRC+), held his own against lefties (99 wRC+) — southpaws had given Beltran a real hard time in recent years, so getting league average production in 2015 was better than expected — and he produced in high-leverage spots (147 wRC+).
The Yankees had three hits total — all singles too — in the wildcard game and Beltran had one of them. He went 1-for-4 with two strikeouts against Dallas Keuchel and the Astros that night. Beltran struck out to start the 1-2-3 ninth inning. The Astros finished one game back of the Yankees for the top wildcard spot and the Angels finished only one game behind the Astros. Without second half Beltran, the Yankees might not have even made the postseason.
Give Something Back on Defense
The Yankees signed Beltran for his bat, plain and simple. Had A-Rod not had such a strong season, particularly a strong first half, chances are Beltran would have spent a lot more time at DH. He started 128 games this summer and 120 were as the right fielder. Beltran finished only 59 of those 120 games. He was routinely replaced in the late innings because his defense isn't good at all.
The stats paint an ugly picture. He finished with -14 DRS (57th out of 60 qualified outfielders), -4.5 UZR (47th), and -2.0 dWAR (59th). The Inside Edge data says Beltran made nothing beyond a semi-routine play in right field:

Beltran made the routine plays and plays in which he had to range a little, but, beyond that, he made literally zero plays. The Inside Edge classification show zero outs recorded on plays that are made 40-60% of the time by the league average right fielder. So yeah, it was bad. Beltran gave a lot of runs back with his defense, even while being regularly lifted in close games. His offense was so good after April that he still contributed 1.9 fWAR and 1.0 bWAR on the season.
Looking Ahead to 2016
Next season is the final season on Beltran's three-year contract. He has a no-trade clause and has made it no secret throughout his career he wants to play for the Yankees, so getting him to waive it doesn't figure to be easy. Perhaps he could be convinced another club gives him a better chance to win his first World Series ring, like maybe the Royals, the club that originally drafted and developed him.
Anyway, a Beltran trade would really surprise me. The Yankees want to get younger but they want to win too, and Beltran is one of their better hitters. Replacing him in the middle of the lineup would be quite tough. Beltran figures to open next season in right field again, and I'm sure the Yankees will have their eye on moving him to DH should Rodriguez get hurt at some point. The Yankees don't have a whole lot of flexibility with Beltran.
"I will approach (2016) like I approach it every year," said Beltran to Christian Red recently. "If it's my last year, it's my last year. If I win a World Series, thank God for that. I'm very blessed."