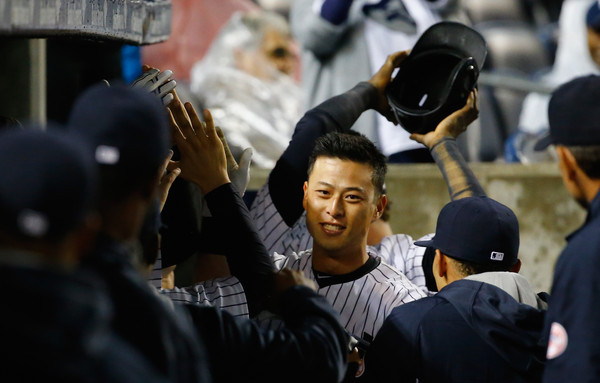 For the first time in a long time, the Yankees leaned on their farm system for help this past season. Whenever a need arose, they dipped down into the minors, called someone up, and hoped for the best. It worked too. Several young players impressed in their limited time while others got a taste of the show, if nothing else.
Second baseman Rob Refsnyder was one of those players who got a taste of the big leagues this year, though not as much of a taste as many of us expected. The Yankees didn't get a whole lot from second base this year, yet when Stephen Drew struggled for long stretches of time, the team never did make a change. It wasn't until late in the season that Refsnyder really got a chance to help.
The Errors of Spring
The Yankees always say jobs are up for grabs in Spring Training, and while Drew wasn't a significant road block at second base, it was unlikely Refsnyder would unseat him for the job in camp. Refsnyder appeared in 26 Grapefruit League games, the most of any player in camp, and he hit .364/.462/.568 with six doubles and nearly as many walks (eight) as strikeouts (ten). He mashed.
The problem: he did not catch the baseball, at all. There were questions about Refsnyder's defense coming into the season, but geez, he committed six errors in 92 innings at second base in Spring Training. There were many different kinds of errors too. Throwing errors, ground ball errors, double play pivot errors, you name it. Errors are a bad way to evaluate defense, but the error total matched the eye test in camp. Refsnyder was bad in the field. Bad bad bad. He was going to have to play flawless defense to have any chance to make the team and it didn't happen.
Return to Triple-A
Refsnyder returned to Triple-A Scranton to start the regular season and the errors continued. Three in his first four games, seven in his first 14 games, and eleven in his first 37 games. Gosh. "I want to be aggressive and on my terms," he said later this summer, explaining the errors happened because he was too passive.
The errors stopped — that doesn't necessarily mean his defense improved, but the errors stopped — and Refsnyder was hitting, though not as well as he had in previous years. His batting line sat at .275/.366/.380 (121 wRC+) with 14 doubles, five homers, a 10.7% walk rate, and a 12.9% strikeout rate in 71 games through the end of June. This is a guy who hit .300/.389/.456 (137 wRC+) in 77 Triple-A games last year, remember.
The First Call-Up
On July 10th, the Yankees finally called up Refsnyder to help out at second base. Drew's batting line was sitting at .181/.253/.370 (67 wRC+) at the time and boy, we were all ready for Refsnyder. No one seemed to care his Triple-A production had slipped.
The Yankees called Refsnyder up because they were facing two lefties that weekend, Eduardo Rodriguez and Wade Miley. Refsnyder started both games, went 0-for-3 against Rodriguez, then went 2-for-4 with a home run the next day. He actually homered against a righty, not Miley.
That was the weekend before the All-Star break. Refsnyder hung around for the break, then started at second base in the first two games of the second half. The first game was against a lefty (Mike Montgomery), the second was not (Hisashi Iwakuma). Refsnyder went 0-for-5 with two strikeouts in the two games. His defense looked … uncomfortable. Let's leave it at that.
The Yankees sent Refsnyder back down to Triple-A after his four-game cameo. There was some talk of attitude problems that never really got confirmed — and will never get confirmed, the Yankees aren't the type of organization to throw someone under the bus like that — but whatever the reasoning, Refsnyder was sent back down and Drew returned to second base.
September Call-Up
Refsnyder spent just about the entire second half with Triple-A Scranton. He hit only .229/.296/.379 (92 wRC+) in 36 games after returning to the minors, which didn't exactly help his case for a return to the big leagues. (The Yankees did pass on trading him for Ben Zobrist, however.) The Yankees eventually called Refsnyder back up, but not until September 1st, when rosters expanded.
Like many of this year's call-ups, Refsnyder didn't play a whole lot, especially at first. He was called up on September 1st, got a garbage time at-bat against the Blue Jays on September 11th, played one inning of defense as part of a double switch against the Mets on September 19th, then pinch-hit against the Mets on September 20th. That was all his action in the first three weeks after being called up.
We didn't know Drew was dealing with a concussion at the time. Dustin Ackley was playing well and had assumed the second base job, though the Yankees were scheduled to face a lot of lefties at the end of the season, so Joe Girardi gave Refsnyder an opportunity. The team faced seven lefty starters in their final eleven games of 2015. Refsnyder started all seven.
In those seven games, Refsnyder went 9-for-24 (.360) with two doubles, a home run, three walks, and three strikeouts. The home run was pretty significant too. It provided a big insurance run on the night the Yankees clinched their first postseason berth since 2012.
Refsnyder's defense looked better in September than it did in the limited look in July — Girardi did say after the season the team was pleased with the defensive progress Refsnyder made after being sent down in July — though there was clearly still some room for improvement. The bat was too good to ignore though.
During his 16 games with the Yankees, Refnsyder authored a .302/.348/.512 (130 wRC+) batting line with two homers in 47 plate appearances. It's not much, but Refsnyder is a guy who will have to hit his way into the lineup, and he did that in the second half. He hit .271/.359/.402 (123 wRC+) in 117 Triple-A games as well.
Refsnyder played so well down the stretch that he started the wildcard game against Dallas Keuchel and the Astros, though he went 0-for-3, like a few too many of his teammates. Still, the fact he was in the lineup in the wildcard game was pretty telling. Refsnyder won Girardi over pretty quickly.
Looking Ahead to 2016
Reports indicate the Yankees are "leaning toward" playing Refsnyder and Ackley at second base in 2016, but we'll see. It's tough to believe anything any team says this early in the offseason. If nothing else, Refsnyder showed the Yankees he's a viable platoon bat who won't absolutely kill them in the field. It wouldn't shock me if Refsnyder was the starting second baseman next year. It also wouldn't shock me if he was part of a platoon, if he started the year at Triple-A, or if he got traded. So there you go.