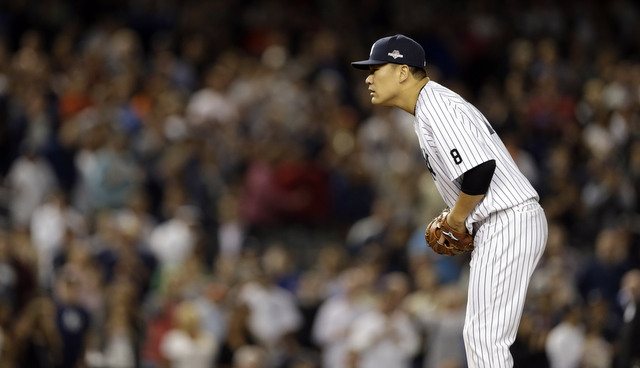 Last season Masahiro Tanaka was everything the Yankees hoped he would be after handing him a massive seven-year, $155M contract. He was one of the most dominant pitchers in the league, both in terms of traditional stats and advanced stats. Tanaka was selected to the All-Star Game and a candidate to start, and he was very much in the AL Cy Young conversation.
It all came to a crashing halt in late-June, when Tanaka felt a twinge in his elbow and missed three months with a partially torn ulnar collateral ligament. The rest and rehab protocol worked and Tanaka made two starts at the end of the season because why not? Additional rest wasn't going to help, the doctors said. The Yankees didn't want the elbow to give out, but, if it did, they wanted it to happen late in 2014 rather than early 2015.
The elbow injury lingered over Tanaka all summer in 2015. Every time he had a bad start — heck, every time he made a bad pitch — there were questions about the health of his elbow. It was unavoidable. The elbow stayed intact this past season, though Tanaka's performance was not as excellent as his rookie season. He was occasionally good, occasionally bad, and mostly in between.
A Healthy Spring, Please
I still haven't forgotten how I felt watching Tanaka's first Grapefruit League start. I remember figuratively sitting on the edge of my seat waiting for him to throw a pitch, grab his elbow, and walk off the mound. It was gross. After the injury last season, it felt like only a matter of time until the elbow blew out for good.
That never happened. Tanaka went through Spring Training with no issues. He made four Grapefruit League starts plus one more in a minor league game, allowing five runs (four earned) in 14.2 innings. Tanaka struck out 13 and walked one. That is pretty damn good. That anxiousness watching him pitch and waiting for his elbow to give out still existed, but it started to fade, at least for me.
"I feel good that I was able to come through camp healthy, right now. So that being said, yeah, I am a bit relieved," said Tanaka to reporters following his final spring start.
Four & Out
For the first time in six years, someone other than CC Sabathia started Opening Day for the Yankees. Joe Girardi & Co. tabbed Tanaka for the Opening Day start and it didn't go well: five runs (four earned) in four innings against the Blue Jays. Tanaka struck out six and walked two. A two-run Edwin Encarnacion homer was the big blow.
Tanaka's second start wasn't much better. He allowed four runs (three earned) in five innings against the Red Sox, this time allowing a solo home run to Hanley Ramirez. Tanaka fanned four and struck out three. He walked five batters in his first two starts of 2015. It wasn't until his sixth start last year that Tanaka walked his fifth batter of the season.
Needless to say, the back-to-back poor starts to open the season led to questions about Tanaka's health and his effectiveness with a compromised elbow. They were absolutely fair questions to ask given the circumstances. Then, in his third start of the season, Tanaka manhandled the Rays, holding them to two hits in seven shutout innings. He struck out eight and walked none.
That was the Tanaka we saw for much of the first half last year. He recorded strikeouts on his fastball, slider, and splitter, pitched quickly and efficiency, and had the Rays completely off balance. When Tanaka is at his best, he's totally unpredictable. He throws anything at any time.
Tanaka started again five days later and again pitched well, holding the Tigers to one run on three hits and two walks in 6.1 innings. So despite those rough first two starts, Tanaka owned a 3.22 ERA and held hitters to a .175/.236/.313 batting line in his first four starts. It was uneven — two bad starts, two great starts — but it was still early.
The Injury We Didn't Expect
After those first four starts, Tanaka landed on the 15-day DL with a mild right forearm strain. He reportedly felt a little something down near his wrist, the Yankees sent him for tests, and shut him down. The plan was no throwing for 7-10 days, then a throwing program. There was no firm timetable for his return but Brian Cashman guessed it would be a month or so.
"Let's conservatively just throw a month out there until we get him back in the rotation," said the GM. "It could be sooner, but he's a starter. You've got to build him back up. You shut him down. At the very least, 7-10 days of no throwing, and that's the least, so it could be more. When he feels better, we'll get him going. You get him on a throwing program, then you get him back on the mound as long as all that goes fine. Then he's got to get his pitch count back up, get him back into rehab games. Because he's a starter, it's a little bit more time because of that."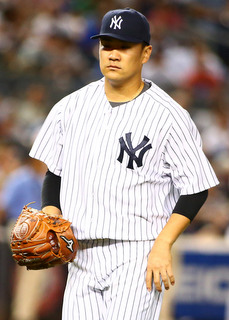 The Yankees placed Tanaka on the 15-day DL on April 28th and he resumed throwing on May 7th. It wasn't much — 50 throws at 60 feet — but it was something. The throwing program continued with no problems and Tanaka was able to make his first official minor league rehab start on May 21st, less than a month after getting hurt. He made another rehab start six days later and that was it. Two starts and he was back in the rotation.
It goes without saying everyone assumed the worst when Tanaka was first placed on the DL. That's how it is with every injury. Guy pulls up lame running to first base? That's a blown hammy he'll be out six months. Outfielder crashes into the wall? That's a separated shoulder we'll see him next year. Pitcher goes down with a forearm injury? Schedule the Tommy John surgery. That Tanaka had the elbow trouble last year didn't help matters.
Instead, the injury was nothing more than what the team said it was, a mild forearm strain. Tanaka was back in a month, as expected. It was curiously accordingly to plan. That's … weird. It doesn't usually happen like that.
Return of the Ace
Tanaka was as good as it gets after coming off the DL. He made his first start back on June 3rd and struck out nine Mariners in seven innings. They scored one run on three hits and no walks. Six days later he held the Nationals to one run in seven innings. He stuck out six and walked none. The run was a Bryce Harper solo homer which, you know, happens. Six days after that Tanaka allowed two runs in seven innings against the Marlins.
So, in his first three starts back from the injury, Tanaka allowed four runs on 17 hits in 21 innings. He walked no one. Literally zero walks against 21 strikeouts. Go back to his two starts before landing on the DL and Tanaka had allowed five runs on 22 hits and two walks in his previous 34.1 innings. The Yankees were scoring a boatload runs and the guy they effectively designated their ace before the season was pitching like an ace. It was wonderful.
Tanaka had back-to-back rough starts on June 21st and 27th, first allowing seven runs (five earned) in five innings against the Tigers, then allowing six runs in five innings against the Astros. He allowed three home runs in each start. The home runs were definitely a problem. Tanaka gave up some dingers last year but was giving them up even more often this past season. Even when he was pitching well, it seemed like he allowed one #obligatoryhomer per start.
The two bad starts were just that, two bad starts. They didn't lead to a DL stint or an extended slump. Tanaka rebounded from the back-to-back duds and pitched well pretty much the rest of the season. From that point on, he posted a 3.31 ERA (3.96 FIP) in 15 starts and 100.2 innings. Homers (1.34 HR/9 and 16.3 HR/FB%) were still a problem, but Tanaka was missing bats (21.3%), limiting walks (4.3%), and keeping the ball on the ground (48.1%).
The Blue Jays eventually passed the Yankees in the AL East, mostly because they won nine of 13 games against New York in the second half. Tanaka was pretty much the only starter the Yankees had who could put up a fight against the high-powered Toronto offense. He made three starts against the Blue Jays in the second half: 22 IP, 12 H, 3 R, 3 ER, 3 BB, 20 K. That includes a complete game win on August 15th.
Aside from missing a start in September because he felt a tug in his hamstring running out a bunt, Tanaka stayed healthy after returning from the forearm issue in June. The Yankees did whatever they could to ensure he had an extra day of rest whenever possible too. Tanaka made 24 starts in 2015 and only five came on normal rest. He had at least one extra day for the other 19 starts.
Three of those five starts with normal rest came in September, when the Yankees were fighting for the AL East title and later a wildcard spot. Tanaka was pitching well and they needed him out there as often as possible. Expanded rosters meant they had spot starter options if they wanted to give him extra rest, but they opted to use Tanaka on normal rest three times. They protected him all season then turned him loose when they needed him the most.
Tanaka finished the regular season with a 3.51 ERA (3.98 FIP) in 154 innings. He had great strikeout (22.8%) and walk (4.4%) numbers, a good grounder rate (47.0%), and awful homer rates (1.46 HR/9 and 16.9 HR/FB%). Eighty-nine pitchers threw at least 150 innings in 2014 and only eight allowed home runs at a greater rate than Tanaka. At the same time, he had the sixth lowest walk and second highest chase rate. Only Carlos Carrasco (38.7%) generated more swings on pitches out of the zone than Tanaka (38.6%).
The Yankees selected Tanaka to start the wildcard game because he was clearly the best option. The only viable alternative was Luis Severino, and that went out the window when he started on the penultimate day of the regular season. Tanaka allowed two runs — solo homers, of course — in five innings in the wildcard game loss. It wasn't a great start by any means, but maybe score some runs? Tanaka wasn't the reason the team's season ended that night.
The Home Run Problem
Like I said, Tanaka gave up a lot of home runs this season. Twenty-five, in fact. Here is a breakdown of the dingers:
Solo homers: 19
Multi-run homers: 6 (five two-run, one three-run)
Homers at home: 17
Homers on the road: 8
Homers by a righty: 12
Homers by a lefty: 13
Average distance: 404.6 feet (31st longest in MLB among 125 pitchers with 10+ homers allowed)
Anecdotally, Tanaka gets away with a lot of mistake pitches, and I attribute that to his general unpredictability. We see hitters swing through a lot of hanging sliders and things like that, and that's because they're looking for splitters down in the dirt and get caught off guard.
At the same time, when hitters do catch up to one of Tanaka's mistakes, they crush it. They don't hit a line drive single or rip a ball into the gap. It goes over the fence. Here are the pitch types and locations of Tanaka's 25 homers in 2015:
That's a lot of belt high pitches over the middle of the plate. Most of the homers came on some kind of fastball too, a four-seamer or cutter or sinker. There's a few sliders and splitters in there but most are heaters.
Tanaka gave up a league average amount of homers last season (0.99 HR/9) and I think he's always going to be homer prone. Hopefully not as homer prone as he was this past season, I'd rather him be closer to 2012, but Tanaka's pitching style seems conducive to dingers. He doesn't have a huge fastball and he throws so many offspeed pitches that he inevitably hangs a few. Yankee Stadium doesn't help either.
The silver lining is Tanaka's ability to limit base-runners. He actually led all AL pitchers (min. 150 IP) with a 0.994 WHIP — Dallas Keuchel was second at 1.017 — because he doesn't walk anyone and he's generally hard to hit. Tanaka held opponents to a .221 AVG and a .242 BABIP this year. (.240 AVG and .299 BABIP last year.) There's a reason 19 of those 25 homers were solo shots. He doesn't put many guys on base to start with. (He only hit one batter too.)
Before & After
A partially torn elbow ligament is a serious injury. Most of the time it leads to Tommy John surgery and it still might for Tanaka, but he made it through 2015 in one piece. Most pitchers who attempt to rehab the injury don't even make it back on the mound. The rehab doesn't work and they go under the knife before picking up a ball.
As soon as he returned to the mound last season, Tanaka was way ahead of the game. He was one of the exceptions and continues to be. Tanaka is looking more like Adam Wainwright, who pitched five years with a partially torn ligament before needing surgery, and Ervin Santana, who has been pitching with a partial tear for years now, than guys like Matt Harvey, Drew Hutchison, and Cory Luebke. Those guys got hurt, tried to rehab, then had surgery because the rehab didn't take.
Now, that said, Tanaka's elbow has physically changed. His elbow ligament has been compromised to a reportedly small degree, but compromised nonetheless. I spent a whole bunch of time clicking around on Brooks Baseball, so here's some PitchFX data comparing pre-injury Tanaka to 2015 Tanaka.
Average Velocity

There was a time very early this season when Tanaka was leaning on his offspeed pitches, weirdly leading many to say he was protecting his elbow by not throwing fastballs. That seemed completely backwards. A pitcher worried about his elbow would throw more fastballs and fewer breaking balls, not vice versa. There has been all sorts of research showing breaking stuff is more hazardous to the elbow than heaters. It was … weird.
Anyway, Tanaka's average velocities held pretty steady this year, includes his various fastballs and trademark splitter. In fact, his velocity improved this year. (He added almost three miles an hour to his curveball!) I was curious to see the velocity comparison and I'm relieved to see nothing that worries me. Next.
Pitch Selection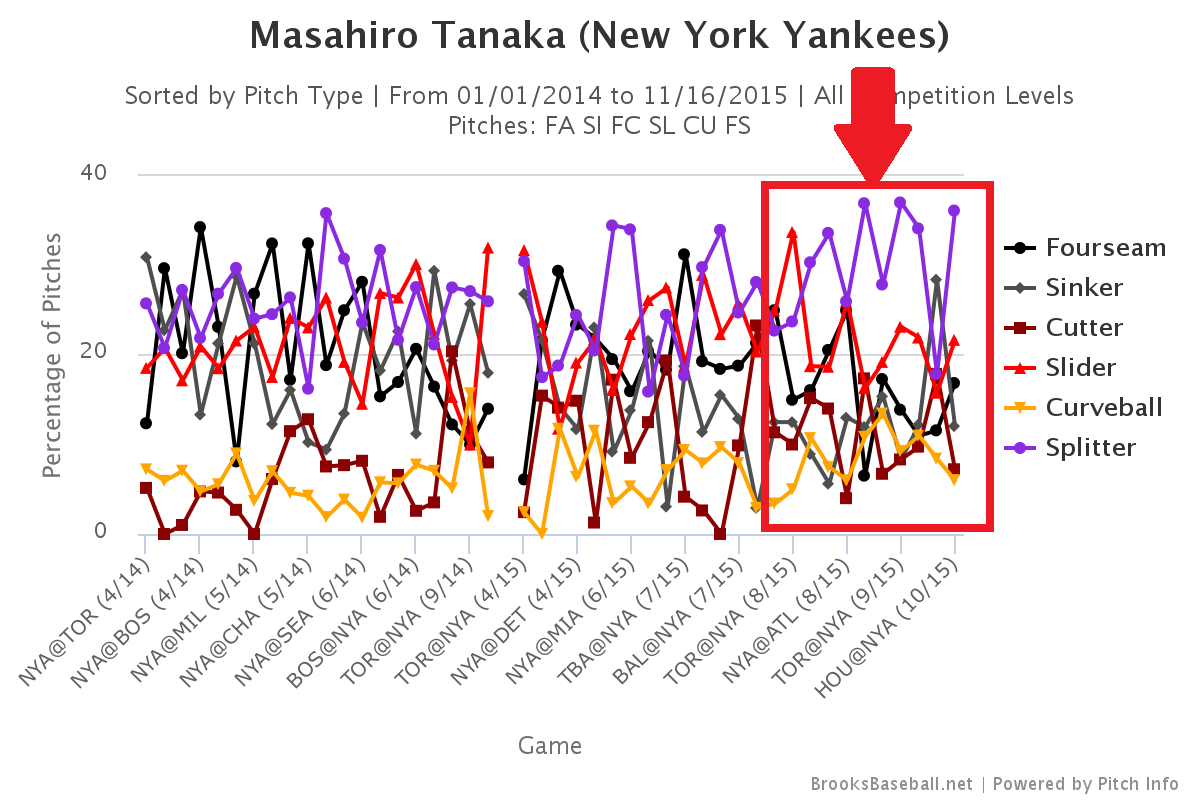 Woof. What a mess of a graph. Blame Tanaka for throwing so many different types of pitches. I wanted to looked at his game-by-game pitch selection graph to see what kind of changes Tanaka made this year. It's going to change from start to start of course, but I wanted to see if there were any significant changes after the elbow injury and after the forearm injury this year.
Instead, it looks like Tanaka leaned heavily on his splitter and slider down the stretch, which is what I boxed out in the graph. He didn't shelve his fastball, no pitcher can do that and succeed, but Tanaka really emphasized the slider and splitter late in the season. Again, that goes against what you'd expect from a pitcher with an elbow ligament issue. If he was worried about the elbow, you'd think the last thing he would do is throw so many splitters and sliders. Weird.
Anyway, there doesn't appear to be any significant difference in Tanaka's overall pitch selection after the elbow injury. I was looking to see if he scaled back on his splitter or stopped throwing his slider, something like that. That didn't appear to be the case while watching Tanaka pitch this summer and the PitchFX data backs it up. Tanaka threw everything.
Release Point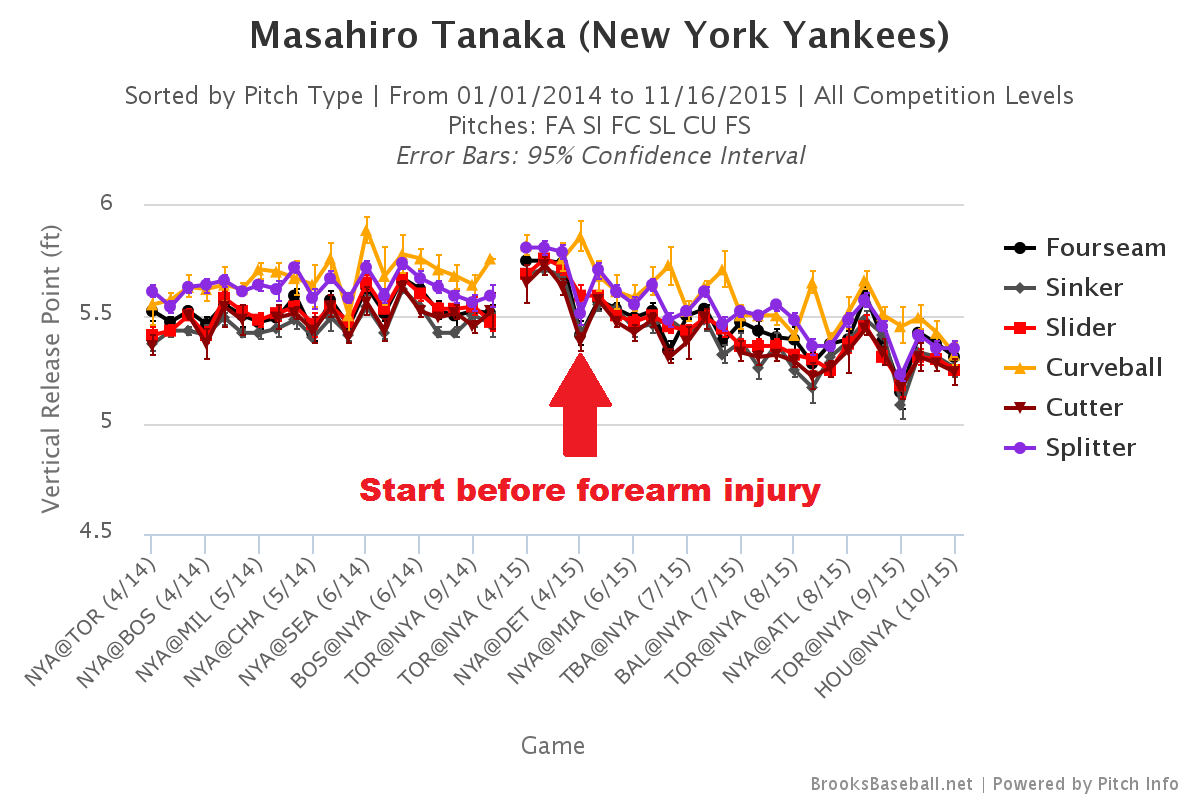 Tanaka's release point gradually dropped as the season progressed. It dropped significantly in his fourth start of the season, the one prior to his DL stint, which I guess makes sense. But even after he returned, it gradually got lower and lower. The difference between April and September is about 4.5 inches.
It's not unheard of for a pitcher's arm to drop as the season progresses — everyone's release point drops over time — and it's mostly a fatigue thing. They get tired as the innings build up and they aren't strong enough to keep the same arm slot. Tanaka has thrown a lot of innings in his career, and while he didn't see his arm slot drop last season, we have to remember he missed almost the entire second half.
It is definitely possible the partially torn ligament contributed to Tanaka's falling arm slot, though I don't think we can say that with any certainty. It could be fatigue. Tanaka pitched only half a season last year and the Yankees gave him a ton of time off between starts this season. Maybe it was too much. I'm not really sure. I consider this a red flag because I'm not sure what else to consider it. Sweeping it under the rug seems wrong. Let's see what happens next year.
Looking Ahead to 2016
Tanaka did indeed have elbow surgery after the season, but not Tommy John surgery. He had a bone spur removed from his elbow. Apparently it's been in there since his time in Japan. Who knows how long that was bothering him this year. He's not having the surgery just because. It didn't bother him in the past but bothered him enough this year to have it taken out.
Anyway, Tanaka is expected to be ready in time for Spring Training and I'm sure the Yankees will treat him the same way next season. That means extra rest whenever possible — on paper, they have better rotation depth than they did last year, but who knows what things will look like in April and May — and another Opening Day start. Tanaka remains the team's best starting pitcher.