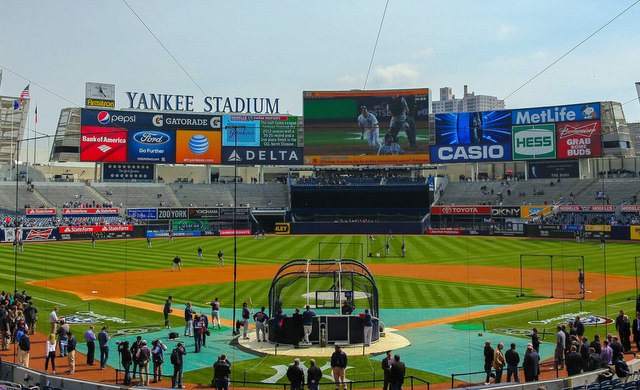 The Winter Meetings are over and soon the dog days of the offseason will be upon us. After the holidays it's just day after day after day of no baseball. Lame. Anyway, I've got some miscellaneous links to pass along as you count down the hours until the weekend.
MLB recommends new fan safety protocols
During the Winter Meetings this week, MLB officially recommended new safety protocols designed to protect fans from foul balls and broken bats. The press release is right here. In a nutshell, MLB recommends extending the netting behind home plate from dugout to dugout, and far enough to protect every seat within 70 feet of home plate.
These are recommendations, not mandates, though many teams have already confirmed they will comply. The Yankees have not but that doesn't mean they won't before the start of the season. Right now the netting at Yankee Stadium does not extend to the dugouts. There is one unprotected section adjacent to each dugout. I'm not sure how far the netting would have to extend to satisfy the 70-foot recommendation.
This past season there were several incidents where fans were hit by line drives and broken bats, including one scary incident in Fenway Park, in which a woman seated next to the dugout was hit in the head by the barrel of a broken bat. I'm all for making parks safer. The guys who get paid millions to play the game for a living can barely react to line drives in time. It's only a matter of time until a fan gets killed if the nets aren't extended. Not everyone is as lucky as this guy.
New lights at Yankee Stadium
According to Sonia Rincon, new LED lights have been installed at Yankee Stadium. They're brighter and more energy efficient, stuff like that. I accidentally bought an LED light bulb for my bathroom over the summer and when I turned the damn thing on I thought I was standing on the sun. It was insanely bright. The field will be very well lit going forward. Things should be much easier to see.
Flynn, Dock leave the Yankees
Two behind the scenes employees have left the Yankees. Video coordinator Anthony Flynn has left the team for a job in the private sector, reports George King. He spent the last eight years as video coordinator and the seven before that in the baseball operations department. The New Jersey native is taking over as the director of baseball marketing and sales with XOS Digital, a video editing and technology company.
In other news, Ron Dock, who served as the team's intervention coordinator for the last 17 years, has left the club. "It was my choice, time to move on. I went to Brian Cashman and thanked him and he gave me a hug. There are no regrets, I left on a high note," said Dock to King. Dock was instrumental in helping Slade Heathcott get over his alcohol addiction a few years ago, among other things.
Dock, 65, was based in Tampa and responsible for helping players and employees dealing with addiction problems, depression, and family or legal issues. The Bronx native battled addiction after serving in the Vietnam War, and he later met Darryl Strawberry at a Narcotics Anonymous meeting. Strawberry introduced him to then farm system head Mark Newman, who asked Dock to help a minor leaguer with a drug problem. The team hired him shortly thereafter.