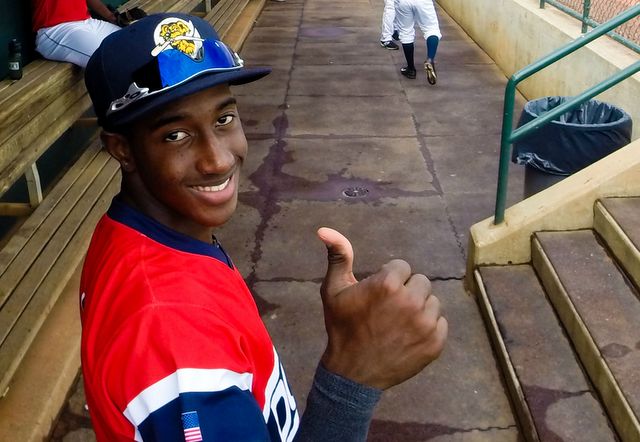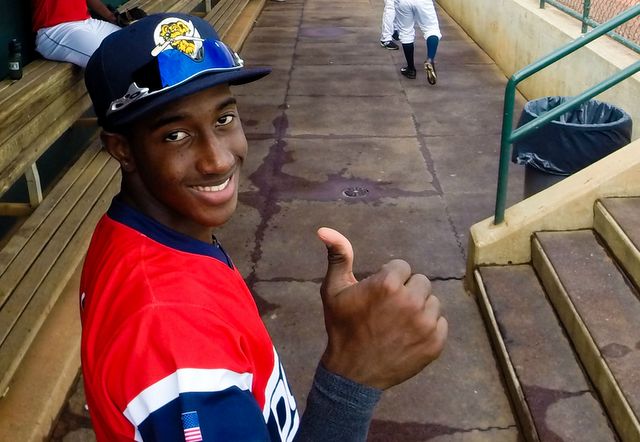 Baseball America's annual look at the top ten prospects in each organization continued today with the Yankees and their improving farm system that figures to take a hit in the rankings. As always, the list and intro essay are free, but the individual scouting reports are not. You need a subscription for those. Here's the top ten, as ranked by Josh Norris:
SS Jorge Mateo
C Gary Sanchez
OF Aaron Judge
RHP James Kaprielian
RHP Domingo Acevedo
RHP Rookie Davis
SS Tyler Wade
2B Rob Refsnyder
SS Wilkerman Garcia
OF Dustin Fowler
As a reminder, neither RHP Luis Severino nor 1B Greg Bird are prospect eligible. They both exceeded the rookie playing time limits — 130 at-bats for position players and 50 innings for pitchers — this past season. Severino threw 62.1 innings and Bird had 167 at-bats in the big leagues.
I wouldn't say Mateo moving into the top spot is surprising, though I don't necessarily agree with it. Moving him ahead of Sanchez and especially Judge means fully buying into his projection. The scouting reports say Mateo "could be an above-average shortstop" while Sanchez "profiles as a front-line catcher," yet the shortstop in Single-A is ranked above the catcher in Triple-A (or MLB). Eh, whatevs. I'm guessing the gap between No. 1 and No. 3 is pretty small anyway.
The team's top four prospects — in whatever order — are pretty obvious. If you have anyone other than Mateo, Sanchez, Judge, and Kaprielian in the top four, you're overthinking it. After the top four is where it gets interesting and I honestly have no idea who New York's fifth best prospect is right now. Norris slots Acevedo in at No. 5 and he's the next great divisive Yankees prospect. Some see him as an ace in the making and others see a big guy with a big fastball and not much else.
Davis and Wade both made nice strides this past season and Refsnyder is Refsnyder. We know all about him by now. Garcia had the best debut from the team's massive 2014-15 international haul and the scouting report says he "has the potential to be a five-tool player, with some scouts even giving him future average power." Fowler, a 2013 draftee, was a two-sport guy in high school who is starting to figure out this baseball thing now that he's playing it full-time.
LHP Ian Clarkin and 3B Eric Jagielo stand out as the most notable omissions. Clarkin (elbow) was hurt all season before getting some innings in the Arizona Fall League, so it's understandable to drop him. I'm not sure I'd drop him all the way out of the top ten, but to each his own. Jagielo probably isn't a third baseman long-term, though he mashed at Double-A this summer before jamming his knee sliding into home plate and having surgery. I like Wade, but give me Clarkin and Jagielo before him.
The Yankees actually got some help from their farm system this past season, and the graduations of Severino and Bird all but guarantee the team will place lower in the various organizational rankings in 2016 than they did in 2015. Losing two high-end talents like Severino and Bird hurts. Then again, the farm system lost them for the right reason, not because they stalled out in the minors. Sanchez, Judge, Refsnyder and possibly Davis are the top ten prospects in position to help the Yankees in 2016.