The perils of the offseason: we had lots of questions about Johnny Cueto and a few about Todd Frazier this week, but then Cueto signed and Frazier got traded. So it goes. I was pretty worried Scott Kazmir would sign sometime between me writing his Scouting the Market post Wednesday and posting it Thursday. Anyway, ten questions in the mailbag this week. RABmailbag (at) gmail (dot) com is where you can send us stuff, including but not limited to mailbag questions.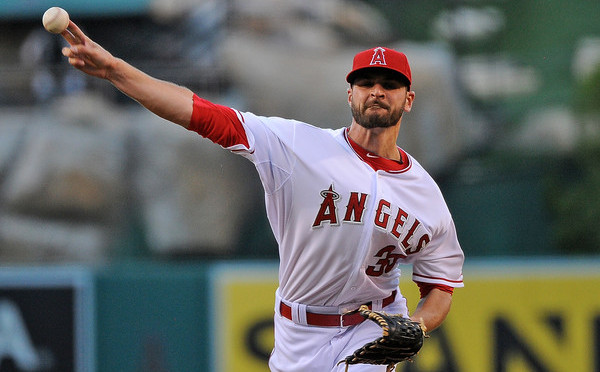 Jake asks: Is Nick Tropeano projected to be a starter going forward? And if so should he be someone the Yankees should target? He's got decent numbers and his peripherals look great albeit in a small sample size. Assuming Heaney and Richards aren't easily attainable and Tropeano is expected to be a starter would Gardner (and possibly Ref) be enough?
Tropeano definitely has the stuff and command to start. He works off a low-90s two-seamer and uses both his low-80s changeup and low-80s slider regularly. His control is also pretty solid as well. The biggest knock against Tropeano throughout his career has been his delivery, which isn't the prettiest. To the action footage:
Tropeano, 25, missed a month with forearm tightness last season but otherwise has been healthy throughout his career, throwing at least 130 innings in each of the last four seasons. It's just one of those deliveries that
looks
bad. Tropeano has been up briefly each of the last two seasons but only has 68 days of service time, so he has all six years of team control remaining.
The Angels do still need a left fielder — sorry, I'm not buying the Craig Gentry/Daniel Nava platoon they have lined up — and with Brett Gardner, I think you start by asking for Andrew Heaney or Garrett Richards, then settle for Tropeano. The Gardner for Tropeano framework could work, maybe with some other pieces thrown in on each side. Gardner and Rob Refsnyder for Tropeano and utility guy Kyle Kubitza? My trade proposal, it sucks.
Anyway, most scouting publications have Tropeano pegged him as a back-end guy but I think he has a chance to be a little better than that because he has two legit offspeed pitches and throws strikes. Guys who can get ahead in the count and keep hitters guessing with two non-fastballs seem capable of exceeding their projected ceilings in this strikeout heavy era.
Anonymous: Could it be that the reason the Yankees are choosing not to upgrade the rotation this year despite there being an apparent abundance of options be because they have a plan to sign Stephen Strasburg next winter?
I suppose it's possible, but waiting to sign Strasburg next offseason doesn't help the 2016 Yankees any. Also, there are five rotation spots. It's possible for the Yankees to upgrade the rotation this offseason and sign Strasburg next year. At this very moment, it appears Strasburg will be by far the best available free agent next winter. I'm sure there will be a massive bidding war even though some consider him a disappointment. (Career 3.09 ERA and 2.89 FIP. What a bum.) The Yankees figure to be in the mix if they're willing to spend. The Dodgers, Nationals, Red Sox, Blue Jays, Mariners, Angels, Rangers, Tigers, Cubs, and Cardinals could all be in the mix too, among others.
Ryan asks: Would you have jumped on the Kimbrel and/or Giles return for Andrew Miller if you were Cashman and was offered that?
No on the Craig Kimbrel package because the Yankees should be focused on MLB ready talent. The Padres got a great haul for Kimbrel, don't get me wrong, but that package would make the 2016 Yankees substantially worse. San Diego got a utility guy and three prospects at least a year away from the show. It was a great trade for the Padres. They got what they needed. The Yankees have different needs though.
The Ken Giles deal is more interesting. I would have taken that package for Miller but I also don't think it's as great a haul as many are making it out to be. Vincent Velasquez is the only guy in that deal with significant ceiling, and there's a pretty decent chance he winds up in the bullpen because he lacks a changeup and control. Mark Appel is not a top prospect. He was the first overall pick a few years ago but he's only backwards as a pro. The perception does not match the reality there.
Thomas Eshelman is a low-ceiling pitching prospect and Brett Oberholtzer is a fifth/sixth starter type. The other kid (Harold Arauz) hasn't even played in a full season minor league yet. There's not a ton of upside in this group beyond Velasquez. I saw a lot of people saying "wow look at what they got for Giles!" after the trade, but I think there's a good chance everyone will be saying "wow, that's all they got for Giles?" in two or three years.
Anonymous: If the Cubs trade Jorge Soler for a pitcher, that would open up CF for them and possibly push Kyle Hendricks out of the rotation. Would Brett Gardner for Kyle Hendricks make sense for both sides?
I think both teams would say no to that trade. The Cubs would probably want to hold on to Hendricks as their sixth starter — I also think it's more likely they bump Jason Hammel from the rotation, not Hendricks — and the Yankees probably want someone with more ceiling in exchange for Gardner. They love their power pitchers, remember. Hendricks has an upper-80s sinker and a very good low-80s changeup, with a curveball as his distant third pitch. Here's some video.
Hendricks, 26, had a real nice year in 2015, giving the Cubs 180 innings of 3.95 ERA (3.36 FIP) ball. He is under team control through 2020, so he fits in that sense, but he might not be more than a fifth or sixth starter in the AL. Hendricks doesn't have much margin for error at all. The AL East and Yankee Stadium might chew him up. The idea of a guy being an NL pitcher or an AL pitcher is overplayed but I do think it applies here given the lack of power stuff. I think the Cubs would hold on to Hendricks as depth and the Yankees would seek a young power pitcher for Gardner.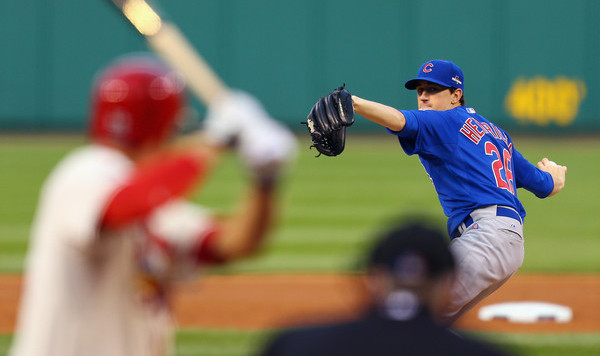 Michael asks: The CBA is expiring in December of 2016. The next CBA will almost certainly raise the luxury tax threshold – could it be that the Yankees are curbing their spending now with the thinking that with the next CBA the team will be able to get under the threshold, resetting the luxury tax percentage? That would mean two more years without a significant increase to payroll.
Oh yes, I absolutely think the Yankees have an eye on getting under the luxury tax threshold in 2017 (whatever the threshold may be at the time), once Mark Teixeira and Carlos Beltran are off the books. And if they can't do it that year, they'll try again in 2018, when CC Sabathia and Alex Rodriguez (and maybe Masahiro Tanaka) come off the books. If the Yankees do spend this offseason, I think it'll be on one-year contracts so as to not mess up future payroll. A big long-term deal would surprise me because it'll hurt their chances of getting under the luxury tax threshold in 2017.
Steve asks: It was recently reported that the Nationals offered Gio to the Marlins for Christian Yelich as were refuted. After losing out on Heyward, they seem to be a fit for Brett Gardner. Is Gio for Gardner a match? They match up similarly financially and would leave the Nationals flexibility to extend Harper. What do you think?
In a vacuum, Gardner for Gio seems to work perfectly. Each team would fill a pressing need with an above-average player and the money is basically a wash — Gardner is owed $37.5M through 2018 and Gonzalez is owed $36M through 2018 if his options kick in. The issue is Washington's rotation depth. They were said to be looking to add starters earlier this offseason — they were tied to Mike Leake, specifically — so I'm not sure they're willing to move Gonzalez without getting a huge haul, like Yelich. The Yankees have outfielders to spare, so Gardner's expendable. I'm not sure the Nats are willing to sacrifice rotation depth after losing Jordan Zimmermann, especially with Strasburg's free agency looming.
Dan asks: With the roster currently as is, do you think its likely that we see Castro starting the season hitting in the 9 spot after hitting 2/3/4 most of his career? Would provide a contact hitter before the turn to the top, and break up some lefties.
I forget where I saw it, but earlier this week Joe Girardi said he hasn't yet thought about the lineup and where Starlin Castro will hit. My guess right now is he hits seventh or eighth against righties and possibly second against lefties, with either Gardner or Jacoby Ellsbury sitting in favor of Aaron Hicks. If Gardner gets traded, then maybe Castro takes over as the full-time two-hole hitter, at least at the start of the season. That's a comfy place to hit when the offense fires on all cylinders.
Dan asks: How does deferred money count in the luxury tax calculation? Greinke signed for ~$31M per season but at least 1/3 of that is deferred until 2022-2026. I'm assuming the calculation is based on the AAV so teams can't use it as a loophole but I could be wrong.
There's no loophole. Money that is deferred until after the end of the contract is spread out across the years of the contract for luxury tax purposes, so it doesn't change the average annual value. Max Scherzer's seven-year, $210M contract will actually pay him $15M a year over the next 14 years, but for luxury tax purposes it counts as $30M over the next seven years. If there were some kind of deferred compensation loophole, big market teams would already be exploiting the hell out of it.
Travis asks: San Francisco said that, after spending big on two arms, they wouldn't be spending big on an OF. Is there an obvious fit for SF and NYY to get together for a Brett Gardner trade?
Not if the Yankees stick to their request of a young, controllable starter. Chris Heston had a nice start to the 2015 season and he threw the no-hitter and all that, but he was struggling so much by August the Giants had to skip his starts and push him back whenever possible. I'm not buying him outside AT&T Park at all. At least not enough to be the centerpiece in a Gardner trade. That's really all the Giants have to offer on the pitching side. They had to go out and sign Jeff Samardzija and Johnny Cueto because they were short on arms, remember.
Jonathan asks: I see you mention control and command separately many times and was wondering if you could explain both.
Long story short, control is the ability to throw strikes and command is the ability to throw quality strikes. Control is simply getting the ball over the plate. Command is hitting the catcher's mitt, picking off the corners, pitching at or just below the knees, that sort of thing. Ivan Nova has control. He can throw lots of strikes. His command is terrible though. He can't locate on the edges or consistently keep the ball out of the heart of the plate. You can have control without command but you can't have command without control.