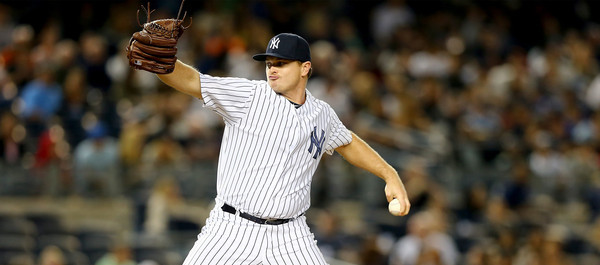 The Yankees have traded a left-handed reliever, just not the one who's been in all the rumors the last few weeks. New York has shipped Justin Wilson to the Tigers for right-handed pitching prospects Luis Cessa and Chad Green, the team announced. Cessa and Green rank 6th and 19th on MLB.com's top 30 Tigers prospects list. Cessa is on the 40-man roster. Green isn't.
Earlier today Brian Cashman confirmed he was listening to offers for both Wilson and Andrew Miller, the latter of whom has been in trade rumors all offseason. "If we are willing to discuss Andrew Miller, we are willing to discuss Justin Wilson," he said. I would not assume Miller is now off limits just because Wilson's gone. The Yankees could get a major haul for Miller and it would silly to take him off the table.
Wilson, 28, had a 3.10 ERA (2.69 FIP) in 61 innings in 2015, his only season with the Yankees after coming over from the Pirates in the Francisco Cervelli trade. He emerged as Joe Girardi's seventh inning guy and proved he could retire both righties and lefties, so he wasn't just a left-on-left matchup guy. Wilson is arbitration-eligible for the first time this winter and is projected to earn $1.3M next year.
The 23-year-old Cessa was one of the prospects the Mets traded to the Tigers for Yoenis Cespedes at the deadline. He had a 2.56 ERA (2.69 FIP) in 77.1 Double-A innings this year, then got hammered to the tune of a 6.97 ERA (3.57 FIP) in 62 Triple-A innings. Cessa had a 19.6% strikeout rate and a 5.9% walk rate in 139.1 total innings. Here's a piece of MLB.com's scouting report:
As a former middle infielder, Cessa brings excellent athleticism to the mound. He also brings a solid three-pitch mix. His fastball will sit at 93 mph, and he'll touch 95 mph on occasion. His breaking ball is a bit slurvy but has shown improvement, and he has the makings of a Major League average changeup. More than anything, he throws a ton of strikes, proof of which comes in his career 1.8 walks-per-nine ratio heading into 2015.
Green, 24, had a 3.93 ERA (3.22 FIP) with a 20.9% strikeout and a 6.6% walk rate in 148.2 innings this summer, all at Double-A. He was Detroit's 11th round pick in the 2013 draft. MLB.com says he "used a combination of a very good fastball and outstanding command to outsmart hitters at that level." Green has a low-90s sinker as well as a slider and changeup. I'd guess both he and Cessa will start 2016 in Triple-A, though they could be flipped elsewhere.
Losing Wilson is a blow to the bullpen, but, if there's one thing the Yankees are able to do consistently these days, it's churn out a quality relief crew. This trade could mean Jacob Lindgren (or James Pazos) will get a chance to assume a regular role next season. Lots of offseason left and the Yankees have a whole lot of interesting young relievers on the 40-man roster. We'll see what happens.