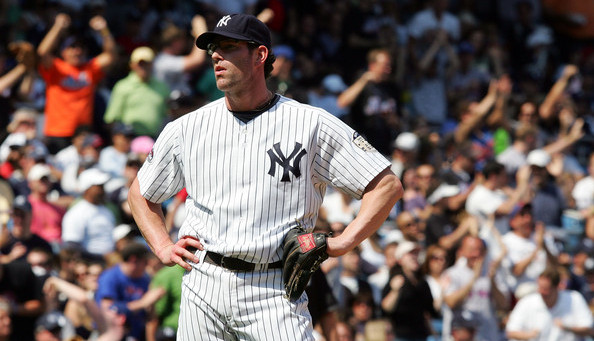 Time to continue the series. If you're looking for more, don't worry. There will be at least one or two more entries.
Nov. 17, 2005 – Yankees interest in Brian Giles intensifies
If a free agent gets a phone call from Joe Torre, he knows the Yankees are serious. Torre, the Yankees' manager, has made successful recruiting pitches to Mike Mussina, Jason Giambi and Carl Pavano in recent years, and now he is calling Brian Giles.
Well, that nugget should be good enough to tell you just how interested the Yanks were in Brian Giles. Besides his age (35), Giles was a very attractive option for the Yankees because of his bat and his eye. Also, he was a lefty hitter, which is always a plus for playing in Bronx.
If you need a refresher on how good of an offensive asset Giles was, from 1999 to 2005, he hit .303/.418/.554 with 207 HR's, good for a 150 wRC+.  Also, he didn't strike out much either, walking 747 times while only being punched out 492 times in that span. That's just beast-like. Sure, he was not as flashy as guys like Barry Bonds, Albert Pujols, Manny Ramirez or A-Rod, but his 150 wRC+ in that time span was the ninth-highest in all of ML, surpassing guys like Sammy Sosa, Vladimir Guerrero, Lance Berkman, Jim Edmonds, etc. That's an elite bat right there.
One interesting tidbit in that New York Times article is that Torre would have considered shifting Hideki Matsui to center had the Yankees signed Giles. Now that's a scenario. Matsui did play center primarily for the Yomiuri Giants but he was rather unimpressive with glove in ML. An outfield of Giles-Matsui-Sheffield would have drove a lot of runs in but, well, also cost at least some for the Yankee defense.
Nov. 21, 2005 – Yankees make a reliever move: Jose Veras?
Yankees made a somewhat headline-worthy reliever acquisition! It was … Jose Veras.
I actually remember reading this news back then and was like who? Very certain I wasn't the only one either. Veras was a then-25-year old reliever who had never pitched in the bigs and had a 3.79 ERA in 61.2 IP with the Rangers' Triple-A affiliate in 2005. After debuting in the Devil Rays system as a 17-year old in 1998, he posted some very mediocre stats as a starter. After signing as a free agent with the Texas Rangers prior to the 2005 season, the organization used him exclusively as a reliever and, well, he did decently.
The article didn't specify if it was a ML or MiLB deal but this quote from Veras makes me feel that it was the former:
"I feel proud that the Yankees have signed me to help set the table for Mariano Rivera," Veras told The AP. "That's something very important to me."
I assume the Yankees must saw something that basic stats had yet to tell. Veras ended up having a decent ML relief career  – marking a 3.91 career ERA and 27 saves in nine seasons with eight different teams.
Nov. 22, 2005 – The Red Sox trade for Josh Beckett and Mike Lowell. The Marlins had talked to the Yankees prior to the deal. 
So yea, big deal for the division rival. Boston pulled off the deal that brought them Josh Beckett, Mike Lowell and Guillermo Mota for four prospects, a package that included Hanley Ramirez and Anibal Sanchez.
Josh Beckett was a young starting pitcher with an upside as big as anyone's. The only major deterrent to his game was that he was quite injury prone. He was placed in the disabled list nine times in the previous four seasons. Most of them had to do with hand injuries but yea, that was an alarming number. Mike Lowell, who had been an All-Star caliber third baseman for the Marlins for years, saw his production dip down in the 2005 season, hitting for a measly .658 OPS. That and his salary made Lowell a very easy candidate for trade.
Here's where it gets interesting. Prior to coming to an agreement with BoSox, the Marlins front had reached out to the Yankees and asked for a package including Chien-Ming Wang and Robinson Cano. Needless to say, Yankees did not want to give them up. The article says, at one point, Marlins asked for a package of Chien-Ming Wang, Eric Duncan and a third prospect. Ten years later, that sounds like a pretty intriguing proposal. Josh Beckett ended up being a Cy Young caliber pitcher (at times) for the Red Sox and Mike Lowell regained his All-Star form with Boston, hitting for a .829 OPS from 2006-09. Sure, losing Chien-Ming Wang would have hurt but Red Sox did receive two ML'ers that panned out well for them for several seasons.
But here's another caveat though – Yankees did not want to take on Lowell's salary.
The Yankees also did not want to absorb the $18 million owed Lowell over the next two years, the same official said. ''They (the Marlins) called everybody, but you had to take Lowell and give up substantial prospects, too,'' the official said. ''The Yankees can't take on $18 million and a player that doesn't fit (Lowell) when they're trying to cut some payroll and still have needs in center field and the bullpen. ''They (the Yankees) would've loved to be in this, but under those criteria, it doesn't make much sense.''
So that's that.
Nov. 29, 2005 – Yankees closing in on Kyle Farnsworth
Back in 2005, there wasn't that many pitchers in ML who could throw as hard as Kyle Farnsworth.
According to a Mark Feinsand article at MLB.com, the Yankees were set to sign the right-hander for a three-year deal worth around $15-17 million. Farnsworth had a breakout 2005 season. With the Tigers and Braves, he recorded a shiny 2.19 ERA in 72 games with 87 strikeouts in 70 innings pitched. He also only allowed one home run all season and walked 3.5 batters per 9 IP – an improvement over 4.4 from 2002~04. He seemed like a guy who finally learned how to use his explosive stuff and settle in as one of the finest relievers in baseball.
I actually remember being quite excited hearing the news. As I still am now, I was a sucker for pitchers with big velocity. Farnsworth also had another asset to his game – taking down people in brawls.
Paul Wilson, by the way, is listed as 6'5", 235 lbs and Farnsworth took him down rather easily. He's one strong guy. Some guys are gifted with a 100 mph arm but Farnsworth, man, this guy is pure strength.
Nov. 29, 2005 – Scott Boras's ultra-high pitch on Johnny Damon
So this isn't really a move but because all of you probably now how this ended up, I thought I'd just show some quotes from this Boston Herald article.
"He's the ironman of baseball," Boras said yesterday from Dallas. "What Cal Ripken used to represent, Johnny Damon does today."

"Johnny Damon is the most durable major league player in the game today," Boras said. "If he had been on the disabled list three or four times, then OK, what kind of contract are we talking about — two, three years? Yet this guy plays all the time and hard all the time. You have to be unique to talk about a seven-year deal."
Ho-hum, okay. Since his first full-time ML season (1996) to 2005, Damon did play more than 145 regular season games each year. Longevity definitely seemed to be his asset but then again, he did not have any season in which he played a full 162 set of games. I don't know about Cal Ripken comparison or the 'Ironman' tag, but, you know, message received.
Johnny Damon is a model physical athlete with a body type that no one else has.
You know, I'm not a swimsuit salesman or anything so I can't really say I'm the best judge for human physiques but if Damon did indeed have a 'body type that no one else has', good for Damon I guess. I wonder if any teams requested for muscle mass and body fat percentages data from Boras.
"Boras details his case for Damon in a bound, 10-section, three-ring notebook that he makes for most of his elite clients. It extols Damon in chapters entitled "Best leadoff man in baseball," "Better than future Hall of Famer Rickey Henderson," "Elite performer at age 31" and "Franchise Icon."
First off, that's a big bounty of info if Boras did indeed fill out that notebook. I would love to get my hands on it and read it through. Better than Rickey Henderson? That's way off though. In the first eleven ML seasons of his career, Damon amassed for 102 OPS+ with 281 stolen bases. Henderson? 134 OPS+ with 871 SB's. His 110 OPS+ in the 2005 season is good but elite? Not quite. But you know, can't blame Boras for trying. He had a job to do.
"By using Damon's offensive averages the last four seasons, Boras projects seven years into the future and has Damon entering the 3,000 hit club in 2012 and cracking the all-time top 20 list in runs, hits and doubles. "

And in case Damon decides to play through 2015, when he would be 41, Boras, again using his last four season averages and assuming no dropoffs, shows that Damon would finish third all-time in runs with 2,223 (ahead of Babe Ruth and Hank Aaron) and fifth all-time in hits with 3,619 (ahead of Tris Speaker and Honus Wagner)."
It's so wild to see articles from ten years ago that foreshadow into years that have passed by now. I don't think many believed in Boras's crystal ball back then, just a hunch. Damon did amass 2,769 career hits but nowhere near 3,619 that Boras projected.
So yes, Johnny Damon was a talented baseball player for sure. He was a two-time All Star, played vital roles in two World Series titles, hit more than 2,700 hits, etc. but I don't see him as a Hall of Famer or anything that Boras hyped him up to be.
Nov. 30, 2005 – Yankees sign Kelly Stinnett
The Yankees were not going to re-sign John Flaherty as their backup catcher. Instead, they signed Kelly Stinnett to a one-year, $650,000 deal. Stinnett definitely showed better bat than Flaherty in the 2005 season (.736 OPS vs. .458 OPS). I guess it was somewhat of an upgrade that way but backup catchers don't really have to hit. One major thing was that Stinnett had developed rapport being Randy Johnson's catcher for the 1999-2000 seasons, both of which the lefty won the NL Cy Young Award.
Don't think Stinnett's tenure with the Yankees was all that memorable (released by New York in July after hitting to a .586 OPS in 87 plate appearances) but he did accidentally break Jorge Posada's nose in the Spring Training. They were playing catch, Georgie got distracted for a moment and boom. Thank goodness it was not during the regular season.
---
Part three will be coming soon. It's still kind of hard to believe it's been ten years since all of these happened.