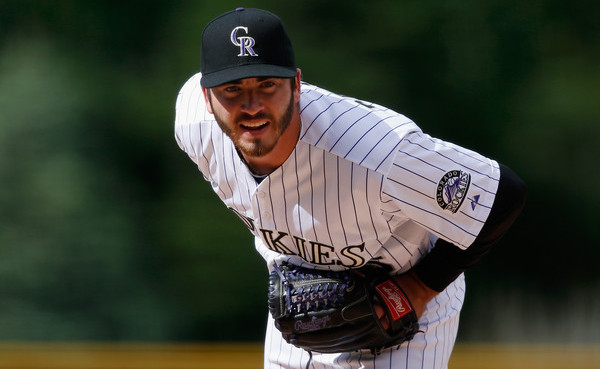 Despite their perpetual interest, the Yankees have yet to land a young starting pitcher controllable beyond 2017 this offseason. They have reportedly focused on acquiring such a player in trade talks involving Brett Gardner and Andrew Miller. The closest they've come to getting a young starter is picking up Luis Cessa and Chad Green in the Justin Wilson trade.
The Rockies seem like a team that should be focused on adding young pitching, not trading it away, but GM Jeff Bridich told Patrick Saunders he is "open to whatever, I mean it" earlier this offseason. Open to whatever as long as it helps improve the team, of course. Right-hander Chad Bettis could be a possible under-the-radar trade target for the Yankees as they look to add that controllable pitcher to their rotation. Is he a fit? Let's take a look.
The Performance
Might as well start with some background information. Bettis, 26, was Colorado's second round pick in the 2010 draft out of Texas Tech. Baseball America ranked him as the 86th best prospect in the game prior to the 2012 season — he was one spot behind Mason Williams — and Bettis made his big league debut late in 2013. He spent 2014 going up and down before spending the majority of 2015 in the team's rotation. Here are his overall MLB stats.
| | G | GS | IP | ERA | FIP | K% | BB% | GB% | RHB wOBA | LHB wOBA |
| --- | --- | --- | --- | --- | --- | --- | --- | --- | --- | --- |
| 2013 | 16 | 8 | 44.2 | 5.64 | 4.93 | 14.4% | 9.6% | 46.7% | .395 | .351 |
| 2014 | 21 |  0 | 24.2 | 9.12 | 5.52 | 10.2% | 7.9% | 45.9% | .488 | .394 |
| 2015 | 20 | 20 | 115.0 | 4.23 | 3.85 | 19.5% | 8.4% | 49.3% | .345 | .323 |
| TOTAL | 57 | 28 | 184.1 | 5.22 | 4.33 | 16.9% | 8.6% | 48.1% | .380 | .340 |
Bettis was called up two seasons ago and came down with a case of Coors Field. He was limited to relief work last year and it was the first time he worked out of the bullpen in his career. Those 2013-14 numbers are ugly. No doubt about it.
I'm choosing to focus on Bettis' 2015 performance because it's most recent, and also because it was the first time he was given an opportunity to stay in the rotation for an extended period of time. Going up and down sucks. Once he had a chance to settle in, Bettis posted an average strikeout rate and an above-average ground ball rate, which is a nice starting point.
Coors Field uglified his overall numbers — Bettis had a 4.99 ERA (3.90 FIP) at home and a 3.35 ERA (3.79 FIP) on the road in 2015 — because that's what it does, though I'm not one of those people who thinks road performance indicates the true talent level of a player who just so happens to be stuck on the Rockies. After all, Dodger Stadium, Petco Park, and AT&T Park are pretty great places to pitch.
Bettis is not a big guy — he's listed at 6-foot-1 and 200 lbs. on the team's official site — and the usual concern with pitchers that size is they're unable to get good downward plane on their fastball and thus become fly ball prone. Bettis has gotten a good amount of grounders in his career to date, so that doesn't really seem to be a problem. He had a 0.86 HR/9 (11.0 HR/FB%) this past season and 1.03 HR/9 (11.8 HR/FB%) over the last three years, which is average or a tick better. Maybe more than a tick considering his home park.
Also, despite the higher than average walk rates — that was the case all throughout the minors as well — Bettis has a reputation for pitching aggressively. "Bettis is tenacious and attacks hitters with everything he throws," wrote Baseball America in their 2013 Prospect Handbook. The walk rates are the result of control issues, not an unwillingness to go after hitters. Walks are annoying. Walks because the pitcher nibbles are even more annoying.
I'm not sure anyone has come up with a good way to normalize the Coors Field effect. (There's evidence simple park factors don't fully adjust for the thin mountain air.) Given the sample size and his home ballpark, I'm inclined to outright ignore what Bettis has done to date, at least when trying to project what he'll be going forward. Too many complicated variables at play.
The Stuff
To me, the scouting report is much more important than the stats with Bettis. It's almost like he's a prospect at this point. Bettis is a five-pitch pitcher who throws three fastballs (four-seamer, sinker, cutter), a curveball, and a changeup. The cutter is often misclassified as a slider by PitchFX for whatever reason.
Here is some PitchFX data on Bettis' arsenal. This is 2015 data only because it's the most recent, and also because he spent time in the bullpen the two previous years. That can screw things up. Pitchers rarely throw all their pitches in relief. (Adam Warren was a notable exception.) The MLB averages are in parentheses.
| | % Thrown | Avg. Velo. | Whiff% | GB% |
| --- | --- | --- | --- | --- |
| Four-Seam | 48.9% | 92.8 (92.4) | 5.6% (6.9%) | 48.4% (37.9%) |
| Sinker | 10.8% | 91.7 (90.8) | 5.9% (5.4%) | 57.1% (49.5%) |
| Cutter | 9.6% | 87.9 (88.0) | 20.7% (9.7%) | 65.7% (43.0%) |
| Curveball | 15.0% | 74.7 (77.8) | 13.9% (11.1%) | 25.6% (48.7%) |
| Changeup | 15.8% | 85.6 (83.3) | 19.6% (14.9%) | 73.5% (47.8%) |
Bettis' fastball velocity is more or less average — PitchFX says he topped out at 97.2 mph and 96.5 mph with the four-seamer and sinker this past season, respectively — and he gets an above-average number of ground balls with both his four-seamer and sinker, but not many swings and misses.
The cutter looks like a well-above-average pitch given the rate of whiffs and grounders, but he only threw it 9.6% of the time in 2015, so it could be sample size noise. In fact, Bettis threw only 179 cutters this past season, so yeah. The changeup is interesting. It looks like a great pitch based on whiffs and grounders, yet left-handed batters hit Bettis kind hard this season.
This could be a sample size issue, though I do think the velocity might have something to do with it too. Ideally a pitcher would have a 10 mph or so separation between his fastball and changeup. Bettis approximately had a 7 mph separation in 2015, less if you look at the sinker. The lack of big time separation could indicate the pitch is more hittable than the swing-and-miss and grounder numbers indicate. Here's some video:
I suppose it's only fair to point out the extreme separation between Bettis' fastball and curveball after talking about the lack of separation with the changeup. He got some ugly swings with that slow curve in the video.
Playing at altitude doesn't only allow the ball travel farther when hit, it also changes a pitcher's stuff. It's a physics issue — in the thin air, the ball encounters less resistance as it spins towards the plate. I don't want to get too nerdy, but the interaction between the spinning seams and the molecules in the air determines how the ball moves. That interaction at sea level is different than it is on top of a mountain.
That's a big reason why the Rockies have had such a hard time finding pitchers who can have consistent success in their home ballpark — they don't know how their stuff will behave in the thin air until they get there. Bettis has a track record of missing bats all throughout the minors and the PitchFX data suggests he has options to get whiffs and grounders. Get him out of Coors Field and his stuff may firm up.
Injury History
Bettis has had some arm problems in his career, most notably losing the entire 2012 season to a strained muscle behind his shoulder. Didn't throw a single pitch that year. Bettis did not have surgery and he hasn't had any shoulder trouble since, and his velocity has returned to it's pre-injury levels. (He lost 2-3 mph in 2013 but it has since returned.)
Furthermore, elbow inflammation cost Bettis a little more than a month this past season. He got hurt in late-July, rehabbed for a month after an MRI showed no structural damage, then returned to the mound in late-September and pitched with no issues the rest of the season. Little bit of a scare there. Bettis also missed two months with an oblique strain in 2013, though that's not a concern. It happens.
The shoulder and elbow injuries are, however, red flags. The only good news is that his shoulder injury only involved a muscle and not his labrum or the tendons in his rotator cuff. Also, the elbow MRI showed his ulnar collateral ligament was intact as recently as this past July. Shoulder and elbow injuries are always bad. Bettis' appear to have been less bad than they could have been.
Contract Status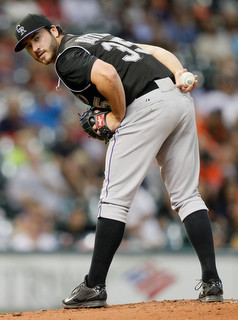 Thanks to all the up-and-down action the last three years, Bettis has accrued one year and 96 days of service time, commonly written as 1.096. He has five years of team control remaining. Two as a pre-arbitration player and three as an arbitration-eligible player. I suppose he could qualify as a Super Two following next season if the cutoff falls low enough, but that seems very unlikely.
Bettis has one minor league option remaining. The Rockies purchased his contract and called him up for the first time in August 2013, and he spent the rest of the year in the big leagues. He burned his first option going up and down in 2014, then burned his second when he was sent to Triple-A to start 2015. That means he has one left, unless he somehow qualifies for a fourth option. Either way, a team that trades for him hopes the options are a moot point. They'll want to stick him in their rotation and leave him there.
What Would It Take?
Bettis is a former mid-range prospect with five years of team control left, and those guys are usually traded in packages for an established big leaguer, so we have an interesting dynamic here. The Rockies are rebuilding (I think) and presumably want young pieces in return. They have no use for 32-year-old Brett Gardner or 30-year-old Andrew Miller.
Recent trades involving pitchers five years from free agency include …
Roenis Elias: Traded as second piece in a deal for Wade Miley.
Nate Karns: Traded as headliner in three-player package for Brad Miller, Logan Morrison, and Danny Farquhar.
Dan Straily: Traded with Luis Valbuena for one year of Dexter Fowler.
Jarred Cosart: Traded with two spare parts for three prospects, most notably Colin Moran and Jake Marisnick.
… and none of that really helps us. The Cosart trade is probably most applicable, which, at the time, boiled down to Cosart for Moran and Marisnick with other stuff thrown in. Baseball America ranked Moran and Marisnick as the Nos. 61 and 79 prospects prior to 2014, the year of the trade. At the same time, Cosart was more highly regarded than Bettis. He was twice ranked as a top 100 prospect by Baseball America, topping out at No. 50 in 2012.
The Yankees traded six years of Shane Greene for five years of Didi Gregorius, and that might be the framework for a Bettis trade. My promising young player for your promising young player. The Rockies need basically everything at this point. Gary Sanchez for Bettis may seem like an overpay but that could be what it takes. Perhaps they can talk them down to, say, Rob Refsnyder, something like that. My trade proposal sucks, I know.
Point is, this isn't a Gardner or Miller for Bettis plus stuff trade. The Rockies don't need those guys. If they do trade Bettis, they're going to trade him for young players. Also, here's a weird factor to consider: Bettis has not fallen out of favor with the Rockies. The Yankees have targeted guys who have fallen out of favor with their previous teams during their on-the-fly rebuild (Gregorius, Dustin Ackley, Starlin Castro, etc.) so they don't have to pay full freight. Bettis doesn't fit that mold.
Wrapping Up
I know there's nothing sexy about Bettis as a trade target, and you can always come with a reason to not trade for anyone, but look at what he offers. He's only 26, he has five years of control, he throws five pitches, he gets grounders, he has a history of missing bats, and he has experience pitching in an extreme hitter's environment. Those are all pluses in my book.
The injury history is a red flag, no doubt about it, as is the history of average at best control. There's risk. That's true of every pitcher. The Rockies have indicated a willingness to move just about anyone in an effort to improve, and Bettis is a potential long-term rotation piece with solid stuff who seems like someone pitching coach Larry Rothschild could help take to the next level.