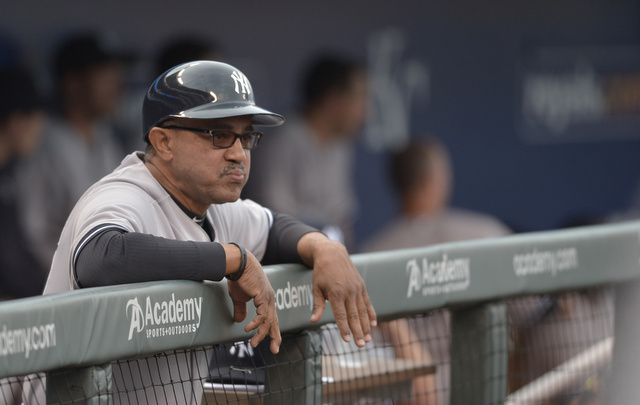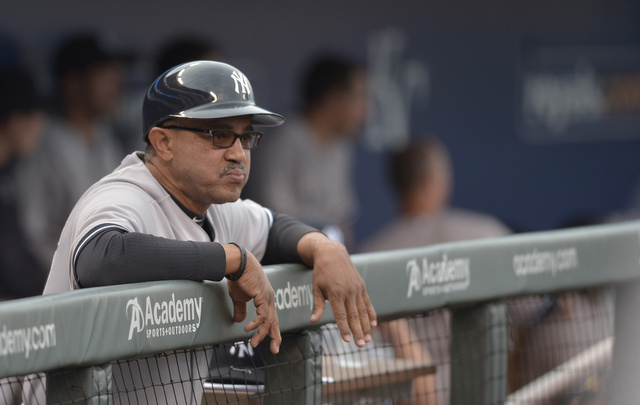 Yesterday afternoon we reviewed Joe Girardi's season while acknowledging how difficult it can be to evaluate a manager. We only see the on-field stuff, which is a very small part of the manager's job. Evaluating coaches is even more difficult. Outside of the pitching coach making a mound visit or the third base coach waving someone in, all of their work happens behind the scenes.
The Yankees reshuffled their coaching staff last offseason. Hitting coach Kevin Long and first base coach Mick Kelleher were both let go, bench coach Tony Pena shifted to first base coach, third base coach Rob Thomson shifted to bench coach, and new hires Jeff Pentland (hitting coach), Alan Cockrell (assistant hitting coach), and Joe Espada (third base coach) were brought in. Well, Espada was working in the pro scouting department. He just shifted back on to the field in a coaching capacity. How did the new-look coaching staff perform in 2015? Let's try to figure that out.
Bench Coach: Rob Thomson
Thomson left a lot to be desired as the third base coach, especially in 2014, when the Yankees had the fourth most runners thrown out at the plate in baseball (21). The shift to bench coach means we have basically no way to evaluate him. The Yankees outperformed their run differential by a combined 13 wins from 2013-14. This past season they underperformed by one win. Want to blame that on Thomson taking over as Girardi's second in command? Go ahead. Just understand we have no idea if that is actually the case. Girardi managed like Girardi, so I'm inclined to say Thomson didn't put any crazy ideas in his head. Thomson's been in the organization a long time and is highly respected around the game. I'll defer to those folks. Thomson's a-okay with me.
Hitting Coaches: Jeff Pentland & Alan Cockrell
Let's call a spade a spade: Long was scapegoated for the Yankees failing to make the postseason from 2013-14. The offense was terrible those years, mostly because the roster left a lot to be desired, so the hitting coach took the fall. Stuff like this has been happening since hitting coaches became a thing. When the GM says he's one the best hitting coaches in the game on his way out the door, you know he was scapegoated.
Anyway, the Yankees fired Long soon after the season in October, and it wasn't until January that they hired Pentland and Cockrell, adopting the two hitting coach system that is taking over MLB. Both men brought big league hitting coach experience to the table. The result? The Yankees finished second in baseball with 764 runs scored in 2015, an improvement of 131 runs from 2014. Almost a run a game.
Of course, crediting Pentland and Cockrell for all the improvement would be like assigning all the blame to the Long. In my opinion, the biggest reason the offense improved was health. Carlos Beltran was relatively healthy all year. Mark Teixeira was healthy until the fluke foul pitch off his shin. Alex Rodriguez returned. Brian McCann was more comfortable in year two. Good players have a way of making a hitting coach look smart.
Here's a quick side-by-side look at the 2014 and 2015 offenses, specifically their batted ball and plate discipline numbers:


The overarching numbers show the team's plate discipline didn't change much if at all, so there wasn't any kind of significant change in approach. The 2015 Yankees did, however, hit more fly balls (slightly) and pull the ball more often. The big knock on Long was the offense turning into a bunch of pull hitters. Well, the Yankees pulled the ball even more under Pentland and they scored 131 additional runs.
One thing I think we can credit to Cockrell in particular is Didi Gregorius' midseason improvement. Gregorius told Brendan Kuty he used to have a long loop in his swing, but Cockrell worked with him to cut it down. "It can be mechanical. It can be thought. It can be fatigue," said Cockrell. "There's a lot of contributing factors. But I think once you've ID'ed that it is a little bit long, let's work to shorten it. Let's work to stay above the ball a little bit more. He's (done) that."
Hitting coaches are obviously important, though I also subscribe to the theory that they don't have nearly as much on-field impact as it may seem. The offense was demonstrably better this past season than it had been from 2013-14, either because they had better players or better coaches (or both). Inevitably the coaches will get credit for that, especially after a change was made in the offseason.
However, the Yankees indicated they don't believe Pentland was the reason for the offensive resurgence because he was let go after the season. After a relatively brief search, Cockrell was elevated to main hitting coach and Triple-A Scranton hitting coach Marcus Thames takes over as Cockrell's assistant. Another year, another new hitting coach to blame for every slump.
Pitching Coach: Larry Rothschild
Rothschild has been New York's pitching coach since 2011 and it's become clear they have a lot of faith in him. For starters, he has a multi-year contract while most other coaches work on year-to-year deals. Secondly, the Yankees have acquired several young pitchers in need of refinement in recent years with the idea of turning them over to Rothschild for fine-tuning.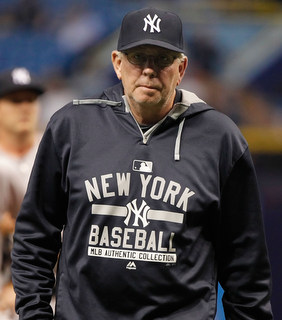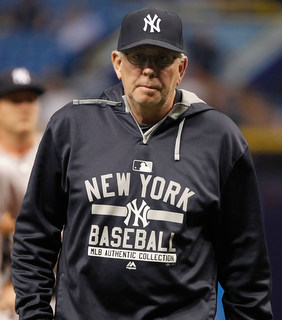 This past season's project: Nathan Eovaldi. The Yankees acquired Eovaldi's big but hittable fastball from the Marlins, then let Rothschild go to work. After a few weeks (months), Rothschild helped Eovaldi develop a legitimate out-pitch splitter that was the key to his midsummer run of dominance. Once he gained feel and really showed confidence in the split, Eovaldi was a much different pitcher. That's something tangible we can credit to Rothschild.
The Yankees as a team had a 4.05 ERA and 3.97 FIP in 2015, ranking 16th and 13th in baseball, respectively. The rotation in particular had a 4.25 ERA (18th) and a 4.04 FIP (14th), yet I feel like it's hard to blame Rothschild for the rotation being middle of the pack. The team gave way too many innings to CC Sabathia because of his contract and way too many innings to Ivan Nova following Tommy John surgery.
The only pitcher on the staff who I think really underperformed expectations was Michael Pineda, and I'm not sure he's ever going to have an ERA (4.37 in 2015) that matches his FIP (3.34 FIP) because he's around the plate so much — Pineda might throw too many strikes — and Yankee Stadium is not pitcher friendly. Rothschild's done some really good things as pitching coach, including Eovaldi in 2015. I truly believe he's one of the best pitching coaches in the game.
First Base Coach: Tony Pena
During games, the first base coach's primary job involves timing the opposing battery to determine stolen base possibilities. He scouts the pitcher's pickoff move and literally has a stopwatch to time the pitcher's delivery and the catcher's pop time. I'm not joking. The Yankees stole only 63 bases in 2015, their lowest total in a non-strike season since stealing 39 bases (!) in 1993. They averaged 118 steals from 2003-14.
Of course, the Yankees didn't have the personnel to steal more bases. Jacoby Ellsbury hurt his knee in May and pretty much stopped running after that. Brett Gardner's days of 40+ steals are over. Those two stole 21 and 20 bases, respectively. Know who was third on the Yankees in steals? Rico Noel with five. The Yankees were never going to be a big stolen base team this summer, though their 72% success rate was tenth best in the game. They had nine runners picked off, seventh fewest in MLB.
Pena's value to the Yankees isn't necessarily his work as a first base coach, it's his work with the catchers. He's been handed young guys like Francisco Cervelli and John Ryan Murphy over the years, and tasked with improving their defense. Cervelli's defense improved tremendously over the years. Murphy's was very good this past season. As a first base coach, who in the world knows how Pena performed. His best and most important work is with the catchers, and the Yankees continue to have strong glove guys behind the plate.
Third Base Coach: Joe Espada
Finally, a coach we can really evaluate. The Yankees had only 14 runners thrown out at the plate this summer, fifth fewest in the baseball, but that's because Espada seems to employ an ultra-conservative approach. He waved a runner home from second on a single just 59.3% of the time, the lowest in baseball. The MLB average is 69.8%. Espada waved a runner home from first on a double just 51.1% of the time, second lowest in baseball and well below the 65.4% league average.
Of course, the Yankees are not a fast team, so the conservative approach isn't all on Espada. Sometimes he just has to hold up slow runners because they had no chance to score. There were definitely times when Espada seemed to either misread plays or not know the outfielder's arm though, leading to curious holds or bad sends. The most obvious example came on July 27th, when Teixeira was thrown out at home trying to score from second because Espada told him he could go "easy."
After the game, the normal reserved Teixeira was upset because he could have gotten hurt. "There was no miscommunication. Joe just told me, 'Easy, easy,' which means there's going to be no play at the plate. It's just a mistake … That can't happen. I'm sure it won't ever happen again," he said. Teixeira, Espada, and Girardi later met to talk it all out.
Espada's conservative approach is part necessity (the Yankees lack speed in general), part sensible (no reason to risk it all the time given how the Yankees were scoring runs in the first half), and part his poor reads. Third base coach is a thankless job. They never get credit for a good job and are only noticed for mistakes. Espada's conservative, and I also think there is room for improvement going forward.
Bullpen Coach: Gary Tuck
The bullpen coach typically acts as a second pitching coach, but Tuck's specialty is catching. He's regarded as a catching guru and McCann credited him for improving his throwing. McCann threw out only 23.1% of base-runners in his last three years with the Braves, but, under Tuck, that number has jumped to 36.5% with the Yankees the last two seasons. It was 35.9% in 2015.
Outside of that, we really don't have any way to evaluate Tuck. The Yankees did deem him expendable, however. He was let go following the season, reportedly due to a disagreement with the front office over the use of statistics. A few weeks later former bullpen coach Mike Harkey returned to the team as Tuck's replacement. McCann's improved throwing, which he sustained in 2015, is enough for me to say Tuck did some mighty fine work in pinstripes. That level of improvement is significant.