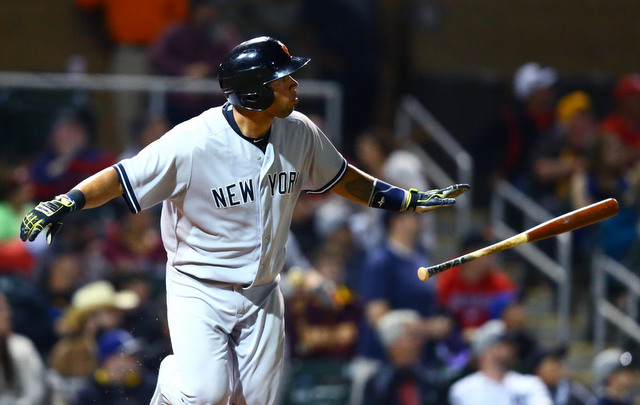 This past season, the Yankees were the only team in baseball to use just two catchers. A dozen teams used three different catchers and the other 17 used at least four. Brian McCann and John Ryan Murphy combined to catch every inning of every game for New York, which is a minor miracle. It's so easy for catchers to get banged up and yet both stayed healthy.
The Yankees called up two additional catchers once rosters expanded in September, and even though neither spent an inning behind the plate, they had important seasons for the Yankees. Gary Sanchez re-established himself as a top prospect and Austin Romine stayed healthy and put together a solid season in Triple-A. Their work allowed the Yankees to trade Murphy this offseason.
The Arrival of Sanchez
Fair or not, Sanchez's prospect stock took a hit in 2014, when he was merely very good instead of great with Double-A Trenton. He hit .270/.338/.406 (108 wRC+) with 13 home runs in 110 games and made incremental progress with his defense, which is good, but not exactly a huge breakout. Sanchez has been around for a while now and people were still waiting for that huge year.
Sanchez, who turns 23 today, finally had that monster year in 2015. After barely playing in camp — Sanchez went 1-for-9 (with a dinger!) in six Grapefruit League games — he started the season back with the Thunder and hit in the middle of what was a rather ridiculous lineup, especially by Double-A standards. Check out the team's Opening Day starting nine:

That's something else. Sanchez stayed in the cleanup spot and raked for the Thunder, hitting .262/.319/.476 (127 wRC+) with 12 home runs in 58 games. Power is Sanchez's calling card and he was showing a lot of it early on.
The Yankees moved Sanchez up to Triple-A Scranton in mid-July — he missed two weeks in mid-June with a minor hand injury after being hit by a foul tip — and he hit the ground running with the RailRiders. Sanchez went 2-for-4 with a homer in his Triple-A debut and 25-for-70 (.357) with six doubles and four homers in his first 20 games with Scranton. A minor hamstring pull ended Sanchez's minor league regular season on August 26th.
The team planned to called Sanchez to the big leagues when rosters expanded in September, though he had to wait until September 12th, after the hamstring healed and he got some tune-up at-bats in the Triple-A postseason. Sanchez hit .295/.349/.500 (145 wRC+) at Triple-A and .271/.329/.476 (131 wRC+) with 18 home runs in 96 minor league games overall. Only two minor league catchers hit more home runs in 2015.
The Yankees were in the postseason race right down to Game 162 — they didn't clinch homefield advantage in the wildcard game until the final day of the season, remember — so Sanchez didn't play much in September. He got two at-bats, both as a pinch-hitter in a blowout. He popped up against Oliver Drake and struck out against Zach Britton in those two at-bats. Anti-climatic!
Sanchez was on the wildcard game roster as an extra right-handed bench bat, but he didn't get into the game. The Yankees decided to send Sanchez to the Arizona Fall League after the season and holy moly, he raked in the desert. He put up a .295/.357/.625 (159 wRC+) batting line with a league-leading seven home runs in 22 games, and was impressive on both sides of the ball.
The Yankees value catcher defense very highly, and I don't think they would have traded Murphy if they aren't comfortable with Sanchez behind the plate. Does that mean they think he's ready to catch everyday at the MLB level? Of course not. But Sanchez has steadily improved behind the plate and the Murphy trade was a big vote of confidence. It showed the team has faith in his defensive skills. Simply put, Sanchez's play this summer made Murphy expendable.
We can never rule out an offseason trade, but right now Sanchez appears to have the inside track on the backup catcher's job next year. The Yankees are really starting to emphasize youth and incorporating Sanchez into the 25-man roster is an obvious piece of that puzzle. We'll see how things play out this winter and in Spring Training. One thing we know for sure is Sanchez is in position to have a real impact for the Yankees in 2016.
The Return of Romine
Coming into Spring Training, the Yankees said Murphy and Romine (and Eddy Rodriguez) were competing for the backup catcher's spot. That was never really the case though. When Francisco Cervelli got hurt last season, it was Murphy who got called up to replace him. Romine, who spent most of 2013 as Chris Stewart's backup, wasn't even called up when rosters expanded on September 1st. He didn't come up until later in the month, after Cervelli got hurt.
A poor Spring Training ended any chance Romine had at making the team. (He went 6-for-35 with ten strikeouts in camp.) It was going to take a monster spring combined with Murphy falling on his face for Romine to get the backup catcher job. Since he was out of minor league options, the Yankees had to put Romine on waivers to send him to Triple-A. Thanks to some creative timing, they were able to slip him through.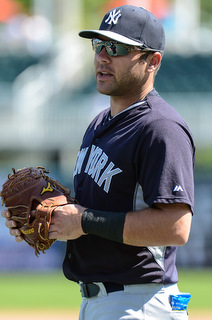 The Yankees designated Romine for assignment on April 4th, two days before Opening Day and the day before teams had to set their 25-man Opening Day roster. That gave them ten days to trade, release, or waive Romine. They waited until April 6th, the day after teams had to set their Opening Day rosters, to put him on waivers. Clubs had already set their rosters, so claiming Romine would have been a headache. That allowed him to slip through unclaimed. Sneaky!
Romine, who turned 27 last week, opened 2015 as the starting catcher with Triple-A Scranton. He started the season slow but did make it count when he connected — Romine went 11-for-56 (.196) in his first 15 games but had eight extra-base hits (seven doubles and one homer). He quickly settled in after that and owned a .267/.326/.407 (112 wRC+) line with six homers in 65 games the day Sanchez was promoted.
Considering Romine hit .242/.300/.365 (82 wRC+) in 81 Triple-A games in 2014, his rebound in 2015 was a welcome surprise. If nothing else, it allowed the Yankees to feel a little better about their catching depth. Sanchez took over behind the plate after being promoted and Romine moved into something of a utility role for the RailRiders. He played some first base and DH in addition to catching whenever Sanchez needed a rest, improving his versatility a tiny little bit.
The hamstring injury meant Sanchez wasn't ready to be called up when rosters expanded on September 1st, so Romine got the call as the third catcher by default. He was re-added to the 40-man roster and joined the big league team after hitting hit .261/.311/.379 (99 wRC+) with seven home runs in 92 Triple-A games overall. Romine appeared in just one MLB this year: he started Game 160 at first base and went 0-for-2 with a line out and a ground out before being lifted for a pinch-hitter. That's all.
Before the Murphy trade, Romine looked like a prime candidate to lose his 40-man roster spot whenever time came this offseason. Since he had already been outrighted once before (in April), he could elect free agency, which he almost certainly would have done so he could join an organization that gave him a better opportunity. Instead, Romine remains with the Yankees thanks to the Murphy trade and figures to do so for the foreseeable future.
At the moment it appears Romine will come to Spring Training and be given a chance to win the backup catcher's job, except this time it might be a true competition with Sanchez. There are valid reasons to have Sanchez return to Triple-A next season — work on his defense, mostly — which could clear a spot for Romine. The Murphy trade was big for Romine. If nothing else, it bought him a few more weeks on the 40-man roster. It also gives him a legitimate chance to break camp with the Yankees next season.