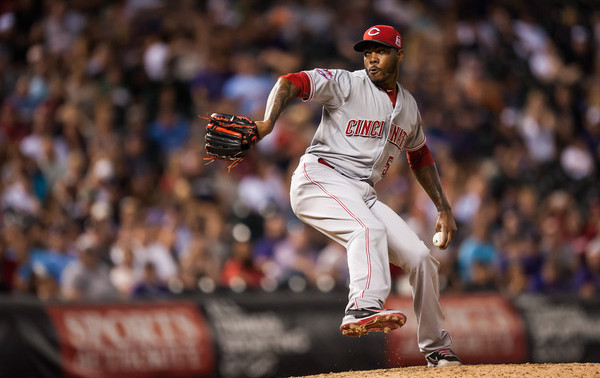 Yesterday afternoon the Yankees made their most significant trade in quite some time, sending four prospects to the Reds for Aroldis Chapman. It was a classic out of nowhere Yankees move. It looked like we were headed for another slow offseason day then BAM, Chapman's a Yankee. Crazy. I have thoughts. Here they are.
1. I think it's pretty gross the Yankees essentially used a domestic violence incident to buy low on a player. That's how I feel. You're welcome to feel differently. The Dodgers had a deal in place for Chapman earlier this offseason, then backed away when news of the incident got out. (Here's the story if you haven't seen it.) The Reds then dropped their asking price — Brian Cashman confirmed it during a conference call yesterday — and the Yankees swooped in. There are a lot of people out there whose lives have been impacted by domestic violence and I think turning a blind eye to it sends a very bad message. Pro sports teams — it's not just baseball, it happens in every sport — have shown time and time again they will overlook stuff like this as long as the player is good enough. I'd like to think the Yankees hold themselves to higher standards but it's clear they don't. It's one thing for a player to be a jerk and difficult to get along with. Allegations of domestic violence are much more serious. Not a good look, Yankees.
2. Joel Sherman said yesterday the Yankees expect Chapman to receive some kind of suspension under the league's new domestic violence policy. It's a brand new policy and no one has been suspended yet, so there's no precedent or anything. Commissioner Rob Manfred could decide to make a big opening statement and hand down a long suspension, or it could be a little 10-15 game ban. Under the domestic violence policy, suspended players do not accrue service time, so a suspension lasting at least 46 days (give or take) would delay Chapman's free agency another year. More importantly, the Yankees might not actually have their new lefty relief co-ace come Opening Day. There's a lot of offseason left, so MLB is in no rush to make an announcement. It might be another month or two before we know what kind of suspension Chapman is looking at, if any.
3. The whole "focus on high-character players with good makeup and squeaky clean images" thing has gone out the window, huh? The Yankees have put a lot of emphasis on makeup in recent years — it extended down into the minors and the draft as well — but this offseason they've acquired Chapman and Starlin Castro despite their history of off-the-field issues. Even Aaron Hicks had a reputation for being a bit of a headache with the Twins. It almost seems like the Yankees have decided to focus on pure talent during this phase of their on-the-fly rebuild and worry about the clubhouse aspects later. Either that or they're comfortable enough with the clubhouse that they feel they can bring in guys with some baggage and not have it be an issue. Just seems weird they were so focused on character guys for a few years and now have done a complete 180, and are targeting players with the exact opposite reputation.
4. As for the baseball aspect of the trade, it is pretty low risk for the Yankees. Worst case scenario is what, Chapman blows out his arm in Spring Training and never throws a pitch in pinstripes? That kind of risk exists with every pitcher. Chapman's never had any serious arm problems — he did miss time with a sore shoulder five years ago when the Reds tried him in the rotation — and his injury risk is no greater than anyone else's. The Yankees gave up two good but not great prospects (Eric Jagielo, Rookie Davis) and two throw-ins (Caleb Cotham, Tony Renda) for the most dominant reliever in baseball. They didn't even give up someone off their big league roster. (I guess Cotham, but you know what I mean.) For even just one year of Chapman, that's a bargain baseman price. If Chapman gets hurt, it would really suck, but the Yankees would not be out any significant prospects. More than likely, he'll be overwhelmingly dominant, it'll be a blast to watch, and the Yankees won't miss anyone they traded to the Reds. From a pure baseball perspective, this is a fantastic trade for New York. They made out like bandits.
5. Yes, adding Chapman makes it easier for the Yankees to trade Andrew Miller, but I don't think this trade was made because the team has a Miller deal lined up. This was just an opportunity to get better on the field the Yankees couldn't pass up given the price. Jeff Passan says the Yankees were "very, very close" to trading Miller to the Astros earlier this offseason, and I think Cashman would have moved Miller with or without Chapman. They might still trade Miller, there's lots of offseason left, but I don't think the motivation behind adding Chapman was to make Miller more expendable. Nah. The Yankees want to pair Chapman with Miller (and Dellin Betances), but if someone comes along and knocks their socks off with an offer, they'll move Miller because, again, it will be an opportunity to get better.
6. This trade answers any questions about whether the Yankees want to contend next season. This is a win now deal. Chapman will be a free agent next offseason and yeah, the Yankees can slap the qualifying offer on him and get a draft pick, but that's a minor consideration. (A supplemental first round pick isn't worth that much.) The Yankees are trying to balance winning with rebuilding, and after making a series of moves focused on getting younger (Castro, Hicks, Didi Gregorius, etc.), this if the first no-doubt win now move the club has made since all those free agent signings during the 2013-14 offseason (Brian McCann, Jacoby Ellsbury, etc.). The Yankees want to win. They also want to get younger and more flexible long-term. Chapman addresses only the former.
7. With both Jagielo and Renda going to Cincinnati, the Yankees are going to have to look into bringing in some infielders on minor league contracts in the coming weeks. (They did sign Pete Kozma earlier this offseason.) Those two were slated to start at Triple-A Scranton, so they were upper level depth. Rob Refsnyder will likely start the season with the RailRiders, so he'll be at second base, but they don't have a third baseman now. Don't expect a big name because again, we're talking about Triple-A infielders, not someone who will push for playing time at the big league level. It's going to be someone just trying to hang around and extend his career. Looking at the list of minor league free agents, someone like Conor Gillaspie could be a Triple-A third base candidate. The Yankees just need bodies to replace Jagielo and Renda now. They were thin on upper level infielders before and that is especially true now.
8. Last offseason I really had no idea who would close — I figured it would be Betances or Miller, I just wasn't sure which one — but right now I'm almost certain Chapman will be the closer next year. He's been doing it for a few years now and elite closers usually don't lose the ninth inning until their lose effectiveness. Chapman hasn't. Miller has only been with the team for a year too, so it's not like Chapman is coming in and bumping a stalwart like Mariano Rivera from the closer's role. (For what it's worth, Cashman said he spoke to Miller before the trade was announced just to let him know it was going down.) Chapman will close while Betances and Miller raise hell in the seventh and eighth innings. Joe Girardi loves to assign his relievers specific innings, but I wouldn't be surprised if he matched up with those two, using Miller against the lefty heavy portions of the lineup and Betances against the righties. If that means Miller pitches the seventh inning some nights instead of the eighth, so be it. And, by the way, the Yankees are now in position to have their fifth different primary closer in five years. The post-Rivera era is weird.
9. I'm one of those people who thinks WAR underestimates — dramatically so, in some cases — the value of relievers, but humor me for a second. There's a chance the Yankees can have three +2.5 WAR relievers in 2016. Betances managed 3.7 WAR in 2015, which is insane, while Chapman and Miller were at 2.7 and 2.2, respectively. (Miller missed a month with a forearm injury, remember.) All three getting to 2.5 WAR in 2016 isn't far-fetched. Only three bullpens in history have had three +2.5 WAR relievers, and one was the 1982 Red Sox, back when bullpen usage was far different. (The three relievers all threw at least 102.1 innings.) The 2014 Royals and 1995 Rockies (???) also did it. That 1982 BoSox team is the only team in history with three +3.0 WAR relievers. The Yankees have an outside chance at that next year. By the way, the last team with two +3.0 WAR relievers? The 2011 Yankees with Mo and David Robertson. Imagine having Rivera and Robertson, and then adding another Robertson. That's pretty much the 2016 Yankees.
10. Right now there are three open bullpen spots. Chapman, Miller, and Betances account for three of the seven spots and Ivan Nova will get one of the others unless he's needed in the rotation. Nova could always be traded but I think the Yankees end up hanging on to him. He seems more valuable as rotation depth than anything the team could realistically get in return. Nova as the fourth relievers means there are three empty spots with no shortage of candidates. Chasen Shreve might have a leg up on everyone else given his first five months this past season, and then you have Jacob Lindgren, Bryan Mitchell, Nick Rumbelow, Nick Goody, Branden Pinder, and James Pazos. We could even throw Johnny Barbato and Luis Cessa into that mix. Never say never, but I would be surprised if the Yankees made another significant bullpen addition this offseason. They have the big three at the end, Nova as the long man, and then three spots for the kids.