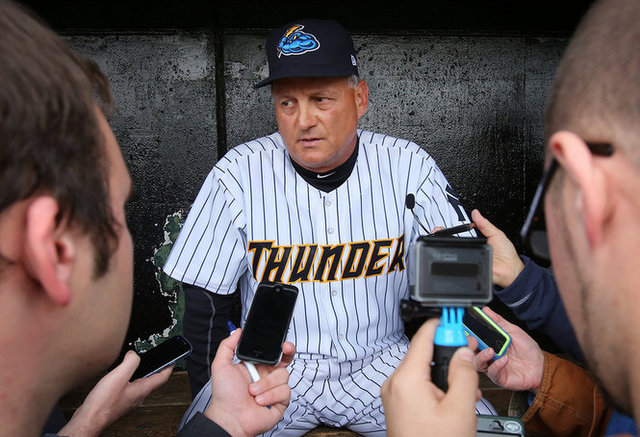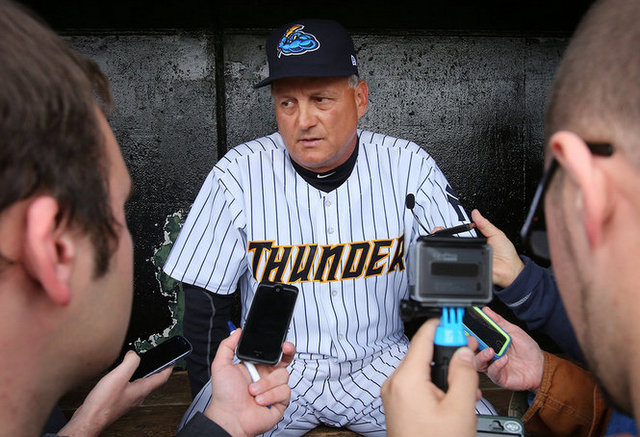 With Spring Training inching closer and closer, the Yankees have announced the field staffs for their various minor league affiliates. Minor league coaches are important! They're the ones working most closely with the team's prospects on a day-to-day basis. Here are the 2016 coaching staffs.
Triple-A Scranton
Manager: Al Pedrique
Hitting Coach: Tom Wilson
Pitching Coach: Tommy Phelps
Bullpen Coach: Jason Brown
Trainer: Darren London
Strength Coordinator: Brad Hyde
Video Coordinator: Tyler DeClerck
Almost the entire Triple-A coaching staff is new. Longtime manager Dave Miley was let go earlier this offseason, hitting coach Marcus Thames was promoted to the big league assistant hitting coach job, and pitching coach Scott Aldred was moved into a roving pitching coordinator role to replace the departed Gil Patterson.
Pedrique has climbed the ladder the last few seasons, going from High-A manager in 2014 to Double-A manager in 2015 to Triple-A manager in 2016. Phelps was the pitching coach at High-A last season after serving as the Double-A pitching coach from 2009-14. Wilson, the former MLB catcher, is moving into a coaching role after spending the last few seasons in the organization as a scout. Hyde was actually with the big league team last year as the assistant strength and conditioning director. He gets the head job in Triple-A.
Double-A Trenton
Manager: Bobby Mitchell
Hitting Coach: P.J. Pilittere
Pitching Coach: Jose Rosado
Defense Coach: Justin Tordi
Bullpen Coach: J.D. Closser
Trainer: Lee Meyer
Mitchell replaces Pedrique and is a new hire. He has big league coaching experience — he previously worked as an outfield and base-running coach with the Braves, Angels, Red Sox, Padres, and Expos — and has spent the last few years managing in Angels and Cubs minor league systems. Mitchell played 202 MLB games as an outfielder with the Dodgers and Twins from 1980-83.
Pilittere and Rosado return as hitting and pitching coach, respectively. Pilittere has long been an organizational favorite, dating back to his playing days as a catcher. Tordi moves down a level after serving as a defense coach with the RailRiders last year. Closser, the former big league catcher, moves up a level. He was the defense coach with High-A Tampa last summer.
High-A Tampa
Manager: Patrick Osborne
Hitting Coach: Tom Slater
Pitching Coach: Tim Norton
Defense Coach: Anthony Pacheco
Trainer: Michael Becker
Strength Coordinator: Jose Siara
It appears Osborne is a rising managerial star in the system. He joined the organization back in 2014 after managing in independent leagues, and he's since climbed the managerial ranks from the Rookie Gulf Coast League (2014) to Short Season Staten Island (2015) to High-A Tampa (2016.) Norton, the former bullpen prospect, was the Low-A Charleston pitching coach last year. Slater rejoins the organization after holding various hitting coach/instructor positions from 2012-14. Pacheco has been promoted after working in the GCL last year.
Low-A Charleston
Manager: Luis Dorante
Hitting Coach: Greg Colbrunn
Pitching Coach: Justin Pope
Defense Coach: Travis Chapman
Catching Coach: Michel Hernandez
Trainer: Jimmy Downam
Strength Coordinator: Anthony Velazquez
Video Coordinator: Cody Cockrum
This will be Dorante's third season as RiverDogs manager. Pope has been promoted after spending last year with the new Rookie Pulaski affiliate. Colbrunn returns to the RiverDogs — he was with the club from 2007-12 as their hitting coach and manager — after spending the 2013-15 seasons with the Red Sox. He was their big league hitting coach from 2013-14 and held another job in the organization in 2015. Colbrunn suffered a brain hemorrhage late in 2014 and stepped down as hitting coach so he could be closer to his family in Charleston, where he lives year round.
Hernandez seems to be the organization's minor league catching guru. He signed with the Yankees as a player in 1998 after defecting from Cuba, and he appeared in five games with the 2003 Yankees before moving on to other organizations. Hernandez has been a coaching coordinator in the system for years and last season the club named him Double-A Trenton defense coach specifically to work with Gary Sanchez. Hernandez's assignment to the RiverDogs may indicate the now healthy Luis Torrens will spend next season with Low-A Charleston.
Short Season Staten Island
Manager: Dave Bialas
Hitting Coach: Eric Duncan
Defense Coach: Teuris Oliveras
The SI Yanks didn't announce their entire coaching staff, just those three names. Bialas managed High-A Tampa last season, so he and Osborne switched jobs. Duncan, the Yankees first round pick back in 2003, will be in his second season as Baby Bombers hitting coach. Farm system head Gary Denbo told Brendan Kuty he hopes Duncan will join the organization in a full-time capacity at some point. Right now he wants to stick with the short season leagues. Oliveras, like Duncan, is returning in the same role.
Rookie Pulaski
Manager: Tony Franklin
Hitting Coach: Edwar Gonzalez
Pitching Coach: Butch Henry
Defense Coach: Hector Rabago
Trainer: Josh DiLoreto
Strength Coordinator: Danny Russo
Video Coordinator: Nick Avanzato
Everyone on the staff was with Pulaski last season except Henry, who was the pitching coach with Short Season Staten Island. Longtime DotF readers will recognize Gonzalez and Rabago from their playing days in the system. Franklin, who managed Double-A Trenton from 2007-14, was moved down to Pulaski last year because Denbo wanted him working with the organization's youngest prospects. During the first half of the season Franklin is something of a roving coach who travels to the different affiliates to work with players. He then joins Pulaski when the season starts in June.
Rookie Gulf Coast League Yankees
Up-to-date information on GCL coaching staffs is always tough to find — last year's coaching staffs are still listed on MiLB.com — though Josh Norris did mention former big leaguer Armando Galarraga has joined the organization and will serve as pitching coach with one of the two GCL affiliates. You remember him from the botched perfect game. Galarraga retired as a player last year and was at the Winter Meetings looking for a coaching job in December, and apparently the Yankees hired him. He's never been in the organization as a player to anything, so he must have impressed during the interview. Cool.