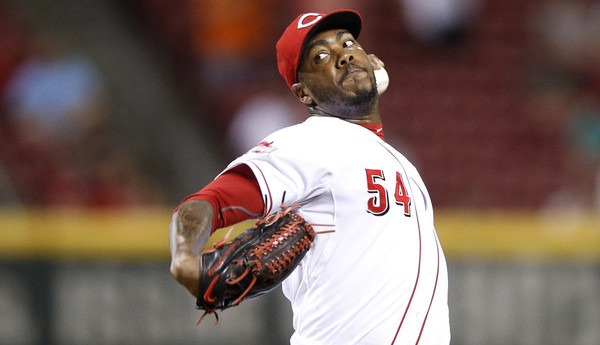 3:43pm ET: MLB will now begin its investigation into the incident in earnest, reports Ken Davidoff. The league had been holding off while the criminal investigation was underway. "When you have a new policy, the first ones take on a special significance in terms of tone and precedent and all those things. I'm going to make sure that I know everything I could possibly know about each of these cases before I make any decisions," said commissioner Rob Manfred at the owners' meetings in Florida.
2:42pm ET: Aroldis Chapman will not face criminal charges stemming from the domestic dispute incident at his Miami area home back in October, the Broward State Attorney's Office announced. Rafael Olmeda of the Sun Sentinel passed along the news.
"We are all pleased that the Davie Police Department and the Office of the State Attorney took the time to fully investigate the matter and have concluded that charges were not warranted," said Paul Molle, Chapman's attorney, to Olmeda.
Police were sent to Chapman's home after his girlfriend called 911 claiming he choked and pushed her during a party. No arrests were made at the time due to inconsistencies in her story, however Chapman did admit to police he fired eight shots from a handgun in his garage. Here's the police report.
Chapman remains under investigation by MLB under their new domestic violence policy. Suspensions under the policy are not dependent on arrests or criminal charges. MLB  can and probably will suspend him anyway. That police were called to Chapman's home and he admitted firing a gun seems like grounds for a suspension, right?
A few weeks ago we heard Chapman is not expected to receive a lengthy suspension, whatever that means. Ten games? Two weeks? A month? Who knows. There are no minimum or maximum suspensions, and no one has ever been suspended under the domestic violence policy, so no precedent has been sent.
Chapman is one of three players under investigation at the moment — Jose Reyes (for this) and Yasiel Puig (for this) are also being investigated — but his case is the only one that involves a gun. Even with no arrests or charges, I feel like MLB would want to come down hard on anything incident involving shots being fired. We'll find out soon enough.