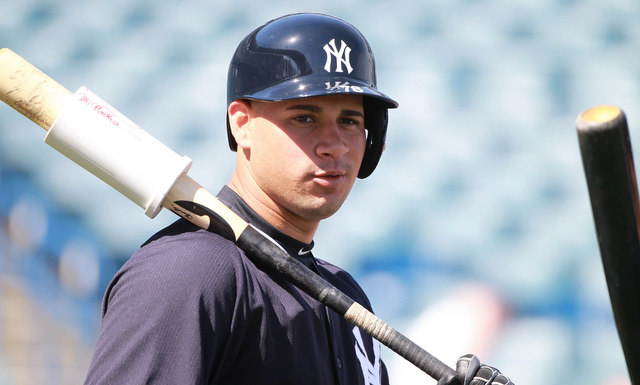 The crew at MLB.com is the middle of their series ranking the top ten prospects at each position. The Yankees didn't have anyone on the right-handed pitcher or left-handed pitcher lists, but C Gary Sanchez ranks second on the catcher list, behind only Cubs C Willson Contreras. As always, MLB.com's scouting information is free.
"Sanchez resuscitated his prospect stock last season between the Double-A and Triple-A levels, and he made his big league debut in early October," said the write-up, which also mentioned the persistent questions about his defense. There's reason to think he's improving defensively, however. Here's a snippet of their latest scouting report:
Sanchez's combination of bat speed, strength and loft in his right-handed swing allow him to drive balls great distances … Sanchez still can get overly aggressive at the plate, which hampers his ability to hit for average, and his receiving and blocking still need more polish. But he did show improvement in those facets of his game and played with more passion in 2015. If Sanchez stays behind the plate and realizes his power potential, he can be an All-Star.
It seems like Sanchez has the inside track for the backup catcher's job heading into the 2016 season, though the Yankees could send him back to Triple-A for a little more work on his defense. And, as I mentioned in the mailbag this morning, sending him down for 35 days will delay his free agency another year. That seems tempting.
Either way, Opening Day roster or not, Sanchez has a clear long-term future with the Yankees following the John Ryan Murphy trade. Brian McCann is still quite productive, but he will be 32 next month and he has a ton of innings on his body, so at some point the Yankees will have to scale back his workload. Sanchez will be the guy to pick up the slack, a la Jorge Posada and Joe Girardi from 1997-99.