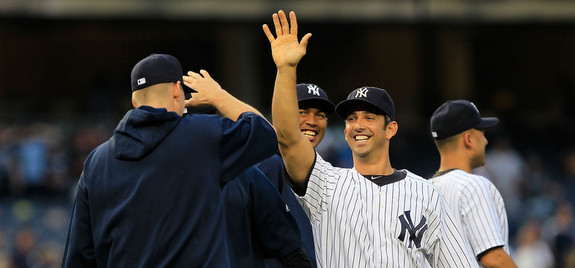 I would not have realized this without Mike mentioning it in a post last week, but Jorge Posada will be up for induction into the Hall of Fame during the next round of elections. He last played in 2011, a season that was humbling for him to say the least. His career ended on a positive note, though, as he was one of the few Yankees to show up during the ALDS against Detroit; in that disaster series, Jorge hit .429/.579/.571, notching six hits in the five game set. Amazingly enough, he didn't drive a single run home in the series. Regardless of the ugly times in 2011, it wrapped up a fantastic career that deserves its share of inspection.
Posada's Major League career started in earnest in 1997, when he played in 60 games and racked up 224 PAs for the Yanks; it got fully rolling in 1998, when his playing time jumped up and he played in 111 games and went to the plate 409 times. 1999 was rather similar; he played in 112 games and had 437 PA. 2000 was Jorge's real breakout. Amassing 624 PA across 151 games, Posada raked, hitting .287/.417/.527 with 28 homers and an OPS+ of 139 (.405 wOBA; 140 wRC+). It started a string of four straight All Star Game appearances and four straight Silver Slugger awards. All told, Posada made it to five All Star Games and won five Silver Slugger awards (2000-3, 2007) and had a career line of .274/.374/.474/.848, good for a 121 OPS+ and a .367/123 wOBA/wRC+.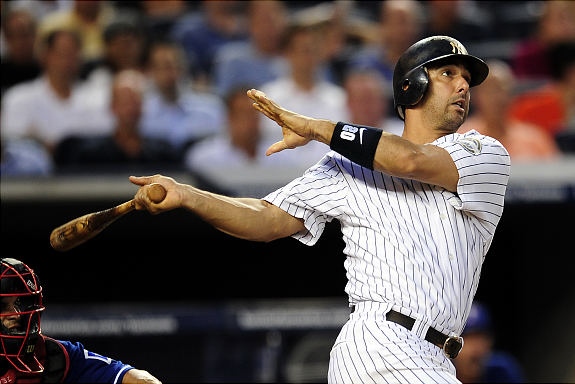 If we judge a player by the company he kept, then Posada was nothing short of an offensive leader at his position. His only offensive "sin" during his career was that he was not, in fact, Mike Piazza. Among catchers with at least 5000 PA from 1995-2011, Posada ranks second to Piazza in wOBA; wRC+; and home runs. He's third in fWAR (44.3) behind Ivan Rodriguez (60.3–whom Posada outhit by 19 points in wOBA and 16 in wRC+) and Piazza (51.2).
Doubtlessly, Jorge Posada was the AL's best offensive catcher for the years of his career; hitters like Mike Napoli and Joe Mauer definitely caught up to him in the later years of his career, but Posada's offensive longevity and consistency were marvelous. Only twice–1999 and 2011–did Posada fail to hit at a league average rate, and that's not adjusting for his position. Eight times, he notched marks at least 20% better than league average.
But in the end, it probably wasn't enough. Jorge wasn't as good a hitter as Mike Piazza and he wasn't as good a catcher as Ivan Rodriguez. He falls somewhere in the middle there, which definitely hurts him. This isn't to say that his numbers are necessarily Hall-Worthy, but to say Posada was anything short of the second best offensive catcher of his time is unfair. The other big slight against him is another over which he had no control. Posada appeared in games for the Yankees staring in 1995, but wasn't the full time catcher until 2000. Those years of being a part time player robbed him of the counting stats that a lot of voters take into consideration. Regardless, Posada managed to club 275 homers and drive in over 1,000 runs in his career, good marks for anyone, let alone a catcher. had he received more consistent playing time before 1998-2000, his candidacy might be more than something to dream on.
Considering the fate we just saw Jim Edmonds suffer–falling off the ballot ungraciously and undeservingly after just one appearance–it's not likely that Posada sticks around very long. That wouldn't be a big injustice or a travesty or anything, but as a player we feel a lot of emotional connection with, it'll be a touch sad to see Jorge–like his teammate Bernie Williams–disappear from the ballot easily. In the end, though, it doesn't change anything about the man and the player Jorge Posada was for the Yankees for so many years. It's years too late, but thanks for the great career, Jorge. A retired number in Monument Park isn't Cooperstown, but it's a damn fine consolation prize.